Datamaskin
Inteno x5668b passord / bruker - Norsk Freakforum
Hei usikker om dette blir postet riktig, så om admin føler den hører hjemme et annet sted er det bare å flytte tråden. Har fått en router fra nextgentel av typen Inteno x5668b, men mangler passord og brukernavn for å komme inn på den. CD'n om fulgte med er til en D-link, og resten av guide-infoen blir følgelig feil. har klart å logge på med brukernavn "user" og PW "user", men da mangler man alle rettigheter for å gjøre noen endringer. hele advanced-menyen mangler. lurte på om noen viste hva som er default brukernavn og passord med admin-rettigheter til denne typen router?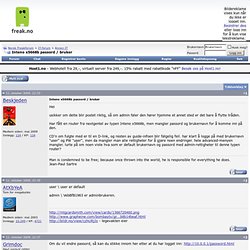 I hope you have enjoyed our collection of funny computer quotes , Linux quotes , and all those quotes that we have shared with you so far.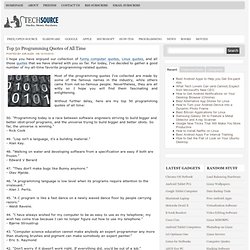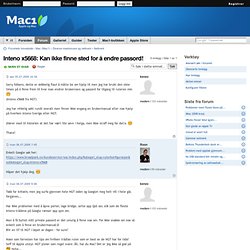 Inteno x5668: Kan ikke finne sted for å endre passord! • mac1
Takk for initiativ, men jeg surfa gjennom hele NGT siden og Googlet meg helt vill i hele går, forgjeves...