Typographie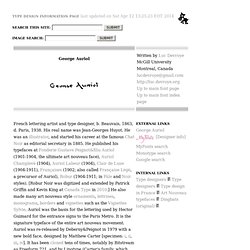 George Auriol
file name: Mathew Carter Linotype Auriol 1979 file name: Mathew Carter Linotype Auriol 1979b file name: Matthew Carter Linotype Auriol 1979 after Georges Auriol 1991 file name: Matthew Carter Linotype Auriol 1979 after Georges Auriol 1991b
IP
Lyon Text & Display Lyon is a suite of contemporary reading typefaces for modern publications, based on historical models of the 16th century punch cutter Robert Granjon. Lyon reflects our convictions about modern digital typeface design: A decisively digital outline treatment that reveals our modern repertoire of tools, and the typeface itself as a modern design tool, paired with a certain Times-like unobtrusiveness in the Text sizes, contrasts nicely with Lyon's 16th century heritage.
Atelier Carvalho Bernau: Lyon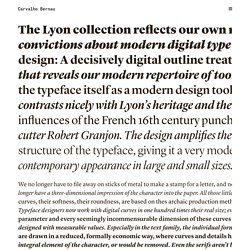 Type and Media 2012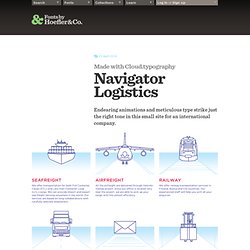 "I never wanted to draw typefaces, I wanted to have typefaces." I found myself uttering these words to a filmmaker this past spring, who shared them first with an audience of design luminaries, and then with the entire internet. It's a strange sentiment, but one that's familiar to anyone who makes things: as a designer, I couldn't find the tools I needed, so I made my own. I designed typefaces to fill measurable holes in my palette, and to help me do things that other fonts couldn't. As it turned out, the business of identifying these opportunities and inventing things to satisfy them became a project unto itself, which is how Hoefler & Frere-Jones came to be, working to create the typefaces that help designers do more. My work at H&FJ gives me the chance to contribute not only to the fonts themselves, but to a range of communications that use them, from paper invoices to type specimens to web applications.
H&FJ News
Designing type systems
I remember a conversation from back in my student days where my typophile friends and I debated what the ultimate typeface of the twentieth century was, a typeface that summed up all of the era's advancements and knowledge into a coherent whole, one that would be a reference for years to come. Helvetica was one of the candidates for its sheer ubiquity, proof of its overall acceptance. Another, more subtle proposal was Jan van Krimpen's Romulus, one of the first typefaces to have related Sans and Serif versions.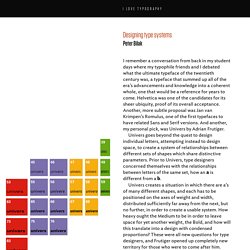 FontLab - From Illustrator To FontLab
Font Lab Project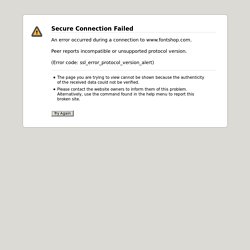 Improve your design skills with typography tips and tutorials.
Apeloig