Blog typo
Typographie. Type for you. | A blog on typography. 26 Symbols. RM Regular. RM Regular is a simple, clean and legible sans-serif type font.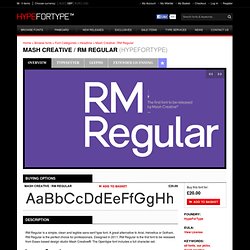 A great alternative to Arial, Helvetica or Gotham, RM Regular is the perfect choice for professionals. Designed in 2011, RM Regular is the first font to be released from Essex based design studio Mash Creative®. The Opentype font includes a full character set. Home — Typofonderie.
Design Inspiration / Bench.li. Typesites. Betatype. Font.is. Ralf Herrmann: Wayfinding & Typography | Font Bureau Blog. David Berlow's Custer RE is the latest addition to our Reading Edge (RE) series.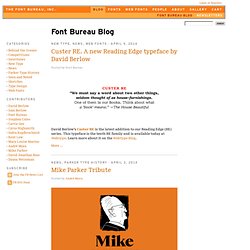 This typeface is the tenth RE family and is available today at Webtype. Learn more about it on the Webtype Blog. More ... Swiss Legacy | Swiss Legacy, by the initiative of Art Director Xavier Encinas, is a blog focused on typography, graphic design and inspirational matters. Phinney on Fonts. The Ministry of Type. Here's a glorious bit of design nostalgia for the New Year.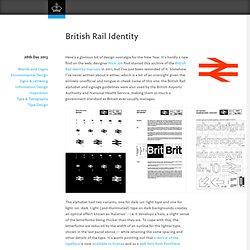 It's hardly a new find on the web; designer Nick Job first started this archive of the British Rail identity manuals in 2011, but I've just been reminded of it. Somehow I've never written about it either, which is a bit of an oversight given the entirely-unofficial and tongue in cheek name of this site: the British Rail alphabet and signage guidelines were also used by the British Airports Authority and National Health Service, making them as much a government standard as Britain ever usually manages. The alphabet had two variants, one for dark-on-light type and one for light-on-dark. Light (and illuminated) type on dark backgrounds creates an optical effect known as 'halation' - i.e. it develops a halo, a slight sense of the letterforms being thicker than they are. Pointypo– - L'actualité typographique en français.
Holy Onomatopoeia, What A Bat-collection! Although its release is still almost two months away, anticipation for The Dark Knight Rises – the third act in Christopher Nolan's re-imagination of the Batman mythos – is… errr… rising to a fever pitch.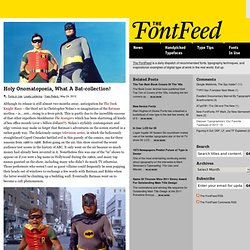 This is partly due to the incredible success of that other superhero blockbuster The Avengers which has been shattering all kinds of box office records (over 1 billion dollars!?). Nolan's stylishly contemporary and edgy version may make us forget that Batman's adventures on the screen started in a rather goofy way. The deliciously campy television series, in which the ludicrously straightlaced Caped Crusader battled evil in this parody of the comics, ran for three seasons from 1966 to 1968. The FontFeed | Fonts, Typography, Lettering, Design.
A2-TYPE. SpiekerBlog. 28 Top Typography Blogs Ranked by Top Graphic Design Blogs | BonFX – Freelance Graphic Designer. By Douglas Bonneville on September 23, 2009 Grab your beveled pica ruler, Letraset rub downs, and your favorite browser.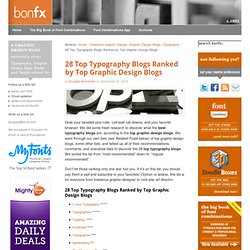 We did some fresh research to discover what the best typography blogs are, according to the top graphic design blogs. We went through our own lists (see Related Posts below) of top graphic design blogs, some other lists, and tallied up all of their recommendations, comments, and anecdotal data to discover the 28 top typography blogs. We sorted the list from "most recommended" down to "regular recommended".
---