Sites
eos
Kitty Baby Love
Life Calendar
Pikachu
RainbowDarkness
Once Bitten Toothbrush Holder
http://www.modcloth.com/store/ModCloth/Once-Bitten-Toothbrush-Holder These pint-sized predators are not sure when they had their last meal, so, naturally, they're chomping at the bit to take a bite of your toothbrushes, pencils, necklaces, and so on! These five separate wild critters from Streamline will stick to your mirror - or any other clean, smooth surface - by a suction cup back. Hang a couple of these handy animal heads in your bathroom, and then a couple more on a window near your front door, and you'll always have a handle on where you put your gr...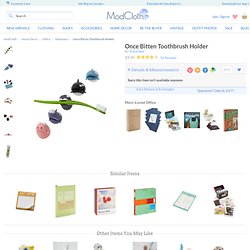 Party Time! Excellent! Clock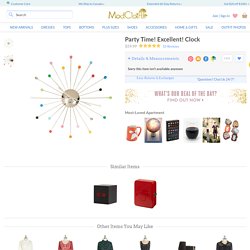 http://www.modcloth.com/store/ModCloth/Holiday+Gift+Guides+2009/Homebody+09/Party-Time-Excellent-Clock One look at this clock and you'll hate it - NOT! This clock is totally excellent!
Sanshee.com