Resource
Gothic Ivories Project
Free Text Host - The Anonymous Text Hosting Service - No Registration Required
Essential Vermeer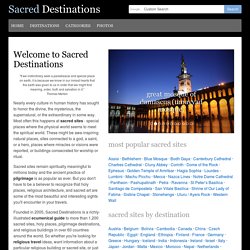 Welcome Nearly every culture in human history has sought to honor the divine, the mysterious, the supernatural, or the extraordinary in some way. Most often this happens at sacred sites - special places where the physical world seems to meet the spiritual world. These might be awe-inspiring natural places, sites connected to a god, a saint, or a hero, places where miracles or visions were reported, or buildings consecrated for worship or ritual.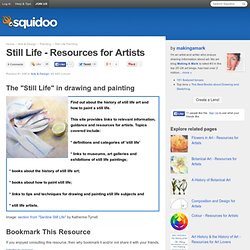 The Rhetoric of Perspective: Realism and Illusionism in Seventeenth-Century Dutch Still-Life Painting by Hanneke Grootenboer Perspective determines how we, as viewers, perceive painting. We can convince ourselves that a painting of a bowl of fruit or a man in a room appears to be real by the way these objects are rendered.
Still Life - Resources for Artists
der Kunst und Architektur
Maison du Moyen Age - Université de Poitiers
Timelines: Sources from History
This British Library interactive timeline allows you to explore collection items chronologically, from medieval times to the present day. It includes a diverse combination of texts: those that allow glimpses of everyday life (handbills, posters, letters, diaries), remnants of political events (charters, speeches, campaign leaflets), and the writings of some of our best known historical and literary figures. Launch Timelines: Sources from History Timelines is a fantastic resource for learning about culture, politics, technology and everyday life through the ages.
Románico Digital, portal sobre Arte Románico | Base de datos documental
collectio.org
Colloque international organisé par le CÉRÉdI, Université de Rouen. jeudi 12-samedi 14 février 2015 Comité scientifique : Jean-Claude Arnould (Université de Rouen), Hervé-Thomas Campangne (Université du Maryland), Philippe de Lajarte (Université de Caen), Witold K. Pietrzak (Université de Łódź), Sergio Poli (Université de Gênes), Marie-Claire Thomine (Université de Paris IV) Ce colloque international aura pour objet la collection des Histoires tragiques de Pierre Boaistuau et François de Belleforest, (...)
Panurge - Actualités de la recherche autour de la Renaissance.
International Foundation for Art Research (IFAR)-Catalogues Raisonnés
Gothic Ivories Project | Collaborating Institutions: Repository Institutions
Polo Museale Fiorentino :: Sito Ufficiale
FRESCO | The Frick Research Catalog Online | Photoarchive
Arcade | New York Art Resources Consortium