JHWH
Religion-Staat-Gesellschaft
Howard Mazzaferro
THE NAME OF GOD YeHoWaH. ITS STORY, by Gérard Gertoux
4QLevB.jpg (JPEG-Grafik, 600x420 Pixel)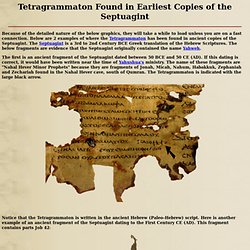 Tetragrammaton Found in Ancient Septuagint Manuscripts
Because of the detailed nature of the below graphics, they will take a while to load unless you are on a fast connection. Below are 2 examples of where the Tetragrammaton has been found in ancient copies of the Septuagint. The Septuagint is a 3rd to 2nd Century BCE Greek translation of the Hebrew Scriptures. The below fragments are evidence that the Septuagint originally contained the name Yahweh . The first is an ancient fragment of the Septuagint dated between 50 BCE and 50 CE (AD). If this dating is correct, it would have been written near the time of Yahushua's ministry.
The Foundation for Biblical Archeology - Significant Finds
Get the new Greek drill sheet, or the Latin drill sheet or the new Latin Christmas reader. Store This site will very shortly be going away as the beta is up and will soon replace it: beta.septuagint.org It will have many Classical texts and allow for very powerful searching... Also, I have another site which allows you to practice your forms in both Greek and Latin.
Greek Old Testament
The Divine Name in Norway