Bibel
Die Piscatorbibel. WiBiLex.de. E.L. Lilien - Kurze Lebensbeschreibung. Ephraïm Moses Lilien (1874 - 1925) door Raymond Glaser Ephraïm Moses Lilien aan het werk; ets.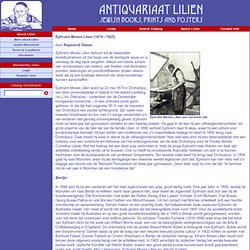 Ephraïm Moses Lilien behoort tot de bekendste boekillustratoren uit het begin van de twintigste eeuw en is vandaag de dag bijna vergeten. Alleen een kleine schare van verzamelaars van exlibris, van boeken met illustraties, prenten, tekeningen en prentbriefkaarten stralen steeds weer als zij een kostbaar kleinood van deze kunstenaar kunnen aanschaffen. Ephraïm Moses Lilien werd op 23 mei 1874 in Drohobycz, een klein provinciestadje in Galicië in het district Lemberg (nu L'viv, Oekraïne) - onderdeel van de Oostenrijks-Hongaarse monarchie -, in een orthodox joods gezin geboren. ML_Bibel_Pfalz_S_1_21.pdf (application/pdf Object) Konkordante Übersetzungen im Vergleich. Diebibel.de. Blue Letter Bible. BibleMaster.com - Bible Resource. Bibelserver.de. Examen - Alles zur Vorbereitung auf das Erste Theologische Examen. Hier wird im Moment noch gearbeitet ;) Liebe Examis - und solche, die es werden wollen!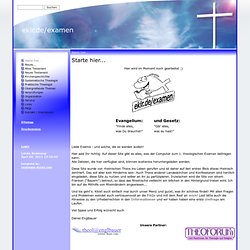 Hier seid Ihr richtig: Auf dieser Site gibt es alles, was der Computer zum 1. theologischen Examen beitragen kann. Alle Dateien, die hier verfügbar sind, können kostenlos heruntergeladen werden. Diese Site wurde von rheinischen Theos ins Leben gerufen und ist daher auf den ersten Blick etwas rheinisch zentriert. Journal of Contemporary Religion. The CrossWire Bible Society.
---