Interior Design
This laid-back wood-clad bungalow on Cape Town's Bakoven beach oozes seaside style. The lucky owners are Cathy, Mike and their three children. A lover of bargain finds, the resourceful Cathy did the interiors herself. 'A well-known interior designer once came up from the beach and had a look, and his advice has always stuck with me – he said that the painting was outside the window and that whatever happened inside shouldn't compete with it,' she recalls. Continue reading Vintage House Daylesford is an 1860′s miners cottage on the border of Daylesford and Hepburn Springs (Australia) that is available to rent as luxury accommodation.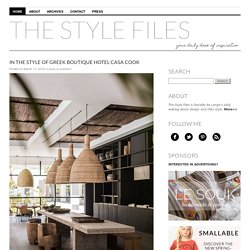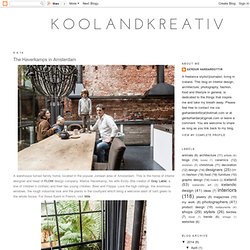 Steinunn Sigurðardóttir is probably one of our most successful fashion designers ever. After working as Senior designer for Calvin Klein and Gucci and Design Director for La Perla, Steinunn has been working on her own brand since 2000. Steinunn has given lectures on fashion, design and creativity all over the world, curated large exhibitions in Iceland, Shanghai and Paris and received countless awards and honors. And deservedly so. Her clothes are pieces of art, beautifully made and the attention to detail and choice of fabric pure perfection. I´ve attended one of her lectures, given in 2009, when one of the largest art museums in Reykjavik ran a large private exhibitions of Steinunn´s work (I believe it´s the first and only time an Icelandic fashion designer has been given that honor), and I was really impressed.
Koolandkreativ
Interior Alchemy
Nº. 1 of 52 Interior Alchemy Bohemian and vintage-inspired spaces See my personal tumblr at Under The Ivy
Custom Bean Bag : DIY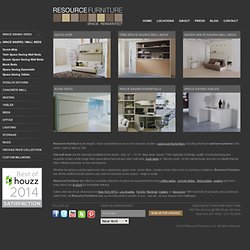 Resource Furniture is the largest, most comprehensive source for inspired, modern, space-saving furniture, including the finest wall bed systems in the world, made in Italy by Clei. Clei wall beds are the slimmest available in the world – only 12" – 13.75" deep when closed. Their ingenuity of design, quality of manufacturing and exquisite modern style brings them generations beyond any other wall beds, bunk beds or "Murphy beds" on the market today, and are so reliable that we offer a lifetime warranty on the mechanisms. Whether furnishing a studio apartment, micro-apartment, guest room, home office, vacation home, kid's room or a primary residence, Resource Furniture has all the multifunctional solutions you need to maximize every space – large or small. Resource Furniture also offers a complete collection of space-saving and transforming coffee tables, console tables , dining tables, seating and more – many items are in stock for immediate delivery.