Interior Design
15 houseplants to improve indoor air quality | MNN - Mother Nature Network - StumbleUpon. The style files. Koolandkreativ. Interior Alchemy. Nº. 1 of 52 Interior Alchemy Bohemian and vintage-inspired spaces See my personal tumblr at Under The Ivy.
Flats/Apartments. Houses. Hotels. Custom Bean Bag : DIY. ResourceFurniture. Resource Furniture is the largest, most comprehensive source for inspired, modern, space-saving furniture, including the finest wall bed systems in the world, made in Italy by Clei.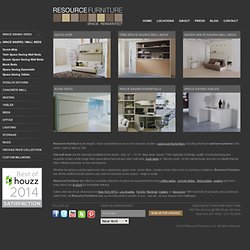 Clei wall beds are the slimmest available in the world – only 12" – 13.75" deep when closed. Their ingenuity of design, quality of manufacturing and exquisite modern style brings them generations beyond any other wall beds, bunk beds or "Murphy beds" on the market today, and are so reliable that we offer a lifetime warranty on the mechanisms. Whether furnishing a studio apartment, micro-apartment, guest room, home office, vacation home, kid's room or a primary residence, Resource Furniture has all the multifunctional solutions you need to maximize every space – large or small.
Resource Furniture also offers a complete collection of space-saving and transforming coffee tables, console tables , dining tables, seating and more – many items are in stock for immediate delivery.
---