Bathrooms
Mesmerizing Wooden Sink Takes 12 Weeks to Create
Product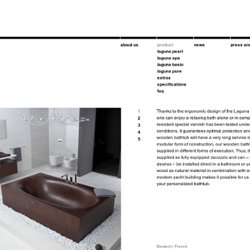 Thanks to the ergonomic design of the Laguna range of bathtubs, one can enjoy a relaxing bath alone or in company. The highly resistant special varnish has been tested under the hardest conditions. It guarantees optimal protection and ensures that the wooden bathtub will have a very long service life. As a result of the modular form of construction, our wooden bathtubs can be supplied in different forms of execution. Thus, they can be supplied as fully equipped Jacuzzis and can – if the customer so desires – be installed direct in a bathroom or yacht.
Novelties - A Smart Shower May Even Know Your Song
Hansa Smart Shower Has Three Options For Your Head and One For Your Crotch
Shower Tower
The sleek, one-piece design of the Neorest® Shower Tower can only be described as magnificent. An overhead rain shower works in concert with three body sprays and a hand shower to deliver on the promise of maximum showering pleasure. The Neorest Shower Tower includes: Shape Memory Alloy (SMA) Thermostatic Mixing Valve Polished Chrome Finish Simple Push-Button Operation for Water Functions Body Sprays Rain Shower Hand Shower Sleek, One-Piece "Tower" Design More Neorest Shower Tower Information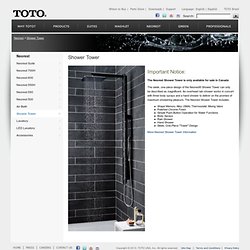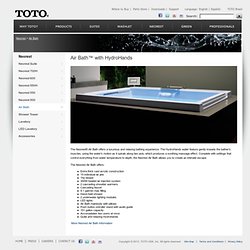 Air Bath
The Neorest® Air Bath almost defies description. Almost. Replete with personal settings, presets and memory that control everything from water temperature, volume and depth to favorite bath settings, the Neorest Air Bath is truly an experience that must be enjoyed in order to be believed.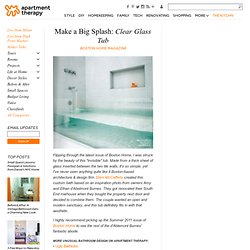 Flipping through the latest issue of Boston Home , I was struck by the beauty of this "invisible" tub. Made from a thick sheet of glass inserted between the two tile walls, it's so simple, yet I've never seen anything quite like it. Boston-based architecture & design firm Stern McCafferty created this custom bath based on an inspiration photo from owners Amy and Ethan d'Abelmont Burnes. They gut renovated their South End rowhouse when they bought the property next door and decided to combine them. The couple wanted an open and modern sanctuary, and this tub definitely fits in with that aesthetic.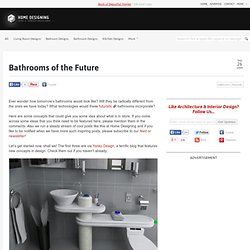 Ever wonder how tomorrow's bathrooms would look like? Will they be radically different from the ones we have today? What technologies would these futuristic bathrooms incorporate? Here are some concepts that could give you some idea about what is in store. If you come across some ideas that you think need to be featured here, please mention them in the comments.
January 14, 2010 by Thomas Hardy Vascabarca Boat Shaped Bathtub Source LTT Illuminated Bathtub Cristalli Glass Bathtub About the Author