Other artists
"simplistic" pictures on VisualizeUs. Like New Treehouses of the World, Abrams, 2009 liked by Die Seitenschneider on jun 09, 2009 22 Like Home Sweet Home found by Sarah Face on jul 01, 2009 Like Adam Doyle.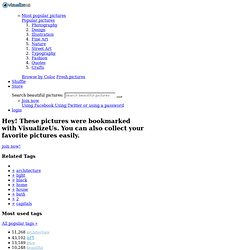 Found by goalin on sep 16, 2010 8 Like Strawberryluna found by goalin on mar 04, 2010 4 Like Tumblr found by goalin on apr 14, 2011 Like sproule_rowen_residence_san_francisco_home_1 found by eliburford on sep 27, 2008 Like 1976-Festival.jpg found by ginarkern on mar 30, 2010 Like X-Men poster, by Eric Tan liked by goalin on sep 06, 2010 97 Like Freckles found by jessikerr on apr 11, 2011 11 Like weheartit found by bambi_boo on jan 28, 2012 44 Like Chinatown Festival 2008 liked by goalin on sep 06, 2010 5 Like VR00M VR00M! Tommy lee edwards. Sean phillips. Walt simonson. Occupy the infinite - Synaptic Stimuli - StumbleUpon. The Fortnightly Review › Vorticism. By Ezra Pound.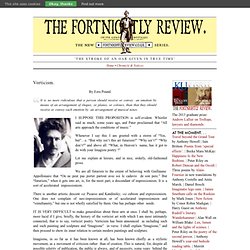 It is no more ridiculous that a person should receive or convey an emotion by means of an arrangement of shapes, or planes, or colours, than that they should receive or convey such emotion by an arrangement of musical notes. I SUPPOSE THIS PROPOSITION is self-evident. Welcome to the home of British Vorticism. Futurism. Italian Futurism[edit] Futurism is an avant-garde movement founded in Milan in 1909 by the Italian poet Filippo Tommaso Marinetti.[1] Marinetti launched the movement in his Futurist Manifesto, which he published for the first time on 5 February 1909 in La gazzetta dell'Emilia, an article then reproduced in the French daily newspaper Le Figaro on 20 February 1909.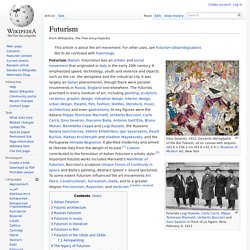 He was soon joined by the painters Umberto Boccioni, Carlo Carrà, Giacomo Balla, Gino Severini and the composer Luigi Russolo. Marinetti expressed a passionate loathing of everything old, especially political and artistic tradition. "We want no part of it, the past", he wrote, "we the young and strong Futurists! " The Futurists admired speed, technology, youth and violence, the car, the airplane and the industrial city, all that represented the technological triumph of humanity over nature, and they were passionate nationalists.
BLAST (magazine) Blast was the short-lived literary magazine of the Vorticist movement in Britain.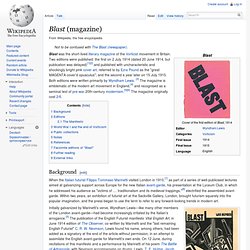 Two editions were published: the first on 2 July 1914 (dated 20 June 1914, but publication was delayed)[1][2] and published with uncharacteristic and shockingly bright pink cover art, referred to by Ezra Pound as the "great MAGENTA cover'd opusculus"; and the second a year later on 15 July 1915. Both editions were written primarily by Wyndham Lewis. [3] The magazine is emblematic of the modern art movement in England,[4] and recognised as a seminal text of pre-war 20th-century modernism.[5][6] The magazine originally cost 2/6.
When the Italian futurist Filippo Tommaso Marinetti visited London in 1910,[7] as part of a series of well-publicised lectures aimed at galvanizing support across Europe for the new Italian avant-garde, his presentation at the Lyceum Club, in which he addressed his audience as "victims of .... traditionalism and its medieval trappings,"[8] electrified the assembled avant-garde. Stelarc. Stelarc (born Stelios Arcadiou in Limassol in 1946, but legally changed his name in 1972) is a Cyprus-born performance artist raised in the Melbourne suburb of Sunshine,[1] whose works focuses heavily on extending the capabilities of the human body.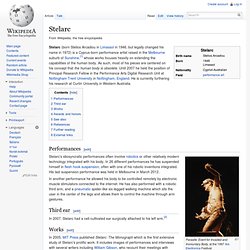 As such, most of his pieces are centered on his concept that the human body is obsolete. Until 2007 he held the position of Principal Research Fellow in the Performance Arts Digital Research Unit at Nottingham Trent University in Nottingham, England. He is currently furthering his research at Curtin University in Western Australia. Goncharova, Natalia (1881-1962) - The Green and Yellow Forest. Malevich, Kazimir (1878-1935) - 1933 Portrait of a Youth (Russian Museum)
Korovin, Constantin (1861-1939) 1916 Portrait of an Officer (The Russian Museum) Filonov, Pavel (1883-1941) - 1912 They Who Have Nothing to Lose (Russian Museum) The Wyndham Lewis Society and Wyndham Lewis Project Website. Dobuzhinsky, Mstilav (1875-1957) - 1905 Portrait of Art Critic and Poet Constantin Sunnenberg (Tretyakov Gallery) Volume 9.1 (2005) Famous People Painting with Wiki Links | Historical Figures With Image Map -... The Garden of Cosmic Speculation - Reckon - StumbleUpon. 50 Greatest Posters From The Occupy Wall Street Protests. Occupy Wall Street is a growing movement of protests against a variety of issues, but most namely corporate greed and the link between the US government and the US banking sector.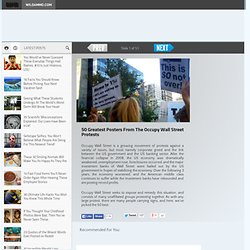 After the financial collapse in 2008, the US economy was dramatically weakened, unemployment rose, foreclosures occurred, and the major investment banks of Wall Street were bailed out by the US government in hopes of stabilizing the economy. Over the following 3 years, the economy worsened, and the American middle class continues to suffer while the investment banks have rebounded and are posting record profits. Occupy Wall Street seeks to expose and remedy this situation, and consists of many unaffiliated groups protesting together. As with any large protest, there are many people carrying signs, and here, we've picked the 50 best. VR00M VR00M! picture on VisualizeUs. Biography. Kissing Sailor - Found at Last Glenn Edward McDuffie knows why the sailor kissing a white-clad nurse in that famous photo has his wrist bent back in an awkward position.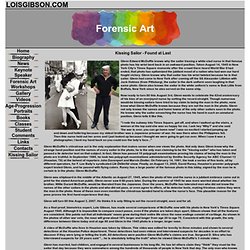 Taken August 14, 1945 in New York City's Times Square moments after the crowd there heard World War II had ended, that photo has epitomized the jubilant mood of a nation who had won our hard fought victory. Glenn knows why that sailor has his wrist twisted because he is that sailor. Glenn had come to New York after coming off the SS Alexander Lillinton with Jack Holmes (from Pittsburg), the sailor in the dark uniform seen laughing in that same photo. Glenn also knows the sailor in the white uniform's name is Bob Little from Buffalo, New York since he also served on the same ship.
5 Annoying Trends That Make Every Movie Look the Same. Hollywood: the dream factory, the place where joy is made and everybody craps rainbows and cocaine.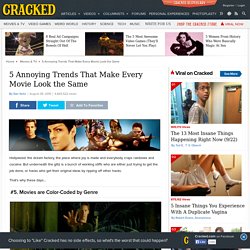 But underneath the glitz is a bunch of working stiffs who are either just trying to get the job done, or hacks who get their original ideas by ripping off other hacks. That's why these days... Movies are Color-Coded by Genre. Liberties_in_the_way.gif from erowid.org - StumbleUpon. L-O-V-E Makes The World Go W-E-I-R-D (11 Photos) - wave avenue - StumbleUpon. Posted by C on Monday, October 17, 2011 · I found these funny illustrations in the net yesterday.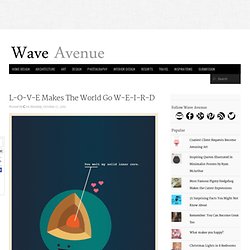 The article was actually entitled, "Nerdy Dirty Illustrations for Nerds In Love." You%27re Back by ~Luce-in-the-sky picture on VisualizeUs. Maleficent and diablo. by ~belldandies on deviantART picture on VisualizeUs. La Guirlande des Mois - 45546 / Recto Verso Blog picture on VisualizeUs. Tumblr picture on VisualizeUs.
Photography
Feather VII - On the Cutting Edge Exhibition. Kandinsky, Wassily - 1908 Murnau Street with Women. Kandinsky, Wassily - 1906 Couple Riding. Batman Artwork « gothamtrending. Wyndham Lewis Portraits. Malevich, Kazimir (1878-1935) - 1912-13 Head of a Peasant Girl (Stedeljik Museum) X-Men poster, by Eric Tan picture on VisualizeUs.
---