Social Business
To promote World Fair Trade Day on May 16th, Ben and Jerry's has come up with the Fair Tweets campaign. By using the Ben and Jerry's Fair Tweets app, your Twitter account will automatically turn unused characters in your tweets into a message promoting fair trade. Tweeting never looked so sweet.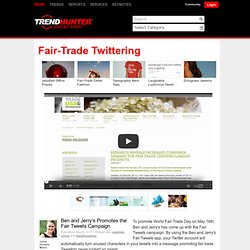 Fair-Trade Twittering - Ben and Jerry's Promotes the Fair Tweets Campaign (VIDEO)
blue button
Pants to Poverty - Welcome
Lemonaid. Drinking helps!
Home
The Foodspotting Spotathon on Foodspotting
In 2006, TOMS founder Blake Mycoskie befriended children in a village in Argentina and saw that they didn't have adequate shoes to protect their feet. Wanting to help, he created TOMS Shoes, a company that would match every pair of shoes purchased with a pair of new shoes for a child in need. One for One.® In 2011, the One for One model was expanded and TOMS Eyewear was launched. With every pair purchased, TOMS helps restore sight to a person in need.
Shoes - Please Select Your Country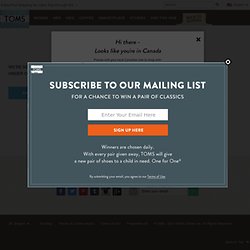 SwipeGood – Every time you swipe your card it makes the world a better place.
BetterWorldBooks.com - New & Used Books for Sale, Textbooks, Book Reviews & more - FREE SHIPPING