Stasis
Champion weightlifter Karyn Marshall took an ice bath after an event in 2011.
Ice bath
HOME
Lyopreservation
Biostasis
Aestivation
Aestivation or æstivation (from Latin aestas , summer, but also spelled "estivation" in American English ) is a state of animal dormancy , similar to hibernation , characterized by inactivity and a lowered metabolic rate, that is entered in response to high temperatures and arid conditions. [ 1 ] It takes place during times of heat and dryness, the hot dry season, which are often the summer months. Invertebrate and vertebrate animals are known to enter this state to avoid damage from high temperatures and the risk of desiccation .
Suspended animation is the slowing of life processes by external means without termination.
Suspended animation
Hibernaculum (zoology)
Hibernaculum plural form: hibernacula (Latin, "tent for winter quarters") is a word used in zoology to refer to a place of abode in which a creature seeks refuge, such as a bear using a cave to overwinter . [ 1 ] [ 2 ] Insects may hibernate to survive the winter. The word can be used to describe a variety of shelters used by various kinds of animals, for instance, bats , marmots and snakes .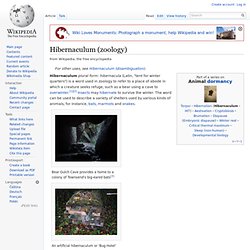 Biobridge
www.esa.int/gsp/ACT/doc/BNG/ACT-RPR-BNG-2004-JBIS-Morpheus.pdf
www.esa.int/gsp/ACT/doc/ARI/ARI Study Report/ACT-RPT-BIO-ARI-036501-Morpheus-Verona.pdf
For most of cryonics history (which began in the mid-1960s), all of the cryonics organizations offering cryonics services have been in the United States. In 2005 a cryonics organization was created in Russia (just northwest of Moscow) and there are plans for another cryonics organization in Australia to offer perfusion and storage of cryonics patients within a few years. CI does not endorse any other cryonics organizations.
Institute — Comparing Procedures And Policies
Anti-inflammatory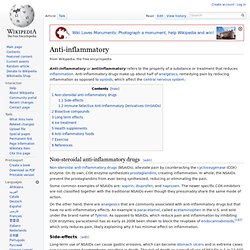 Anti-inflammatory refers to the property of a substance or treatment that reduces inflammation . Anti-inflammatory drugs make up about half of analgesics , remedying pain by reducing inflammation as opposed to opioids , which affect the central nervous system .
Rudi Hoffman - CERTIFIED FINANCIAL PLANNER™, Cryonics, Cryogenic Suspension, Financial Planning
The Cryonics Institute Home Page
21st Century Medicine --Careers in Advanced Bio Med Preservation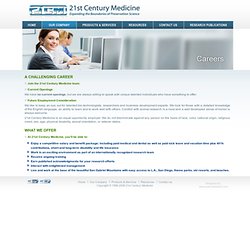 Join the 21st Century Medicine team. Current Openings
Suspended Animation
Mark Roth: Suspended animation is within our grasp
EUCRIO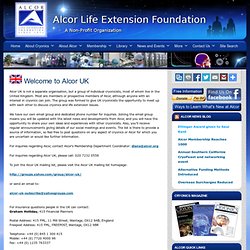 Alcor UK is not a separate organisation, but a group of individual cryonicists, most of whom live in the United Kingdom.
UK