Risk & Risk Management III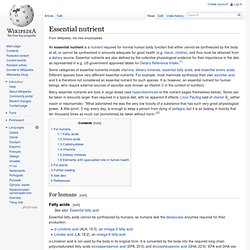 An essential nutrient is a nutrient required for normal body functioning that either cannot be synthesized by the body at all, or cannot be synthesized in amounts adequate for good health (e.g. niacin , choline ), and thus must be obtained from a dietary source. Essential nutrients are also defined by the collective physiological evidence for their importance in the diet, as represented in e.g.
Essential nutrient
Vaccenic acid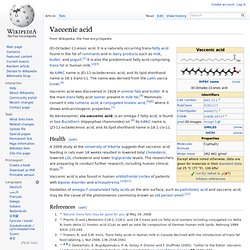 Vaccenic acid is an omega-7 fatty acid .
Oleic acid is a fatty acid that occurs naturally in various animal and vegetable fats and oils . It is an odorless, colourless oil, although commercial samples may be yellowish. In chemical terms, oleic acid is classified as a monounsaturated omega-9 fatty acid , abbreviated with a lipid number of 18:1 cis -9.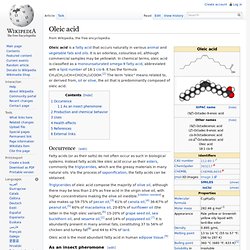 Oleic acid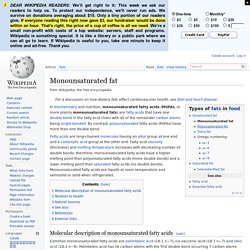 Monounsaturated fat
In biochemistry and nutrition, monounsaturated fats or MUFA (MonoUnsaturated Fatty Acid) are fatty acids that have one double bond in the fatty acid chain and all of the remainder of the carbon atoms in the chain are single-bonded .
Antiestrogen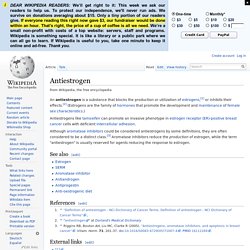 An antiestrogen is a substance that blocks the production or utilization of estrogens , [ 1 ] or inhibits their effects. [ 2 ] (Estrogens are the family of hormones that promote the development and maintenance of female sex characteristics .)
Linoleic acid (LA) is an unsaturated omega-6 fatty acid .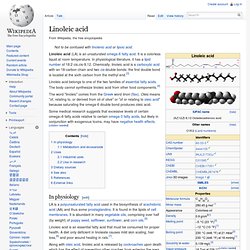 Linoleic acid
Sirolimus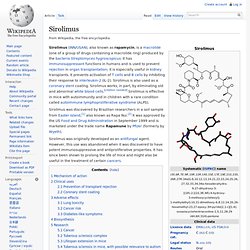 Sirolimus ( INN / USAN ), also known as rapamycin , is an immunosuppressant drug used to prevent rejection in organ transplantation ; it is especially useful in kidney transplants.
Example of a phosphatidylethanolamine plasmalogen with the characteristic vinyl ether linkage at the sn-1 position and an ester linkage at the sn-2 position Plasmalogens are a type of ether phospholipid characterized by the presence of a vinyl ether linkage at the sn-1 position and an ester linkage at the sn-2 position. [ 1 ] [ 2 ] [ 3 ] In mammals, the sn-1 position is typically derived from C16:0, C18:0, or C18:1 fatty alcohols while the sn-2 position is most commonly occupied by polyunsaturated fatty acids (PUFAs). The most common head groups present in mammalian plasmalogens are ethanolamine (designated plasmenylethalomines) or choline (designated plasmenylcholines).
Plasmalogen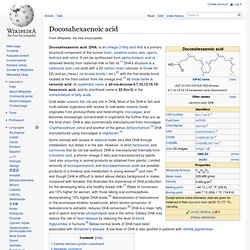 Docosahexaenoic acid
Docosahexaenoic acid ( DHA ) is an omega-3 fatty acid that is a primary structural component of the human brain, cerebral cortex , skin , sperm , testicles and retina . It can be synthesized from alpha-linolenic acid or obtained directly from maternal milk or fish oil. [ 1 ] DHA's structure is a carboxylic acid (~oic acid) with a 22- carbon chain ( docosa- is Greek for 22) and six ( Greek "hexa") cis double bonds (-en~); [ 2 ] the first double bond is located at the third carbon from the omega end. [ 3 ] Its trivial name is cervonic acid , its systematic name is all-cis -docosa-4,7,10,13,16,19-hexa-enoic acid , and its shorthand name is 22:6(n-3) in the nomenclature of fatty acids .
In organic chemistry , a radical-substitution reaction is a substitution reaction involving free radicals as a reactive intermediate . [ 1 ]
Radical substitution
Free-radical addition
Free-radical addition is an addition reaction in organic chemistry involving free radicals . [ 1 ] The addition may occur between a radical and a non-radical, or between two radicals.
Benfotiamine ( rINN , or S -benzoylthiamine O-monophosphate ) is a synthetic S-acyl derivative of thiamine (vitamin B1). It has been licensed for use in Germany since 1993.
Benfotiamine
Methylglyoxal , also called pyruvaldehyde or 2-oxopropanal (CH 3 -CO-CH=O or C 3 H 4 O 2 ) is the aldehyde form of pyruvic acid .
Methylglyoxal
4-Hydroxynonenal
4-Hydroxynonenal , or 4-hydroxy-2-nonenal or 4-HNE or HNE, ( C 9 H 16 O 2 ), is an α,β-unsaturated hydroxyalkenal which is produced by lipid peroxidation in cells. 4-HNE is the primary alpha,beta-unsaturated hydroxyalkenal formed in this process. 4-HNE has 3 reactive groups: an aldehyde, a double-bond at carbon 2, and a hydroxy group at carbon 4.
Malondialdehyde is the organic compound with the formula CH 2 (CHO) 2 .
Malondialdehyde
Oxylipin
Carbonyl
Lipid peroxidation
Autocatalytic reaction
Radical (chemistry)
Free-radical theory of aging
Type I and type II errors
Perceptual trap
Ecological trap
Escapism
Cortisol
Air pollution
Air quality index
Noise pollution
Indoor air quality
disinfection - definition of disinfection in the Medical dictionary
Cardiac dysrhythmia
Dyslipidemia
Saturated fat
Stachybotrys
sensitizing - definition of sensitizing by the Free Online Dictionary
Ochratoxin
Xenobiotic
regrowth - definition of regrowth by the Free Online Dictionary
Transthyretin
Psychotrope
Overload
Imagination
Interference
Reference class forecasting
Planning fallacy
Nanotoxicology
Tumor necrosis factor-alpha
Interleukin 6
Non-steroidal anti-inflammatory drug
overabundance - definition of overabundance by the Free Online Dictionary
False dilemma
Dopamine
Homeorhesis
Debate
Moderation
Attribution (psychology)
Empathy gap
Fundamental attribution error
Reactive devaluation
Attitude polarization
Dysrationalia
Publication bias
Cognitive bias mitigation
Misuse of statistics
Affect heuristic
Impression management
Attribute substitution
Adaptive bias
Telescoping effect
Suggestibility
Spacing effect
Rosy retrospection
Picture superiority effect
Misinformation effect
Google effect
Generation effect
Trait ascription bias
Just-world hypothesis
In-group favoritism
Illusory superiority
Illusion of transparency
Illusion of asymmetric insight
Halo effect
Extrinsic incentives bias
Egocentric bias
Well travelled road effect
Time-saving bias
Social desirability bias
Restraint bias
Recency illusion
Optimism bias
Post-purchase rationalization
Attentional bias
Anchoring
Ambiguity effect