Marketing
Story
Quantified Self Forums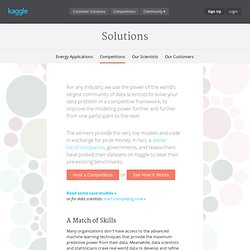 How Competitions Work Kaggle is the leading platform for predictive modeling competitions.
Research and Education
An early adopter or lighthouse customer is an early customer of a given company, product, or technology; in politics, fashion, art, and other fields, this person would be referred to as a trendsetter . The term originates from Everett M. Rogers ' Diffusion of Innovations (1962). [ 1 ]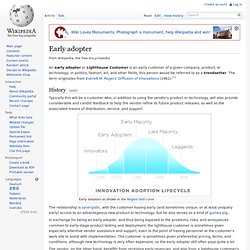 Early adopter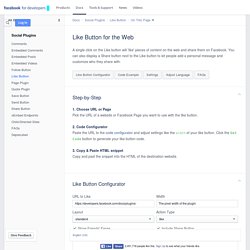 The Like button is a simple plugin that will let people quickly share content with their friends on Facebook. When someone clicks on a Like button on a site, a connection is created in the Graph between the content and that person: an Open Graph Like action will be published, and stories will appear on that person's timeline and their friends' news feeds. This story will link back to the site and drive distribution of content. The story created by the Like action can be enriched by using meta tags to turn a simple HTML page into an Open Graph object . If you plan to use the Like button on any page on your website, you should follow the guide to including meta tags to ensure published stories look great in news feed, on Timeline, and get the best possible distribution from people.
What do you want to advertise?
Tam Sam Som Market Evaluations - Easily Explained