Android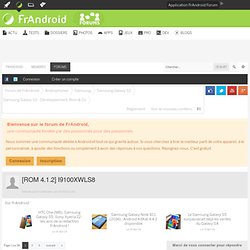 [ROM 4.1.2] I9100XWLS8 - Samsung Galaxy S2 - Développement, Rom & Co
'massi50', on 23 Jan 2013 - 11:56, said: enfin elle arrivestp peut tu me donné un lien pour telecharger ODINmerciiiiii Une simple recherche google en tapant "Download Odin" et tu aurais trouvé.
ROM][4.1.2] I9100XWLSD - France (19/04) : [GS2] ROMs Officielles / Leakées
I9100XWLSD - France (Android 4.1.2 ) Avertissement : Sachez que ni moi, ni aucun autre membre du forum ne pourra être tenu responsable en cas de problème sur votre téléphone.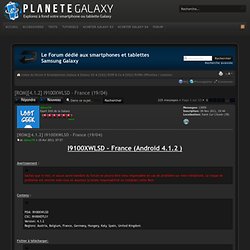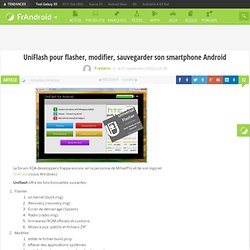 Le forum XDA-developpers frappe encore, en la personne de MihailPro et de son logiciel UniFlash (sous Windows). Uniflash offre les fonctionnalités suivantes: Flasher un kernel (boot.img)Recovery (recovery.img)Ecran de démarrage (Splash)Radio (radio.img)firmwares/ROM officiels et customsMises à jour, patchs et fichiers ZIPModifier éditer le fichier build.propeffacer des applications systèmesinstallation et suppression d'applications autrescopie de fichiers vers et depuis le terminal Android, suppression de fichiersréinitialisation du terminal (Wipe DATA / Factory Reset)effacement du cache (Wipe CACHE)Plus Sauvegarde et restaurationInformations sur le téléphone Pour les personnes rompues à l'usage des recovery custom (clockworkmod recovery par exemple) et aux manipulations sous ADB, rien de bien nouveau sous le soleil. Cependant Uniflash, à la différence du recovery, s'utilise directement depuis un PC (sous Windows), ce qui est bien plus confortable (le PC pas Windows ;-).
UniFlash pour flasher, modifier, sauvegarder son smartphone Android - FrAndroid - Android
MiniDLNA: The best streaming software hands down! « Music, Debian and points of interest.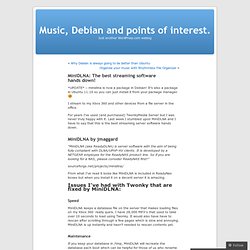 *UPDATE* – minidlna is now a package in Debian! It's also a package in Ubuntu 11.10 so you can just install it from your package manager. ;) I stream to my Xbox 360 and other devices from a file server in the office.
Android
Ce tuto est destiné à vous permettre de faire un nandroid backup : c'est à dire une sorte de sauvegarde de votre système. Cela vous permettra de faire des manip' et autres bidouilles sur votre Galaxy S sans danger car, en cas de problème, vous pourrez revenir en arrière et retrouvé votre Androphone comme il était avant votre manip'. Quote Il est donc conseillé de faire un nandroid backup (une sauvegarde) avant chacune de vos manipulations de façons à assurer vos arrières, cependant le Nandroid Backup n'est pas compatibles avec les firmware froyo samsung ou opérateur Froyo! mais fonctionne très bien avec les rom custom
[Tuto] Faire un Nandroid Backup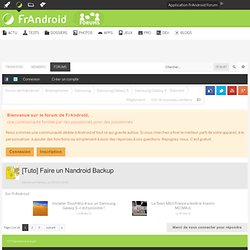 [DEV][DATA2SD] More space (and more I/O) for your Desire (Updated/EXT4/Flashable ZIP) HI all. I know it has been already done but I didn't find any detailed tutorial for the hTc Desire so I wrote one for you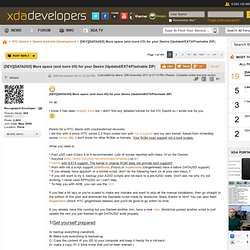 [DEV][DATA2SD] More space (and more I/O) for your Desire (Updated/EXT4/Flashable ZIP)
Revolutionary: S-OFF & Recovery Tool 0.4pre4 At last, the time has come -- AlphaRev and unrevoked have come together to join our strengths and build an S-OFF tool for the next wave of phones. We're very excited about this, and we hope that you will be too!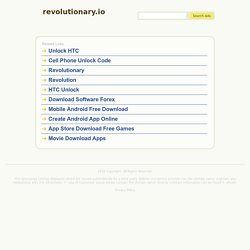 Revolutionary
Android DLNA Video Streaming: All Methods and Apps Explained
DLNA Video Stream Receivers: BubbleUPnP BubbleUPnP is different from the other category apps in that it is on the receiving end of the DLNA spectrum. The app is capable of playing video that is streamed from a DLNA (or UPnP) transmitting app or device. As such it lets you browse your video collection without having to carry it with you on your Android device's SD card and thus saving precious space. BubbleUPnP is still in beta mode and is free to try for 15 days.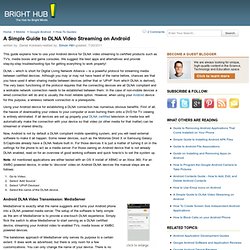 Installation de sonneries personalisées sur Android
Si les appareils mobiles sont livrés aujourd'hui avec un certain nombre de sonorités, il est toujours plus agréable de mettre ses propres sonorités sur son appareil afin de la personnaliser à son image. Comme tous les autres systèmes du marché Android est bien entendu capable de gérer des sonneries personnalisées.Sous Android tout se passe via la carte mémoire même s'il reste possible d'installer des sonneries dans la mémoire interne de l'appareil. Ce dernier point relevant de la bidouille et nécessitant de "rooter" son terminal, nous n'allons vous donner dans ce tuto que la méthode conventionnelle même si celle-ci pose un petit problème lors de l'utilisation quotidienne de son appareil.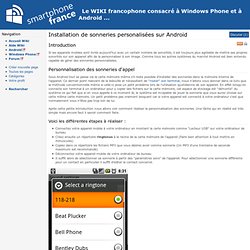 Unlock Bootloader