Wartrip
Stow Maries Aerodrome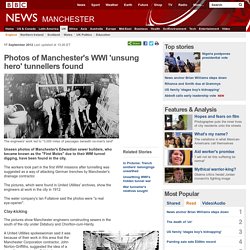 17 September 2012Last updated at 17:20 GMT The engineers' work led to "3,000 miles of passages beneath no-man's land" Unseen photos of Manchester's Edwardian sewer builders, who became known as the "First Moles" due to their WWI tunnel digging, have been found in the city.
Photos of Manchester's WWI 'unsung hero' tunnellers found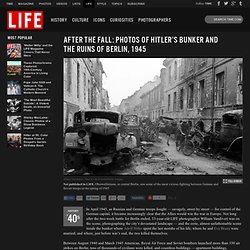 In April 1945, as Russian and German troops fought — savagely, street by street — for control of the German capital, it became increasingly clear that the Allies would win the war in Europe.
Rare Photos: Hitler's Bunker, Captured by LIFE Photographer
One of the German cross channel guns, pictured in 1942 after concrete fortifications had been built around it The Chiefs of Staff weekly Resume of the Naval Military and Air Situation up 12 noon on the 22nd August, as reported to the War Cabinet: From the Naval Situation: para. 8. On the 22nd August when the East-bound Channel convoy was approaching the Dover Strait it came under long-range fire from heavy guns situated near Gris Nez. The bombardment continued for nearly 3 hours without success, 108 rounds being fired apparently in four gun salvoes.
22 August 1940: German guns shell Dover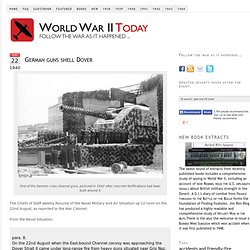 This website is for all those interested in the history of World War II. Scattered throughout Europe, there are remnants and traces from the war. Use this website, discover history where it took place and share your experiences or questions with the other users.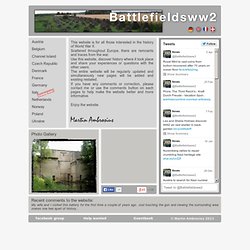 Battlefields - Remnants from second world war in Europe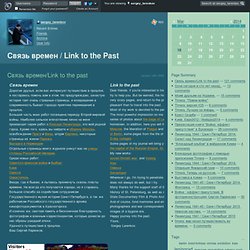 sergey_larenkov
Однажды, 9 лет назад мне в голову пришла простая идея о том, как совместить старинную открытку с современным видом. И хотя меня часто называют основателем жанра исторического фотоколлажа, я не хотел бы приписывать себе лавры первенства. Сейчас в мире уже много человек делает неплохие работы, и я хотел бы назвать имена некоторых из них: Jo Hedwig Teeuwisse (Гаага), Thierry Schoendorf (Мец), Shawn Clover (Сан Франциско), Michael Danckaarts (Амстердам), Marc Hermann (Нью Йорк), Александр Березянский (Воронеж), Сергей Баташов (Смоленск), Дмитрий Сохин (Волгоград), Илья Вихрев (Архангельск), Константин Коновалов (Москва), и я уверен, что многие придумали это самостоятельно. Пусть простят меня те, кого я не назвал. У каждого из нас свои «окна во времени», которые мы демонстрируем всему миру. На создание первой фотоработы в свое время у меня ушло две недели, потребовав изучения большого количества графических программ, установки соответствующего ПО и подбора оптики.
Papa B: You have to hand it to the Brits when it comes to golf. This notice was posted in war-torn Britain in 1940 in a north-country golf club.German aircraft from Norway would fly on missions to northern England; because of the icy weather conditions, the barrels of their guns had a small dab of wax to protect them. As they crossed the coast, they would clear their guns by firing a few rounds at the golf courses. Golfers were urged to take cover.
Stiff Upper Lip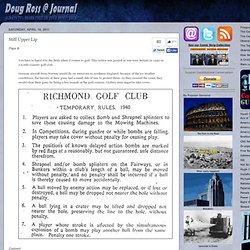 LA COUPOLE : World War II Museum and battlefield museum, tourism, North of France
How to get to go to the fortress mimoycques, V3 base, north Landrethun
Battery Todt Rates - Museum of the Atlantic Wall Audinghen - Cap Gris Nez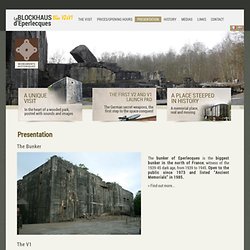 presentation du blockhaus d'eperlecques
En janvier 1945, un panneau avertissait les habitants d'Eperlecques des risques encourus lors des bombardements menés par les Anglais et par les Américains sur le blockhaus. "Ne pas dépasser cette limite,si le drapeau rouge est hissé, bombardement en cours, tout le terrain jusqu'à 500m autour du bâtiment est dangereux."