Sustainable living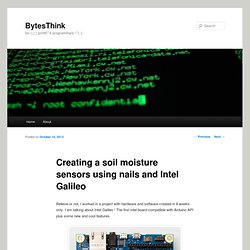 Creating a soil moisture sensors using nails and Intel Galileo | BytesThink
Believe or not, I worked in a project with hardware and software created in 8 weeks only. I am talking about Intel Galileo ! The first intel board compatible with Arduino API plus some new and cool features. Before to talk about how to create a very affordable moisture sensor system, let me explain what is Intel Galileo.
My little paradise has a stream that provides enough water flow and head to run a small turbine, to provide electricity to my home. While writing this, the microhydro plant is being implemented, and here are some photos of the process. Since I usually like to start at the end, the first thing I built is the controller: It is an implementation of Jan Portegijs' "Humming Bird", with some changes and adaptations.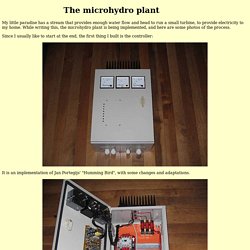 The microhydro plant
The Art of Hiding a Building: Six Acts of Architectural Camouflage
This pavilion is for the people who like to sleep outside and dream outside the box. Perfect as a temporary place in warm days to enjoy watching stars in company. A extra curtain can keep wind out and insure privacy.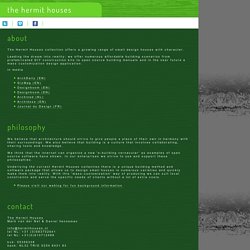 The Hermit Houses
Omega Center for Sustainable Living
The Purple Fig Solar Cooker reaches temperatures between 250°F and 375°F. It cost less than $5 to make. The ingredients are: 2 pieces of 22" x 28" (55.88cm x 71.12cm) poster board.- aluminum foil - glue - 1 shoelace - 4 binder clips 3/4" (1.905cm) ALWAYS use meat thermometer when cooking chicken and meats. Chicken is done at 165F° (72C).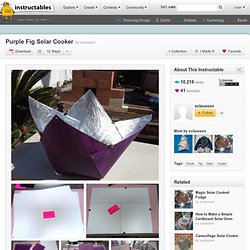 Purple Fig Solar Cooker
No traffic lights. No traffic signs. No painted lines in the roadway. No curbs. And 26,000 vehicles passing every day through a traditional village center with busy pedestrian traffic.
Lots of Cars and Trucks, No Traffic Signs or Lights: Chaos or Calm? - Sarah Goodyear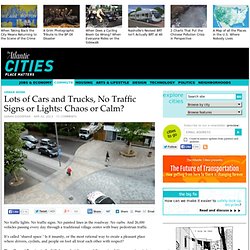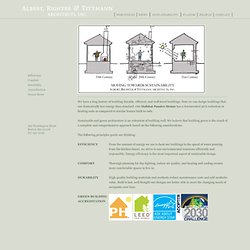 Albert, Righter & Tittmann: Sustainable Design
We have a long history of building durable, efficient, and well-loved buildings. Now we can design buildings that use dramatically less energy than standard. Our Habitat Passive House has a documented 90% reduction in heating costs as compared to similar houses built to code. Sustainable and green architecture is an extension of building well. We believe that building green is the result of a complete and comprehensive approach based on the following considerations. The following principles guide our thinking:
Green building websites can be confusing. One site might tell you that a green home should include spray foam insulation, a tankless water heater, and a geothermal heating system. After you've absorbed this advice, you visit another website, where you learn that spray foam is a dangerous petrochemical, tankless water heaters are overpriced gadgets, and "geothermal" systems aren't really geothermal. Eventually someone tells you that you can usually trust advice from Green Building Advisor. After reading a few GBA articles, you start to feel more comfortable.
Green Building for Beginners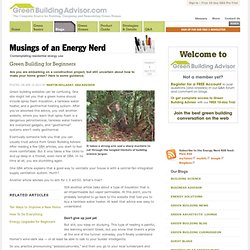 In 2005 I visited the Cottage Life Show in Toronto and wrote The Hot Poop on Alternative Toilets, looking the various toilets on the market. Since then I have become convinced that these toilets have a much bigger future. We can't continue using drinking water to flush away our waste, and we can't afford to keep wasting our waste; at some point soon these are going to be coming into our homes and offices. Don't laugh; already, if you want to build to the Living Building Challenge standard, they are pretty much the only way to go.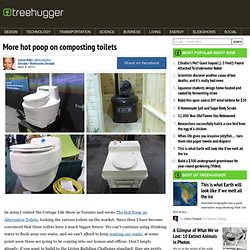 More hot poop on composting toilets
Cheaper LED Bulbs Make It Easier to Switch Lights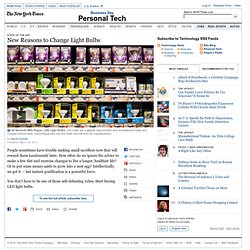 You don't have to be one of those self-defeating rubes. Start buying LED light bulbs. You've probably seen LED flashlights, the LED "flash" on phone cameras and LED indicator lights on electronics. But LED bulbs, for use in the lamps and light sockets of your home, have been slow to arrive, mainly because of their high price: their electronics and heat-management features have made them much, much more expensive than other kinds of bulbs. That's a pity, because LED bulbs are a gigantic improvement over incandescent bulbs and even the , or CFLs, that the world spent several years telling us to buy.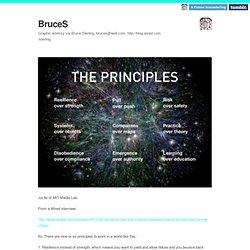 Joi Ito of MIT Media Lab: From a Wired interview: http://www.wired.com/business/2012/06/resiliency-risk-and-a-good-compass-how-to-survive-the-coming-chaos/ Ito: There are nine or so principles to work in a world like this:
BruceS — Joi Ito of MIT Media Lab: From a Wired...
LYMAN FILAMENT EXTRUDER II by hlyman
© Neo-farms Growers in colder climates often utilize various approaches to extend the growing season or to give their crops a boost, whether it's coldframes, hoop houses or greenhouses. Greenhouses are usually glazed structures, but are typically expensive to construct and heat throughout the winter. A much more affordable and effective alternative to glass greenhouses is the walipini (an Aymara Indian word for a "place of warmth"), also known as an underground or pit greenhouse. First developed over 20 years ago for the cold mountainous regions of South America, this method allows growers to maintain a productive garden year-round, even in the coldest of climates. Here's a video tour of a walipini that even incorporates a bit of interior space for goats:
Build a $300 underground greenhouse for year-round gardening (Video)
Posted by Jeffrey | Posted in Community Rebuilds - Straw Bale Home | Posted on 01-03-2014 Projects led by: Eric Plourde & Doug Nichols of Community Rebuilds Location: Moab, UT Date: August – December 2012 & 2013 Community Rebuilds is a non-profit, building straw bale houses for low income families in Moab, Utah. The house cost is kept low because all the labour is provided by volunteers who are trading their [...] Read the full post of "Community Rebuilds Straw Bale Homes" ... Posted by Jeffrey | Posted in Tiny Home Dome | Posted on 28-02-2014 Tags: cedar shakes, earthen dome, earthen plaster, lime plaster, reclaimed materials, recycling, small housing, tiny home, tiny home dome, tiny house
Jeffrey the Natural Builder
SolarFlower.org SolarFlower tutorials: The Main Collector v1.0The main parabolic collector trough which collects solar energy to drive an application. The Box collector v1.0 Secondary collector which drives the tracker. The Wheel v1.0 Turns the gearing. The Gearing v1.0 Turns the main collector.
SolarFlower.org
Fantastic Deconstructed Geodesic Dome Is Built With Local and Recycled Wood
Bristol Fish Project | Community Supported Aquaponics
ELIOOO. Grow Your Food | Indiegogo
Growing food in tyres: a bad idea?
Defend Innovation
32 Innovations That Will Change Your Tomorrow - Interactive Feature
Earth Air Tunnels
Sustainable Economies Law Center
Looking Back on the Limits of Growth
'Sun-Root' Solar Living Roof System Unveiled
Facit Homes
Global Frontier Towns for all environments, all people.
Building Green Is No Longer Enough, It is Time To Build Resilient
A Quick Guide to Starting a Beehive
Sustainable Materials: with both eyes open
civilisedmoney - people-to-people power!
Design Probes - Urban beehive
Underground House With Green Roof Approved In Protected Area Next To Achaeological SIte
Vertech Limited Bridge,WorldArchitectureNews, Vertech Limited, Peeblesshire, Urban Design,Sustainability
NPTL - The North Portland Tool Library - Home Page
A Low Impact Woodland Home
Roseicollis Technologies | SunSaluter
Energy up in Smoke:
The Carbon Footprint of Indoor Cannabis Production
Matternet | Lifting the rising billion
How to Build Hugelkultur Irrigation-Free Raised Bed Gardens (Video)
Green Scissors 2011 | Green Scissors
Four Amazing Green Greenhouses Built 40 Years Ago By Michael Jantzen
Could Composting Toilets Save Cities Millions in Waste Water Treatment?
Help Build A Sustainable Off-Grid Friggebod With Floda31
Infographic: How Big a Backyard Would You Need to Live Off the Land? | One Block Off the Grid: The Smart New Way to Go Solar
A Solar Grill Prototype for a Greener Tomorrow | BarbequeLovers.com
Solar powered stove using 100% recycled materials
Vortex Filters Organic Fertilizer Dispensers | The Urban Farming Guys
Let Plastic2Oil Turn Your Discarded Plastics Into Fuel
EcoStar Recycling Facility Tour
What's The Greenest Insulation? It's Getting Harder To Decide Every Day
Sued By Plastic
How To Make and Build A Self-Watering Container & Planter: 4 Ways
New battery design could give electric vehicles a jolt
David MacKay FRS: Sustainable Energy - without the hot air: Contents
Wood gas vehicles: firewood in the fuel tank
Self-Repair Manifesto - iFixit
Where There Is No Doctor : A Village Health Care Handbook
Tour of the First PassivHaus in UK
All New Square Foot Gardening: Grow More in Less Space! (9781591862024): Mel Bartholomew
New Survey Shows Electronics Hampering Progress for Energy Efficient Homes
11 Steps For Starving Students That Will Make A Difference For The Environment
1-800-Recycling - Find Recycling Center Locations
ID COOK / SOLAR BARBECUE COOKUP200
A proven strategy for reclaiming the built environment — ILBI
dusty gedge urban ecologist, performer, public speaker
On Green Roofs and Brown Roofs | About Livingroofs.org & Living Roofs
Green roofs - Optigreen system solutions for green roofing - green roof
Create your My2050 world for the UK: Can you reduce our CO2 emissions by 80% | Department of Energy and Climate Change
UndergroundHouse : Underground House
CleanMetrics - Home
Food Carbon Emissions Calculator by CleanMetrics
Engineers Hone Clean-Energy Stoves For The World
How to Compost Indoors (Video)
Top Ten Most Nutritious Vegetables and How to Grow Them in Your Garden
Thomas Thwaites: How I built a toaster -- from scratch
Harvest Boon
The ultimate climate change FAQ | Environment
Home farming and gardening using natural approaches to growing edibles and food
Road train technology can drive your car for you - tech - 18 January 2011
Flow2 on Vimeo
Home
NASA - The Frontier Is Everywhere
Appropriate Technology
Yurts Cause Controversy in France
Which Is Worse, Air Leaks or Heat Loss? Neither. It's Energy Consumption That Matters
Power Play: EPRI Analysis Reveals That Video Game Consoles Differ in Energy Consumption
Eco Reminders
CalculatorPage
Sustainable, Green, Books, Tools and Eco Products | Green Shopping
6 Fascinating Underground Homes That Go Above and Beyond