permaculture
Get flash to fully experience Pearltrees
Ajith_chatie / CC BY 2.0 I tend to be a bit obsessive about tomatoes.
Save My Row or Bed
Growing a great vegetable garden involves juggling the needs of dozens of different crops. Some like it hot while others prefer cool spring or fall growing conditions, but figuring out when to plant what — and where — just got easier. With the help of our interactive Vegetable Garden Planner , you can quickly get the data you need to design your best garden ever — and it's all free for 30 days . To get all the same great features on your iPad, try our Grow Planner app . Here are some of the things the Vegetable Garden Planner can do:
Hugelkultur is a method of building planting beds by covering wood with dirt; big piles of wood and sometimes other organic matter.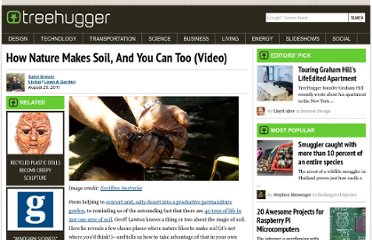 Image credit: Ecofilms Australia From helping to convert arid, salty desert into a productive permaculture garden , to reminding us of the astounding fact that there are 40 tons of life in just one acre of soil , Geoff Lawton knows a thing or two about the magic of soil.
Image credit: Growing Your Greens