Dieppe
The Dieppe Raid, August 1942 In the spring of 1942, the Allies planned a large raid on German occupied territory to take place during the first week of July 1942. Originally code-named "Operation Rutter," the objective was the French port of Dieppe. Assault Troops On August 19th, 1942, the ground forces that were taking part in the raid included 4,963 men and officers from the 2nd Canadian Division, 1,005 British commandos, 50 US rangers and 15 Frenchmen.
The Dieppe Raid - Canada at War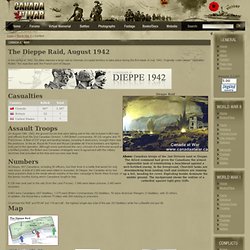 BIRD BATTLEFIELD TOURS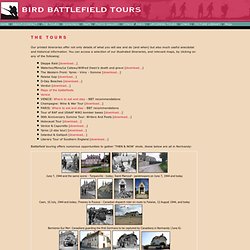 Our printed itineraries offer not only details of what you will see and do (and when) but also much useful anecdotal and historical information. You can access a selection of our illustrated itineraries, and relevant maps, by clicking on any of the following: Battlefield touring offers numerous opportunities to gather 'THEN & NOW' shots…these below are all in Normandy: June 7, 1944 and the same scene - Turqueville - today; Saint Marcouf - paratroopers on June 7, 1944 and today Caen, 10 July, 1944 and today; Fresney le Puceux - Canadian dispatch rider en route to Falaise, 12 August 1944, and today
For most Canadians the name Dieppe conjures up visions of disabled tanks on a beach littered with soldiers' bodies, and thoughts of poor planning, donkey generals, and sacrificial lambs. Lee put this raid into context for us, explaining the reasons why it was planned for this particular time and place, the failure of intelligence, the bad timing, and other factors that complicated the raid. We could view most of the beach from the pier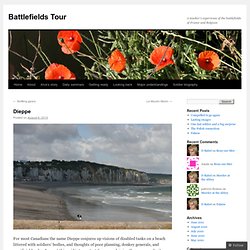 Dieppe | Battlefields Tour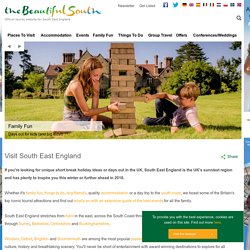 If you're looking for unique holiday ideas or days out in the UK, South East England has plenty to inspire you. Whether it's family fun, things to do, best pubs, quality accommodation or a day trip to the south coast, we boast some of the country's top iconic tourist attractions and events. Windsor, Oxford, Brighton, Bournemouth are among the most popular places for days out in England, blending festivals, culture, history and breathtaking scenery. You'll never be short of entertainment with a variety of award winning to destinations explore for all budgets and tastes. Your beautiful south adventure starts here….
Wisborough Green - Towns & Villages in nr Billingshurst, West Sussex - Visit South East England