Psychadelics Research
The Informed Pagan | promoting responsibility and integrity within the pagan community, through knowledge and awareness.
Psychedelic Research Around the World
MDMA / Ecstasy : Utopian Pharmacology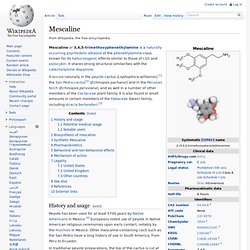 Mescaline
Mescaline or 3,4,5-trimethoxyphenethylamine is a naturally occurring psychedelic alkaloid of the phenethylamine class, known for its mind-altering effects similar to those of LSD and psilocybin . It occurs naturally in the peyote cactus ( Lophophora williamsii ), [ 1 ] the San Pedro cactus ( Echinopsis pachanoi ) and in the Peruvian torch ( Echinopsis peruviana ), and as well in a number of other members of the Cactaceae plant family. It is also found in small amounts in certain members of the Fabaceae (bean) family, including Acacia berlandieri . [ 2 ] Naturally derived mescaline powder extract. [ edit ] History and usage Peyote has been used for over 3000 years by Native Americans in Mexico. [ 1 ] Europeans noted use of peyote in Native American religious ceremonies upon early contact, notably by the Huichols in Mexico.
N , N -Dimethyltryptamine ( DMT or N , N -DMT ) is a psychedelic compound of the tryptamine family. Its presence is widespread throughout the plant kingdom . [ 3 ] [ 4 ] DMT occurs in trace amounts in mammals, including humans, where it putatively functions as a trace amine neurotransmitter / neuromodulator . [ 5 ] It is originally derived from the essential amino acid tryptophan and ultimately produced by the enzyme INMT during normal metabolism . [ 6 ] The significance of its widespread natural presence remains undetermined. Structurally , DMT is analogous to the neurotransmitter serotonin (5-HT), the hormone melatonin , and other psychedelic tryptamines, such as 5-MeO-DMT , bufotenin , psilocin and psilocybin .