Facebook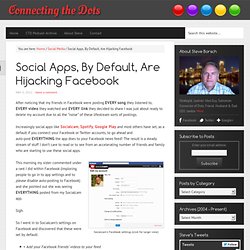 Social Apps, By Default, Are Hijacking Facebook
After noticing that my friends in Facebook were posting EVERY song they listened to, EVERY video they watched and EVERY link they decided to share I was just about ready to delete my account due to all the "noise" of these lifestream sorts of postings. Increasingly social apps like Socialcam, Spotify, Google Play and most others have set, as a default if you connect your Facebook or Twitter accounts, to go ahead and auto-post EVERYTHING the app does to your Facebook news feed! The result is a steady stream of stuff I don't care to read or to see from an accelerating number of friends and family who are starting to use these social apps. Socialcam's Facebook settings (click for larger view)
Konkrétní využití Facebooku – stránky semináře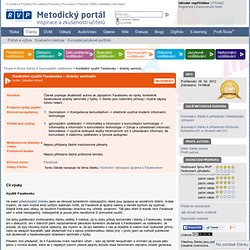 Text článku: Stránky semináře z fyziky Na našem gymnáziu tento rok vyučuji mimo jiné i Seminář a cvičení z fyziky. Na začátku školního roku jsem se žáky domluvil, že pro seminář založím facebookové stránky.
Konkrétní nebezpečí spojená s Facebookem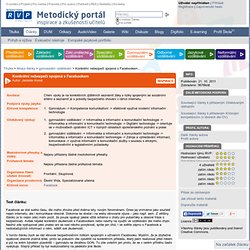 Text článku: Facebook se stal svého času, dle mého zhruba před dvěma lety, novým fenoménem. Dnes jej vnímáme jako součást nejen internetu, ale i komunikace obecně. Dokonce se dostal i na weby věnované výuce – jako např. sem.
Tweeting or checking emails may be harder to resist than cigarettes and alcohol, according to researchers who tried to measure how well people could resist their desires. They even claim that while sleep and sex may be stronger urges, people are more likely to give in to longings or cravings to use social and other media. A team headed by Wilhelm Hofmann of Chicago University's Booth Business School say their experiment, using BlackBerrys, to gauge the willpower of 205 people aged between 18 and 85 in and around the German city of Würtzburg is the first to monitor such responses "in the wild" outside a laboratory. The results will soon be published in the journal Psychological Science.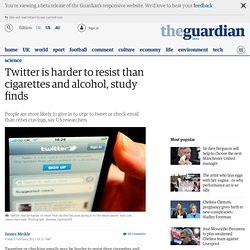 Twitter is harder to resist than cigarettes and alcohol, study finds | Science
George Veletsianos and Cesar C. Navarrete University of Texas at Austin, USA Abstract While the potential of social networking sites to contribute to educational endeavors is highlighted by researchers and practitioners alike, empirical evidence on the use of such sites for formal online learning is scant.
Online social networks as formal learning environments: Learner experiences and activities | Veletsianos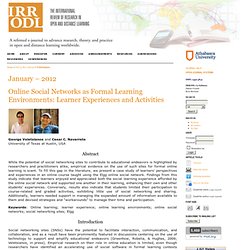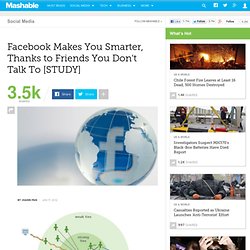 Information being shared on Facebook is highly diverse and coming to you mostly from people you rarely talk to, says the latest Facebook Data Team Study. The Facebook Data Team examined users' strong ties and weak ties by the number of comments, messages and photos people have in common. It turns out, those old friends and acquaintances you only see at reunions, influence your media consumption more than you might think. Don't discount the memes or news links your weak-tie friends share.
Facebook Data Team Shows Diversity and Roots of Information Network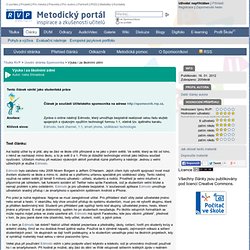 Text článku: Asi každý učitel by si přál, aby se žáci ve škole cítili přirozeně a ne jako v jiném světě. Ve světě, který se liší od toho, v němž se nacházejí mimo školu, a to je svět 0 a 1. Proto je důležité technologie vnímat jako běžnou součást vyučování. Učitelům mohou při realizaci výukových aktivit pomáhat různé platformy a nástroje. Jednou z velmi užitečných je služba Edmodo.
Výuka i za školními zdmi
How to undermine Facebook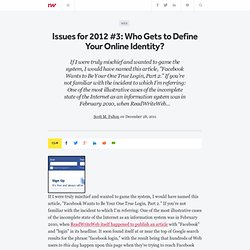 Issues for 2012 #3: Who Gets to Define Your Online Identity? - ReadWriteCloud
If I were truly mischief and wanted to game the system, I would have named this article, "Facebook Wants to Be Your One True Login, Part 2." If you're not familiar with the incident to which I'm referring: One of the most illustrative cases of the incomplete state of the Internet as an information system was in February 2010, when ReadWriteWeb itself happened to publish an article with "Facebook" and "login" in its headline. It soon found itself at or near the top of Google search results for the phrase "facebook login," with the result being that hundreds of Web users to this day happen upon this page when they're trying to reach Facebook itself. The Web was not designed to require identity or authentication for data to be accessed.
myFnetwork on Facebook
Text článku: Dne 22. září se v San Franciscu konala tzv. "vývojová" konference Facebooku F8. Pro nás zajímavou zprávu o ní na svém hlavním blogu Hack Education podává mimořádně zajímavá propagátorka vzdělávacích technologií, autorka, novinářka a moderní učitelka Audrey Watters.
Bude se jednou vzdělávání odehrávat na Facebooku?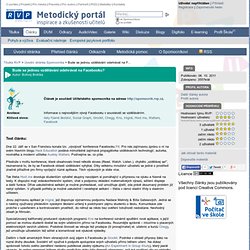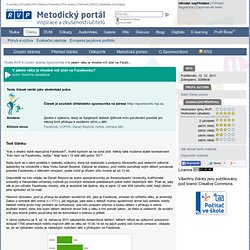 Text článku: "Kdo v dnešní době nepoužívá Facebook?", mohli bychom se na úvod ptát. Někdy také můžeme slyšet konstatování "Kdo není na Facebooku, nežije."
V jakém věku je vhodné mít účet na Facebooku?
by Daniel Gulati | 1:05 PM December 9, 2011 When Facebook was founded in 2004, it began with a seemingly innocuous mission: to connect friends. Some seven years and 800 million users later, the social network has taken over most aspects of our personal and professional lives, and is fast becoming the dominant communication platform of the future. But this new world of ubiquitous connections has a dark side. In my last post, I noted that Facebook and social media are major contributors to career anxiety. After seeing some of the comments and reactions to the post, it's clear that Facebook in particular takes it a step further: It's actually making us miserable.
Facebook Is Making Us Miserable - Daniel Gulati
Facebook and subscriptions
A few people sent me a pointer to an announcement of a new Facebook push to get publications to come inside their silo. This isn't imho news. They've been working on this for a long time. It was easy to see its size and shape based on the actions they were taking.
Is Facebook Stifling the Free Flow of Information?
Struggling to get to sleep last night, I caught this whilst listening to episode 124 of This Week in Google from a few weeks ago (45 mins or so in to the original; I've excerpted the relevant bit below): The first thing that grabbed my attention was that Importing a blog or RSS feed to your personal Facebook account is no longer available. Facebook's recommendation is to "Use Facebook Notes to customize your blog posts in a rich format that's compatible for readers on Facebook, [or] [l]ink directly to your blog posts from your status". Pretty much the only interaction I have with Facebook is (or rather, was) to automatically syndicate my OUseful.info blog posts via an RSS through my Facebook Notes application.