Connectivism
Get flash to fully experience Pearltrees
Should Projects Be Required To Blog? They Should Now!
Children have wild imaginations. Take Max from Maurice Sendak's illustrated classic Where the Wild Things Are , whose mischievous tantrums cause his room to sprout into a lush, inhabited forest.
TIVO and DVRs completely changed the way we watch television. People no longer have to watch a program at the exact time it's aired, since it's so easy to record it and watch whenever you have the time. So what can workplace learning professionals learn from the TIVO generation about the future of learning?
Carmen Tschofen and Jenny Mackness
A recent Edudemic article stated that "The most popular complaints about online learning are lack of engagement, slow response time from the instructor, and a loss of the sense of community."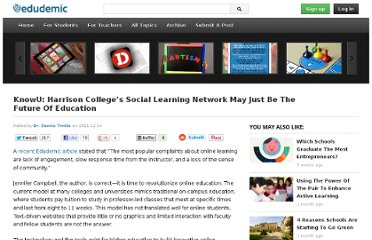 Catherine Anne Schmidt-Jones University of Illinois Urbana-Champagne, USA Abstract
January 29, 2012 by jennymackness Change Mooc, Week 18: Richard DeMillo, Ashwin Ram, Preetha Ram, and Hua Ali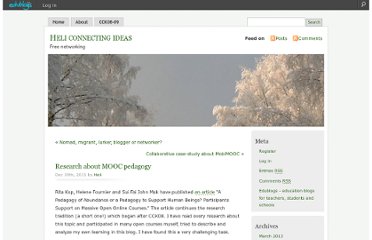 Rita Kop, Helene Fournier and Sui Fai John Mak have published an article "A Pedagogy of Abundance or a Pedagogy to Support Human Beings? Participants Support on Massive Open Online Courses." The article continues the research tradition (a short one!)
I just listened to a great video discussion – Khan Academy and Stanford AI Class: Reinventing Education – with Peter Norvig, Sebastian Thrun, and Sal Khan. It's a candid discussion of what each of these educators wanted to achieve with opening up their courses and content and some of the challenges they faced in the process. Most importantly, they (particularly Sebastian) discuss where they were wrong in their previous assumptions about learning.
This is Part VII in the series " Stepping it Up: Learning About Blogs FOR your Students "