Connectivism
Learn it Yourself (LIY) As 2011 was only a few days away from drawing to close, Ryan Deussing wrote an interesting post that has me thinking about classroom structure, information and the purpose of schools.
Deussing was reflecting on the open source movement and how it has taken over large parts of the web. Web servers, javascript, Open Office, browsers, etc are all open source movements. But Deussing has an interesting take on all of this: "Today it all seems obvious. Information wants to be free. Beyond Blogging as an Open Practice, What About Associated Open Usage Data? Should Projects Be Required To Blog?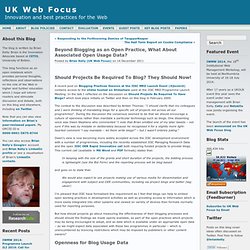 They Should Now! A recent post on Blogging Practices Session at the JISC MRD Launch Event (#jiscmrd) contains access to the slides hosted on Slideshare used at the JISC MRD Programme Launch Meeting. In the talk I reflected on the discussion on Should Projects Be Required To Have Blogs? Which took place initially on Twitter and then on this blog in February 2009. The context to the discussion was described by Amber Thomas: "I should clarify that my colleagues and I were thinking of mandating blogs for a specific set of projects not across all our programmes".
Stockholm's School Without Classrooms. Children have wild imaginations.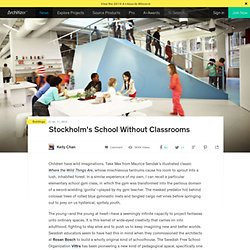 Take Max from Maurice Sendak's illustrated classic Where the Wild Things Are, whose mischievous tantrums cause his room to sprout into a lush, inhabited forest. In a similar experience of my own, I can recall a particular elementary school gym class, in which the gym was transformed into the perilous domain of a sword-wielding 'gorilla'—played by my gym teacher.
On-Demand is the Future of Online Learning. TIVO and DVRs completely changed the way we watch television.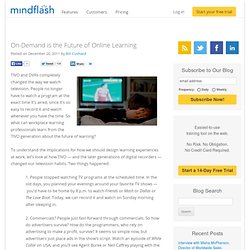 People no longer have to watch a program at the exact time it's aired, since it's so easy to record it and watch whenever you have the time. So what can workplace learning professionals learn from the TIVO generation about the future of learning? Connectivism and dimensions of individual experience | Tschofen. Carmen Tschofen and Jenny Mackness Abstract Connectivism has been offered as a new learning theory for a digital age, with four key principles for learning: autonomy, connectedness, diversity, and openness.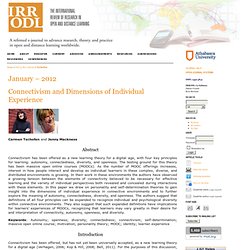 The testing ground for this theory has been massive open online courses (MOOCs). As the number of MOOC offerings increases, interest in how people interact and develop as individual learners in these complex, diverse, and distributed environments is growing. KnowU: Harrison College's Social Learning Network May Just Be The Future Of Education. A recent Edudemic article stated that "The most popular complaints about online learning are lack of engagement, slow response time from the instructor, and a loss of the sense of community."
Jennifer Campbell, the author, is correct—it is time to revolutionize online education. The current model at many colleges and universities mimics traditional on-campus education, where students pay tuition to study in professor-led classes that meet at specific times and last from eight to 11 weeks. This model has not translated well for online students. Welcome to CCK12 ~ Connectivism & Connective Knowledge 2012. An open education resource supports a diversity of inquiry-based learning | Schmidt-Jones. Catherine Anne Schmidt-Jones University of Illinois Urbana-Champagne, USA Abstract There have been numerous calls for research that demonstrates how open education resources (OERs) are actually being used.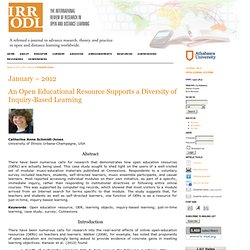 This case study sought to shed light on the users of a well-visited set of modular music-education materials published at Connexions. Respondents to a voluntary survey included teachers, students, self-directed learners, music ensemble participants, and casual learners. Most reported accessing individual modules on their own initiative, as part of a specific, immediate inquiry, rather than responding to institutional directives or following entire online courses. The place of 'the teacher' in relation to open content. January 29, 2012 by jennymackness Change Mooc, Week 18: Richard DeMillo, Ashwin Ram, Preetha Ram, and Hua Ali Social Networks, Learning Communities, and Web Science – See also Web Concepts: Change in Education and the Laws of the Web Updated pdf available for download from Rich DeMillo, Mike McCracken and Ashwin Ram's first #change11 session for week 20.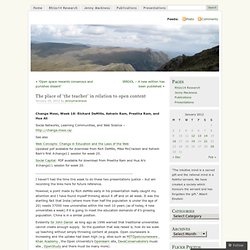 Social Capital: PDF available for download from Preetha Ram and Hua Ai's #change11 session for week 20. Heli connecting ideas » Blog Archive » Research about MOOC pedagogy. Rita Kop, Helene Fournier and Sui Fai John Mak have published an article "A Pedagogy of Abundance or a Pedagogy to Support Human Beings?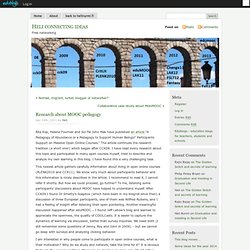 Participants Support on Massive Open Online Courses." The article continues the research tradition (a short one!) Khan and AI: Open Online Courses. I just listened to a great video discussion – Khan Academy and Stanford AI Class: Reinventing Education – with Peter Norvig, Sebastian Thrun, and Sal Khan.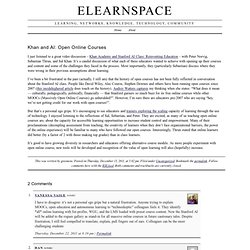 It's a candid discussion of what each of these educators wanted to achieve with opening up their courses and content and some of the challenges they faced in the process. Most importantly, they (particularly Sebastian) discuss where they were wrong in their previous assumptions about learning. Learning About Blogs FOR your Students: Part VII – Quality  This is Part VII in the series "Stepping it Up: Learning About Blogs FOR your Students" Reading, responding, assessing and monitoring our students' progress on their blog requires pedagogical commitment. It is a commitment to student learning and quality work, not a commitment to using a specific technology platform. My guiding questions for QUALITY blogging are:
---