Health and Wellness
19 famous quotations to inspire PR pros | Articles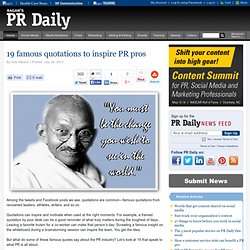 Among the tweets and Facebook posts we see, quotations are common—famous quotations from renowned leaders, athletes, writers, and so on. Quotations can inspire and motivate when used at the right moments. For example, a framed quotation by your desk can be a good reminder of what truly matters during the toughest of days. Leaving a favorite truism for a co-worker can make that person's day. Scrawling a famous insight on the whiteboard during a brainstorming session can inspire the team. You get the idea.
Subliminal MP3 Library - Subliminal Messages Subliminal CDs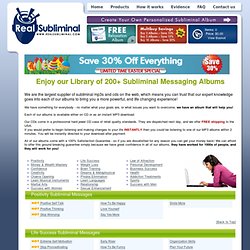 We are the largest supplier of subliminal mp3s and cds on the web, which means you can trust that our expert knowledge goes into each of our albums to bring you a more powerful, and life changing experience! We have something for everybody - no matter what your goals are, or what issues you want to overcome, we have an album that will help you! Each of our albums is available either on CD or as an instant MP3 download:
https://www.brandinvitation.com/wix/p1180280.aspx
How To Help a Heart Attack Victim - Heart Health Center
Stroke Survivors Association of Ottawa
Google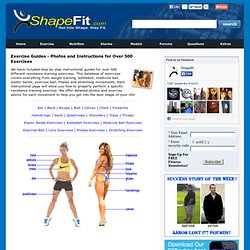 We have included step by step instructional guides for over 500 different resistance training exercises. This database of exercises covers everything from weight training, kettlebell, medicine ball, elastic bands, exercise ball, Pilates and stretching movements. Each instructional page will show you how to properly perform a specific resistance training exercise. We offer detailed photos and exercise advice for each movement to help you get into the best shape of your life! Abs | Back | Biceps | Butt | Calves | Chest | Forearms Hamstrings | Neck | Quadriceps | Shoulders | Traps | Triceps
Weight Training Exercise Guides - Photos Database of Resistance Exercises
Top 10 Fitness Habits - Get Fit With These Workout & Exercise Tips
The idea of working out and being fit is attractive, sexy and intimidating. However, you can use these fitness habits to help you start. If you follow these tips, it will be much less stressful to get in shape and much easier! #1. Prep Your Workout Gear The Night BeforeI can't tell you enough how much this one tip helps me. If I'm not ready to workout, it's so easy to procrastinate getting my stuff together, and put it off a little longer, and then the day is done.