Things To Try
Danube Waltz River Cruises - Passau to Budapest - 2012 Cruise Itinerary
Princess Anne Braids with Bun or Erica Berge's Fail-proof Method for Inspiring Hair Envy in Dexterity-Challenged Older Siblings Note: To create the Princess Anne with bun, you truly ought first to master French-braiding your own hair. Detailed instructions and photos can be found here .
The Joy of Home - Janna's Weblog & Blog Archive & Princess...
Language: Imagine a place in which you store all of your favorite websites. Imagine that it is available from any computer in the world. Imagine that it informs you about new stuff coming up on each of your favorite websites...This place is called a hoover. This is what sitehoover is - your new homepage.Start your own hoover No matter where you areBrowse your homepage everywhere you are.
Thanks & Improv Everywhere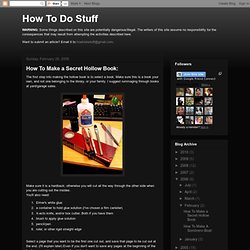 The first step into making the hollow book is to select a book. Make sure this is a book your own, and not one belonging to the library, or your family. I suggest rummaging through books at yard/garage sales.
I am flattered that the response is so great on the French Braid Updo. Here is a series of steps in photos that hopefully sheds some light on how to do it. Brush your hair. If it goes big, that's OK!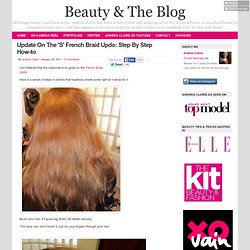 Lockpicking - How to Pick a Lock - How to Open a Door - Marie Claire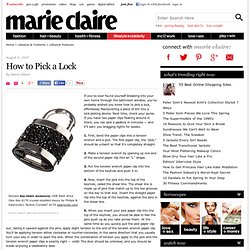 Sexiest key-chain accessory: USB flash drive (like this $170 crystal-studded doozy by Philips & Swarovski) "Active Crystals" $170 swarovski.com Photo Credit: Ben Goldstein/Studio D If you've ever found yourself breaking into your own home through the bathroom window, you've probably wished you knew how to pick a lock, effortlessly MacGyvering a piece of lint into a lock-picking device. Next time, check your purse.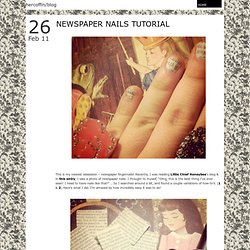 Feb 11 This is my newest obsession – newspaper fingernails! Recently, I was reading Little Chief Honeybee's blog & in this entry, I saw a photo of newspaper nails.
Learn How To Hack Those Electronic Road Signs&8230; It's Really...
How to French Braid Your Hair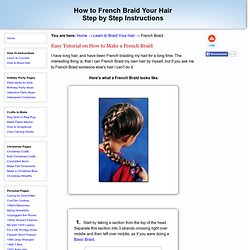 You are here:Home → Learn to Braid Your Hair → French Braid I have long hair, and have been French braiding my hair for a long time. The interesting thing is, that I can French Braid my own hair by myself, but if you ask me to French Braid someone else's hair I can't do it. Here's what a French Braid looks like. 1. Start by taking a section from the top of the head.