Funny Shit
#10 Canada. Do you remember bank calendars?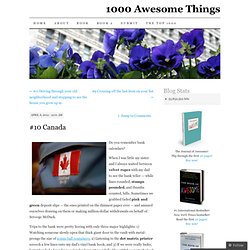 When I was little my sister and I always waited between velvet ropes with my dad to see the bank teller — while lines rounded, stamps pounded, and thumbs counted, bills. Sometimes we grabbed faded pink and green deposit slips — the ones printed on the thinnest paper ever — and amused ourselves drawing on them or making million-dollar withdrawals on behalf of Scrooge McDuck. Trips to the bank were pretty boring with only three major highlights: 1) Watching someone slowly open that thick giant door to the vault with metal-prongs the size of tennis ball containers, 2) Listening to the dot matrix printer screech a few lines onto my dad's vinyl bank book, and 3) If we were really lucky, being handed a brand new calendar for next year full of beautiful scenery shots of Canada.
Yes, my sister and I would flip through those calendars in the back of the station wagon on the ride home. Bonuses for Billionaires. Why would we impose "job-crushing taxes" on wealthy Americans just to pay for luxuries like federal prisons?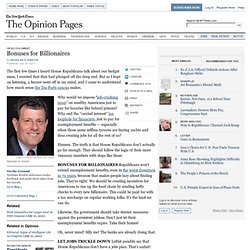 Why end the "carried interest" tax loophole for financiers, just to pay for unemployment benefits — especially when those same selfless tycoons are buying yachts and thus creating jobs for all the rest of us? Hmmm. 19 Hilarious Harry Potter Comics | Smosh. THE FUCKING WEATHER. Old Spice Voicemail Message Generator. Www.petitelapgiraffe.com from petitelapgiraffe.com. The Beat Post. I am proud to be a Canuck!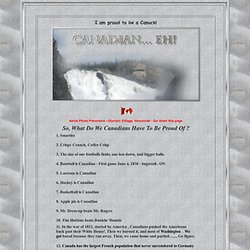 Aerial Photo Panorama - Olympic Village, Vancouver - Go down this page 1. Smarties. 52693_700b.jpg from cloudfront.net. Mitch Hedberg Quotes - Quotables - StumbleUpon. A Canadian Apology. A truly Canadian Apology to the USA...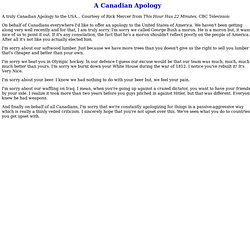 Courtesy of Rick Mercer from This Hour Has 22 Minutes, CBC Television: On behalf of Canadians everywhere I'd like to offer an apology to the United States of America. We haven't been getting along very well recently and for that, I am truly sorry. I'm sorry we called George Bush a moron. He is a moron but, it wasn't nice of us to point it out. 50 Things I Am Not Allowed To Do At Hogwarts.
---