Projet mémoire Master
The Free eBook: How to become an eLearning Professional. By Connie Malamed I never think of myself as an expert.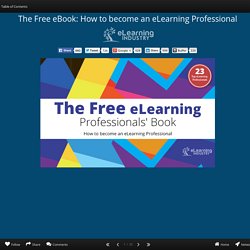 Gaining expertise is an ongoing journey of continuous learning where there is no end in sight. Our field is particularly broad and deep. It encompasses aspects of cognitive science, learning theory, user experience, design thinking, human communication, user interface design, visual design, writing and scripting, marketing, business, information technology and probably many other domains.
Contexte-Etudes. Outils et usages web 2.0. Expériences. Les apprenants. Scénarisation. Accompagnement-tutorat. Social E-learning et Formation Initiale.
---