Outiller
Ing. pédagogique | Le blog du CIP de l'UTT
Tablettes, smartphones et autres
PirateBox Lille
Comprendre et construire les environnements d'apprentissage
Le site des spécialistes de l'écriture web, depuis 2001
Logiciel libre ou gratuits
planification facile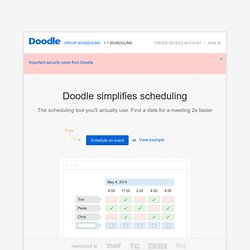 The scheduling tool you'll actually use. Find a date for a meeting 2x faster Doodle cooperates with your calendar
Methodologie multimédia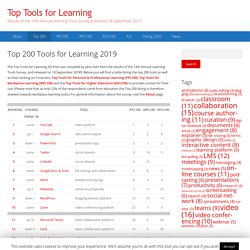 Top Tools
EmailShare 6153EmailShare Here are the Top 100 Tools for Learning 2013 – the results of the 7th Annual Learning Tools Survey. The list was compiled by Jane Hart from the votes of 500+ learning professionals from 48 countries worldwide.
Text Message (SMS) Polls and Voting, Audience Response System
Professional look and feel Poll Everywhere gives you the power to design and customize polls to your own specifications. Match your presentation template, use your organization's logo and color scheme, or let your own imagination run wild. A joy to use From creating your first poll in 30 seconds to importing multiple polls at a time to easily managing sub-users, Poll Everywhere puts the user first and makes it easy to create a rock star presentation.