Music Creation and Training
Return to Song Index From an Indo-European superstition that excessive mourning can disturb and torment the dead. This version from oral tradition, mostly in England. This tune collected from Upwey, Dorset, England. See also version (i), from America, andversion (ii), tune from Herefordshire, England. How cold the wind do blow, dear love, Cold are the drops of rain.
The Unquiet Grave (iii)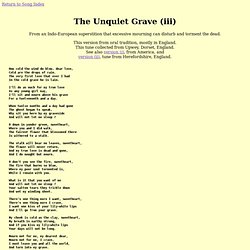 electronic music label, events and artist collective - home
Farhad K. Dadyburjor shows iZotope NECTAR plugin
Har-Bal 3.0 Available for Mac and PC Match Loudness – Will match your track to the perceived loudness of any commercial recording you input into Har-Bal.Loudness Compensation – Har-Bal leaves the initial volume level unchanged even after performing spectral correction (EQ changes) thanks to its "loudness compensation" algorithm.IntuitMatch and IntuitQ – "Eyes to the ears" is a more realistic slogan that we like. It does not mean give way to your eyes if your ears tell you everything you need. More the case that when you are struggling to hear what is wrong (but you know something is wrong) it can give visual insight.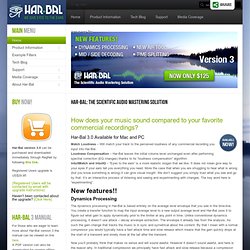 Frequency Chart | Har-Bal - Worlds Most Accurate Equalizer
Mastering Tutorial | Har-Bal - Worlds Most Accurate Equalizer
www.har-bal.com/files/Har-Bal Manual.pdf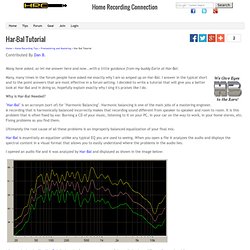 Har-Bal Tutorial - Premastering and Mastering - Home Recording Studio Help
Many have asked, so let me answer here and now...with a little guidance from my buddy Earle at Har-Bal. Many, many times in the forum people have asked me exactly why I am so amped up on Har-Bal. I answer in the typical short and to the point answers that are most effective in a forum setting. I decided to write a tutorial that will give you a better look at Har-Bal and in doing so, hopefully explain exactly why I sing it's praises like I do.
Got Digital? SongCast offers a streamlined and affordable music distribution service where artists and labels can release music into major digital stores such as iTunes, AmazonMP3, Google Play, Beats Music, Spotify, Rhapsody, Emusic, and MediaNet. Plus, you'll have access to all of their respective international stores like iTunes Europe, Amazon UK, and many others. SongCast provides monthly accounting and royalty payments, along with world class artist & label support.
Music Distribution - Promote & Sell Your Music Online | SongCast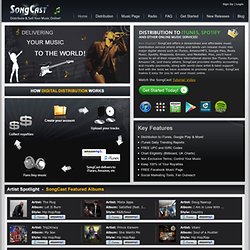 Strajanka.co.uk
Strajanka.com