Other
ElectircLifeStylz.com
Reptile & Amphibian Polymer Clay Artwork & by ColdBloodedCreation
All Fake Buddha Quotes | Fake Buddha Quotes
Search Wedding Dresses | Discount Bridal Gowns
Pomegranate Lemonade Candle - All Natural Soy Candles By Diamond Candles
How Many Five Year Olds Could You Take in a Fight?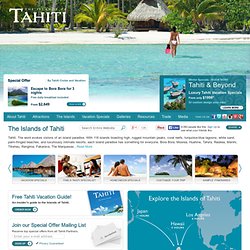 Bora Bora Overwater Romance - Daily Breakfast included from $3,209* USD per person
Tahiti. The word evokes visions of an island paradise. With 118 islands boasting high, rugged mountain peaks, coral reefs, turquoise-blue lagoons, white sand, palm-fringed beaches, and luxuriously intimate resorts, each island paradise has something for everyone. Bora Bora, Moorea, Huahine, Taha'a, Raiatea, Manihi, Tikehau, Rangiroa, Fakarava, The Marquesas...Read More and the other exquisite Islands of Tahiti cover more than two million square miles of the South Pacific Ocean and is comprised of 118 islands and atolls spread over five great archipelagos. Many islands are crowned with jagged peaks while others appear to barely float above the breaking waves. Spanning an area in the South Pacific as large as Western Europe, the total land mass of all the islands adds up to an area only slightly larger than the tiny state of Rhode Island.