Articles
New York's Teardrop: John Craven tracks down a forgotten monument to the 9/11 victims
By John Craven PUBLISHED: 17:00 GMT, 19 November 2012 | UPDATED: 18:00 GMT, 19 November 2012 About 50 million people visit New York every year and more than eight million live there but no one seems to have heard of The Teardrop...which is odd because it is a 100ft tall, 175-ton memorial to those who died on the city's blackest day.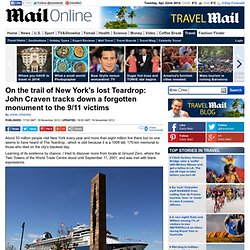 Lao Tzu Quotes (Author of Tao Te Ching) (page 3 of 7)
m6grcxHE491rwwv7wo1_500.jpg (JPEG Image, 500 × 643 pixels) - Scaled (92%)
50 Pieces Of Wisdom From Songs - Music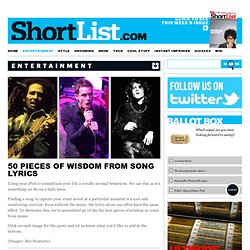 The 50 Coolest Albums ever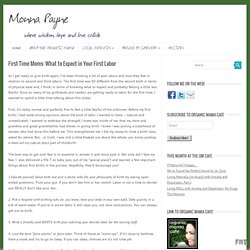 As I get ready to give birth again, I've been thinking a lot of past labors and how they feel in relation to second and third labors. The first time was SO different from the second both in terms of physical ease and, I think, in terms of knowing what to expect and probably feeling a little less fearful.
First Time Moms: What to Expect in Your First Labor | Organic Mama Cafe
Tao Te Ching Translations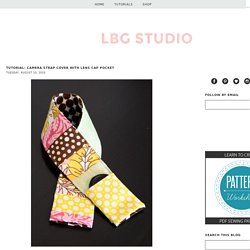 Tutorial: Camera Strap Cover with Lens Cap Pocket
I know, I know . . . there are a ton of these tutorials out there but I thought I'd share how I made these anyways! I really like making these since they're easy, fairly quick to make, and another great way to use up scraps. Very comfy too!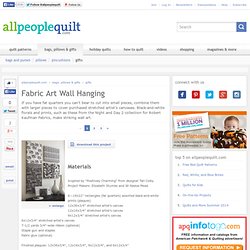 Fabric Art Wall Hanging
Download this Project Inspired by "Positively Charming" from designer Tari Colby Project Makers: Elizabeth Stumbo and Jill Abeloe Mead 6—18x22" rectangles (fat quarters) assorted black-and-white prints (plaques) 12x36x3/4" stretched artist's canvas 12x16x3/4" stretched artist's canvas 9x12x3/4" stretched artist's canvas 6x12x3/4" stretched artist's canvas 7-1/2 yards 3/4"-wide ribbon (optional) Staple gun and staples Fabric glue (optional) Finished plaques: 12x36x3/4", 12x16x3/4", 9x12x3/4", and 6x12x3/4" Quantities are for 44/45"-wide, 100% cotton fabrics. Measurements include 1/4" seam allowances.
The Best Obnoxious Responses To Misspellings On Facebook | someecards.com
Mind F*ck Films list - StumbleUpon
John Dies at the End » New Contest Winners! John's Article! Shit!
I did an article over at Cracked.com. Read it with your face's eyeballs.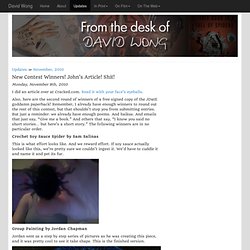 Let's face it -- we've all tried to build a house of cards or make a sand castle at some point in our lives, but most of us get bored within a few minutes and give up. For others it may take an hour, or maybe even a few days... and there are those who devote their lives to making hugely pointless yet amazing things out of small, ridiculous materials.
9 Mind-Blowing Pieces of Art Made With Ridiculous Materials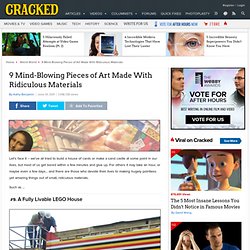 The 50 Creepiest Pieces of Romance Advice Ever Published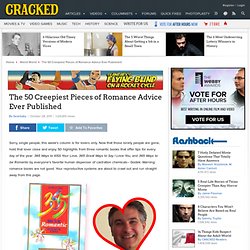 Sorry, single people, this week's column is for lovers only.
Each year before the holidays, college students find themselves staring down the barrel of exam week.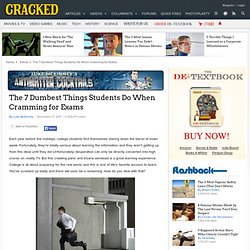 The 7 Dumbest Things Students Do When Cramming for Exams
13 Real Animals Lifted Directly Out of Your Nightmares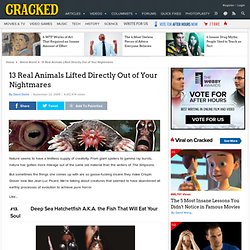 Nature seems to have a limitless supply of creativity.
Exploring the depths via scuba or free diving is one of those things that seems really cool in theory. Then you swim around in a pool for 36 hours, go to the man-made lake you heard had a flooded town and discover a bunch of muddy brick foundations. It turns out that lakes in the Midwest are about as full of adventurous treasures as the towns around them.
The 5 Most Mind-Blowing Things That Can Be Found Underwater
The 9 Most Devastating Insults From Around the World
"Grandfatherfucker" (Afatottari) Who Said That?
Daily pleasure aren't difficult to find, and can be as simple as looking outside. While happiness can be elusive, sources of pleasure are fairly easy to come by Learning about wine and petting an animal are a few ways to add pleasure to routine Keeping sentimental items and simply smiling are two more pleasure producers (RealSimple.com) -- Go ahead: Indulge yourself.
10 ways to find more pleasure every day
We don't expect all of our readers to know everything about cooking. At least some of our readers probably aren't expert chefs (though, yes, we assume that most are). It's OK if everyone doesn't know how to properly prepare a blowfish, or how to pair the right wine with the right dinner.
9 Ridiculous Cooking Myths You Probably Believe
Just Imagine
2/1/12 at 11:30 am | Comments You may have been told that you have always been a dreamer, as if this were a fault.