Articles
New York's Teardrop: John Craven tracks down a forgotten monument to the 9/11 victims. By John Craven Published: 17:00 GMT, 19 November 2012 | Updated: 18:00 GMT, 19 November 2012 About 50 million people visit New York every year and more than eight million live there but no one seems to have heard of The Teardrop...which is odd because it is a 100ft tall, 175-ton memorial to those who died on the city's blackest day.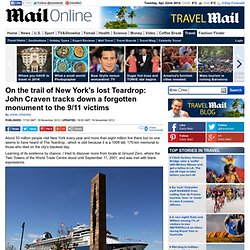 Lao Tzu Quotes (Author of Tao Te Ching) (page 3 of 7) m6grcxHE491rwwv7wo1_500.jpg (JPEG Image, 500 × 643 pixels) - Scaled (92%) 50 Pieces Of Wisdom From Songs - Music. The 50 Coolest Albums ever Popular music has always been inextricably linked to the notion of cool.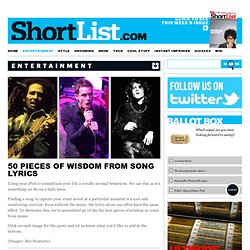 Whether that be looking cool, sounding… More 50 pieces of wisdom from novels. First Time Moms: What to Expect in Your First Labor | Organic Mama Cafe. As I get ready to give birth again, I've been thinking a lot of past labors and how they feel in relation to second and third labors.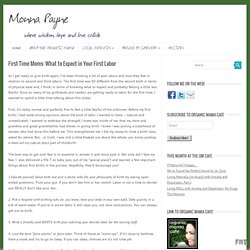 The first time was SO different from the second both in terms of physical ease and, I think, in terms of knowing what to expect and probably feeling a little less fearful. Since so many of my girlfriends and readers are getting ready to labor for the first time, I wanted to spend a little time talking about this today. First, it's really normal and perfectly fine to feel a little fearful of the unknown. Before my first birth, I had some strong opinions about the kind of labor I wanted to have – natural and unmedicated.
I wanted to embrace the strength I knew was inside of me, that my mom and grandma and great-grandmother had shown in giving birth. Tao Te Ching Translations. Tutorial: Camera Strap Cover with Lens Cap Pocket. I know, I know . . . there are a ton of these tutorials out there but I thought I'd share how I made these anyways!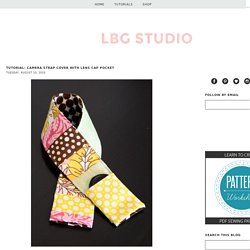 I really like making these since they're easy, fairly quick to make, and another great way to use up scraps. Very comfy too! Fabric Art Wall Hanging. Download this Project Inspired by "Positively Charming" from designer Tari Colby Project Makers: Elizabeth Stumbo and Jill Abeloe Mead 6—18x22" rectangles (fat quarters) assorted black-and-white prints (plaques) 12x36x3/4" stretched artist's canvas 12x16x3/4" stretched artist's canvas 9x12x3/4" stretched artist's canvas 6x12x3/4" stretched artist's canvas 7-1/2 yards 3/4"-wide ribbon (optional) Staple gun and staples Fabric glue (optional) Finished plaques: 12x36x3/4", 12x16x3/4", 9x12x3/4", and 6x12x3/4" Quantities are for 44/45"-wide, 100% cotton fabrics.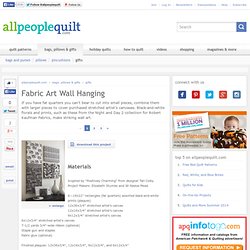 Measurements include 1/4" seam allowances. The Best Obnoxious Responses To Misspellings On Facebook | someecards.com. Mind F*ck Films list - StumbleUpon. John Dies at the End » New Contest Winners! John's Article! Shit! Updates » November, 2010 New Contest Winners!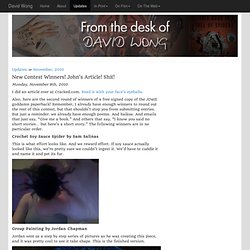 John's Article! Shit! Monday, November 8th, 2010. 9 Mind-Blowing Pieces of Art Made With Ridiculous Materials. Let's face it -- we've all tried to build a house of cards or make a sand castle at some point in our lives, but most of us get bored within a few minutes and give up.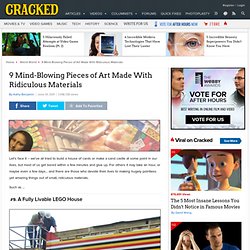 For others it may take an hour, or maybe even a few days... and there are those who devote their lives to making hugely pointless yet amazing things out of small, ridiculous materials. Such as ... A Fully Livable LEGO House It's no surprise that people can build some amazing things out of Legos. We're pretty sure all those replicas of important buildings they have in their theme parks will come in pretty handy when evolution inevitably turns us all into smurfs.
The 50 Creepiest Pieces of Romance Advice Ever Published. Sorry, single people, this week's column is for lovers only.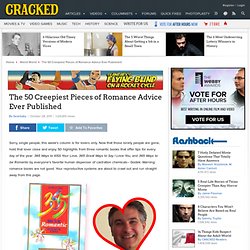 Now that those lonely people are gone, hold that lover close and enjoy 50 highlights from three romantic books that offer tips for every day of the year: 365 Ways to KISS Your Love, 365 Great Ways to Say I Love You, and 365 Ways to be Romantic by everyone's favorite human dispenser of castration chemicals-- Godek. Warning: romance books are not good. Your reproductive systems are about to crawl out and run straight away from this page. The 7 Dumbest Things Students Do When Cramming for Exams. Each year before the holidays, college students find themselves staring down the barrel of exam week.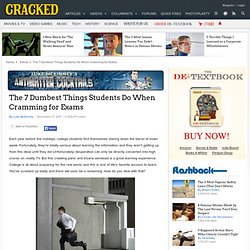 Fortunately, they're totally serious about learning the information and they aren't getting up from this desk until they do! Unfortunately, desperation can only be directly converted into high scores on reality TV. But this crawling panic and insane workload is a great learning experience. College is all about preparing for the real world, and this is one of life's favorite lessons to teach: You've screwed up badly and there will soon be a reckoning.
13 Real Animals Lifted Directly Out of Your Nightmares. Nature seems to have a limitless supply of creativity.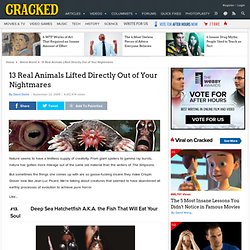 From giant spiders to gamma ray bursts, nature has gotten more mileage out of the same old material than the writers of The Simpsons. But sometimes the things she comes up with are so goose-fucking insane they make Crispin Glover look like Jean-Luc Picard. We're talking about creatures that seemed to have abandoned all earthly processes of evolution to achieve pure horror. The 5 Most Mind-Blowing Things That Can Be Found Underwater. Exploring the depths via scuba or free diving is one of those things that seems really cool in theory.
Then you swim around in a pool for 36 hours, go to the man-made lake you heard had a flooded town and discover a bunch of muddy brick foundations. It turns out that lakes in the Midwest are about as full of adventurous treasures as the towns around them. The 9 Most Devastating Insults From Around the World. "Grandfatherfucker" (Afatottari) Who Said That? Icelanders. Dear God Why? Icelandic swearing is cutely offbeat. It leverages relatively bland sounding terminology and lets subtext do all the heavy lifting. 10 ways to find more pleasure every day. Daily pleasure aren't difficult to find, and can be as simple as looking outside. While happiness can be elusive, sources of pleasure are fairly easy to come by Learning about wine and petting an animal are a few ways to add pleasure to routine Keeping sentimental items and simply smiling are two more pleasure producers (RealSimple.com) -- Go ahead: Indulge yourself.
9 Ridiculous Cooking Myths You Probably Believe. We don't expect all of our readers to know everything about cooking. At least some of our readers probably aren't expert chefs (though, yes, we assume that most are). It's OK if everyone doesn't know how to properly prepare a blowfish, or how to pair the right wine with the right dinner. Just Imagine. 2/1/12 at 11:30 am | Comments You may have been told that you have always been a dreamer, as if this were a fault. I can speak here from experience.
Family, friends, teachers, and even advisors frequently disparaged ideas that burned brightly in my imagination. I often heard comments such as, "Wayne, you're such a dreamer. Get real.
---