TERRE | WEBSITES | INFOS
US Navy Physicist warns of possibly 'several decades of crushing cold temperatures and global famine' -- Earth Changes. © HowStuffWorksIce sheet coverage during the last ice age Excerpts: "The sun has gone very quiet as it transitions to Solar Cycle 24.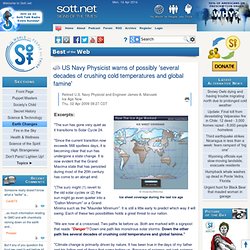 "Since the current transition now exceeds 568 spotless days, it is becoming clear that sun has undergone a state change. It is now evident that the Grand Maxima state that has persisted during most of the 20th century has come to an abrupt end. "(The sun) might (1) revert to the old solar cycles or (2) the sun might go even quieter into a "Dalton Minimum" or a Grand Minima such as the "Maunder Minimum". Le Yellowstone doit il exploser ? pour que du chaos naisse l'ordre ! Traduction de l'anglais si vous avez une meilleure traduction merci d'avance....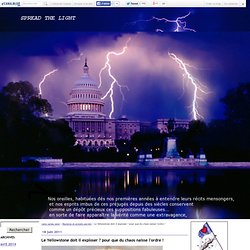 Dark Secrets parc national de Yellowstone RÉVÉLÉ L'armée secrète Black Ops en place Parc national de Yellowstone (PTCI), et rapportés sur les admissions militaires (dont j'ai recueillies de sources fiables, y compris 911 truthteller retraite USAF MCCONNELL FIELD, et au moins une source du Pentagone ) d'énormes quantités de puissants explosifs militaires étant secrètement plantés autour du SUPERCALDERA Yellowstone, pour ce que beaucoup d'entre nous croient les chercheurs se révélera être une partie du chaos créé menant à la déclaration loi martiale dans le USA pour l'ordre du jour NOUVEL ORDRE MONDIAL. L'énigme de Richat Le Grand Oeil Bleu de l'Afrique. Le Grand Oeil Bleu de l'Afrique en Mauritanie, visible depuis l'espace, n'est pas un cratère de météorite comme l'a laissé croire sa forme et ses cercles concentriques typique des impactes de météores.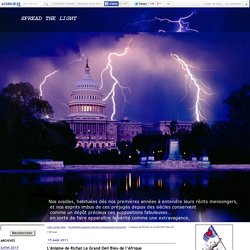 Deux expéditions en 2003 (il aura fallut deux expéditions pour finalement comprendre) ont conclu fondements à l'appui, que c'est une formation géologique d'origine terrestre. Le principe en résumé : en profondeur, un sole composé d'une alternance de couches de calcaire — fragile — et de couches de quartz ou granite — solide. Une bulle de magma a poussé par dessous formant un relief (classique, rien de spéciale jusque là).
Collection d'images de gouffres géants sur la planète. Mise à jour 07/06/11 : © Andrew Savulich/NewsGouffre apparu à New York le 07 juin, cause inexpliquée Des orages violents et des inondations à grande échelle ont créé ce gouffre à Milwaukee, Wisconsin.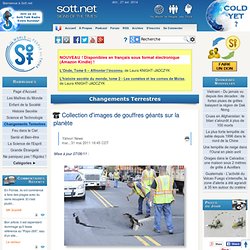 Un propriétaire contemple un gouffre apparu sur sa propriété, à Hawaii, après un séisme de mag. 6.7 en 2006. Le soleil se lève deux jours plus tôt au Groenland, suscitant des craintes que le changement climatique s'accélère. By Daily Mail Reporter Updated: 16:29 GMT, 14 January 2011 The sun over Greenland has risen two days early, baffling scientists and sparking fears that Arctic icecaps are melting faster than previously thought.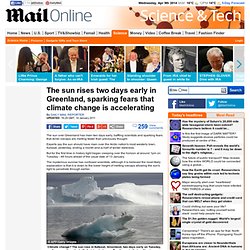 Experts say the sun should have risen over the Arctic nation's most westerly town, Ilulissat, yesterday, ending a month-and-a-half of winter darkness. But for the first time in history light began creeping over the horizon at around 1pm on Tuesday - 48 hours ahead of the usual date of 13 January. The mysterious sunrise has confused scientists, although it is believed the most likely explanation is that it is down to the lower height of melting icecaps allowing the sun's light to penetrate through earlier. Climate change? Help. Tremblement de terre de magnitude 4,3-près du mont St. Helens est le plus grand en 30 ans. View full sizeBruce Ely/The Oregonian/2010View of Mount St.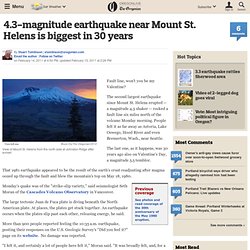 Helens from the north side at Johnston Ridge after sunset. Fault line, won't you be my Valentine? The second largest earthquake since Mount St. Helens erupted -- a magnitude 4.3 shaker -- rocked a fault line six miles north of the volcano Monday morning. People felt it as far away as Astoria, Lake Oswego, Hood River and even Bremerton, Wash., near Seattle. Avez-crapauds prévoir le tremblement de terre? According to recent estimates, the earthquake that hit China on Monday could leave 10,000 people dead.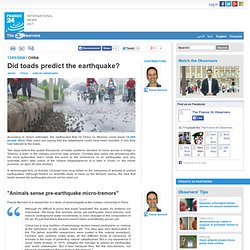 Web users are saying that the catastrophe could have been avoided, if only they had listened to the toads. Two days before the quake thousands of toads suddenly decided to move across a bridge in Taizhou, a town in the Jiangsu province (see photos). Chinese web users are wondering why the local authorities didn't relate the event to the imminence of an earthquake, and why scientists didn't take notice of the bizarre disappearance of a lake in Enshi, in the Hubei province, on April 26 (see photos).
A seismologist tells us that the Chinese have long relied on the behaviour of animals to predict earthquakes. Although there's no scientific study to back up the farmers' claims, the idea that toads sensed the earthquake should not be ruled out. WDSS-II: KTLX WSR-88D. Tremblements de terre récents dans Hawai `i - Index des cartes. What's New The latest version of Volcweb was launched December 20, 2013.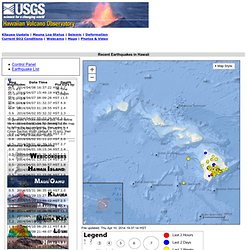 Based on feedback from our users (you), we have made the following adjustments: Auto-refresh: The webpage now automatically refreshes when the page has been inactive for 10 minutes.
L'Université de l'Utah. New Madrid Zone sismique - cartes de l'activité séisme passé. Earthquake lights Earthquake lights have been seen since ancient times. 1811-12 New Madrid quake eyewitnesses saw them possibly from as far away as Savannah GA.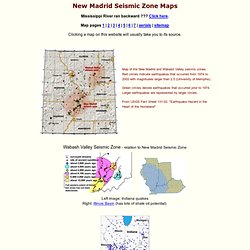 They were first photographed in 1968 in Japan. NetQuakes: Station NQ079_NM_01. Mont Fuji webcams - GOandROAM. Le dernier mois d'événements situés par Séismes Canada. Tremblements de terre aujourd'hui. Carte interactive des tremblements de terre. Hawaii Data Clearinghouse. US Geological Survey Séisme Risques programme. ANSS - Advanced System sismique national. ANSS Backbone (ANSS) <a href="/monitoring/operations/network.php?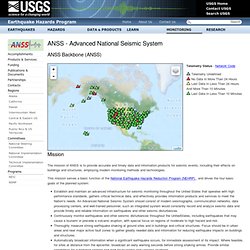 Network=ANSS"> View ANSS network telemetry status </a> Telemetry Status - Network Code. Live Earthquake Mashup.
Skarphedinn Thrainsson volcano pictures capture volatile majesty up close. By Daily Mail Reporter Updated: 14:12 GMT, 17 May 2011 Dicing with death around fountains of 1,000C glowing lava wouldn't be everyone's idea of the perfect day. But for daredevil photographer Skarphedinn Thrainsson, teetering around the world's deadliest volcanoes is nothing but another thrilling day at the office. Despite being lucky not to be injured or killed by chunks of volcanic ash crashing into the ground around him, his resulting images are stunning.
---