SIMULATOR | PLANETES | UNIVERSE
openuniverse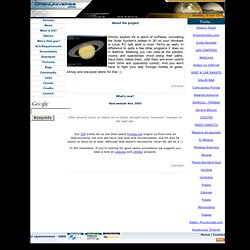 Strictly spoken it's a piece of software, simulating the Solar System's bodies in 3D on your Windows or Linux PC (will work in most *NIX's as well). In difference to quite a few other programs it does so in realtime. Meaning you can view all the planets, moons and spaceships move along their paths, trace them, follow them, orbit them and even control them (time and spaceship contol).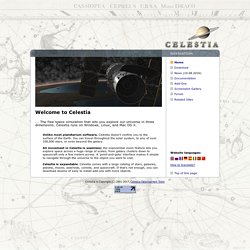 Welcome to Celestia ... The free space simulation that lets you explore our universe in three dimensions.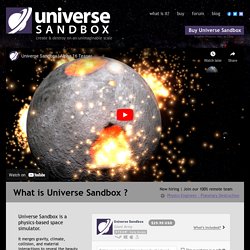 Ultimate Power Spawn massive stars, launch asteroids, and manipulate gravity with just a few clicks. Fun & Interactive Explore our universe through unlimited experimentation. Easy to Use
The Solar Wind Tunnel
Image: Jupiter's four biggest moons (from left to right): Ganymede, Callisto, Io, and Europa. "Since, in the long run, every planetary civilization will be endangered by impacts from space, every surviving civilization is obliged to become spacefaring--not because of exploratory or romantic zeal, but for the most practical reason imaginable: staying alive... If our long-term survival is at stake, we have a basic responsibility to our species to venture to other worlds. " - Carl Sagan Until Voyager reached the outer solar system we knew very little about the planets that inhabited this region of space. What we have discovered over years of exploration has both excited and mystified us. Come explore the science of the outer planets.
The Outer Planets
Description 3D simulation of the Solar System and night sky in real time - the Sun, planets, dwarf planets, comets, stars and constellations. - Heliocentric view with real-time positions of planets and planetary orbits - Schematic and realistic sizes of the planets and distances between them - Movement of the planets in time to see how they move in relation to each other - Virtual Orrery - Planetary exploration with info texts and additional views such as structure - Dwarf planets (Pluto, Ceres, Haumea, Makemake. Eris) and their orbits - Comets (Siding Spring, Lovejoy 2013, Lovejoy 2011, Panstarrs, ISON, Halley) - positions and trajectories - Stars and constellation of the night sky as viewed from a given location - Changes in the night sky during night, month and year - Searching of the stars and constellation, ecliptic line, grid lines and more