SIMULATOR | PLANETES | UNIVERSE
openuniverse
WorldWide Telescope New! Preloaded in all PC Discovery Domes! WorldWide Telescope is a terrific fly-through of the solar system, the galaxy, and the universe, developed by Microsoft Research.
E-Planetarium - WorldWide Telescope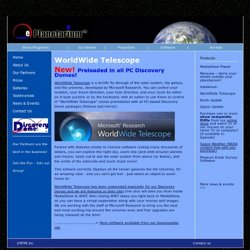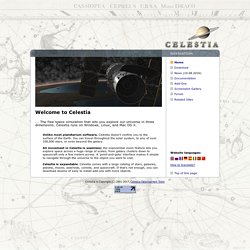 Welcome to Celestia ... The free space simulation that lets you explore our universe in three dimensions.
The Solar Wind Tunnel
Image: Uranus appears as a crescent as Voyager 2 soars past, starting its journey out of the solar system. "The human brain now holds the key to our future. We have to recall the image of the planet from outer space: a single entity in which air, water, and continents are interconnected. That is our home." - David Suzuki Until Voyager reached the outer solar system we knew very little about the planets that inhabited this region of space. What we have discovered over years of exploration has both excited and mystified us.
The Outer Planets