Outils Scientifiques Recherches
Outils - Recherche de références bibliographiques
JPL Small-Body Database Browser
iNtegrated Space Weather Analysis System ( iSWA ) : iswa2 : Version 1.7.7 [Donkey Range]
The Sun Today
www.SolarMonitor.org
Shown here are the latest SECCHI beacon images.
STEREO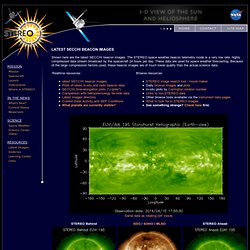 Solar and Heliospheric Observatory Homepage
SOHO
Search and Download SOHO Near Realtime Data
Moscow Neutron Monitor
SSEC - Sea Surface Temperatures
tec-map-br.jpg (Image GIF, 612x317 pixels)
Agence spatiale canadienne www.asc-csa.gc.ca
Projet AuroraMAX - Diffusion en direct des aurores boréales qui se forment au dessus de la ville de Yellowknife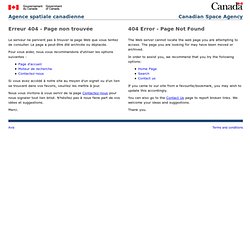 Maps - Active Solar Regions | raben.com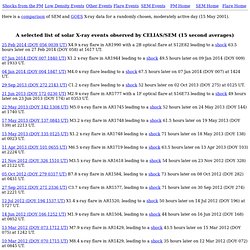 Selected Figures from the SEM
Here is a comparison of SEM and GOES X-ray data for a randomly chosen, moderately active day (15 May 2001). A selected list of solar X-ray events observed by CELIAS/SEM (15 second averages) 29 Sep 2013 (DOY 272 2143 UT) C1.2 x-ray flare leading to a shock 52 hours later on 02 Oct 2013 (DOY 275) at 0125 UT.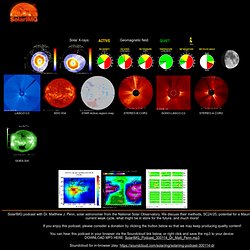 Feeling generous?
SIDC - Solar Influences Data Center
Gamma-ray Burst Real-time Sky Map
SDO is GO
SWPC Anonymous FTP Server 27-day Forecasts & Solar-Cycle Progression/Predictions Top-level directory About this Menu
weekly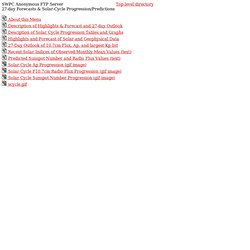 The charts on this page depict the progression of the Solar Cycle. The charts and tables are updated by the Space Weather Prediction Center monthly using the latest ISES predictions. Observed values are initially the preliminary values which are replaced with the final values as they become available.
Solar Cycle Progression and Prediction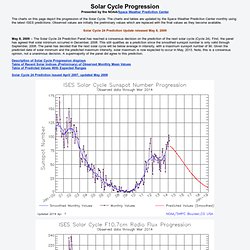 POES Energetic Particles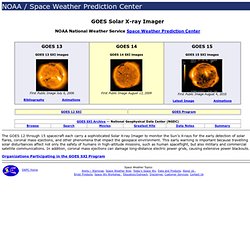 GOES Solar X-ray Imager
NOAA / Space Weather Prediction Center GOES Solar X-ray Imager NOAA National Weather Service Space Weather Prediction Center
Wood for Trees: Interactive Graphs
ACE RTSW News and Announcements
ACE Real Time Solar Wind Data page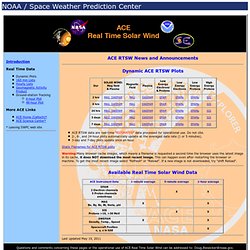 Derived coronal hole areas. Colored dots represent photospheric footpoints of open field lines, with different colors used to indicate the expansion factors fs (or solar wind speed v) associated with the flux tubes.
Derived Coronal Holes, GONG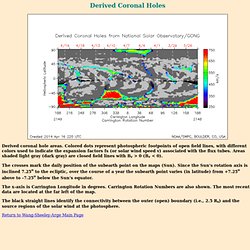 Le Logiciel Heliocentrique v 1.3 ( Gratuit )
Le logiciel Heliocentrique v 1.3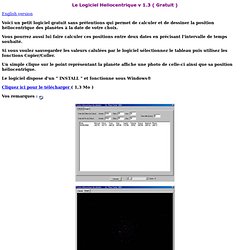 Today's Sunspots | Scientific Frontline Space Weather Forecast Center