REAL TIME MONITORING
MTSAT Satellite Images
Latest Earthquakesv0.4.4, 2014-01-07 ListClicking the list icon in the top right corner will load the earthquake list.MapClicking the map icon in the top right corner will load the map.SettingsClicking the options icon in the top right corner lets you change which earthquakes are displayed, and many other map and list options.HelpClicking the help icon in the top right corner loads this page.Bookmark to save your settings.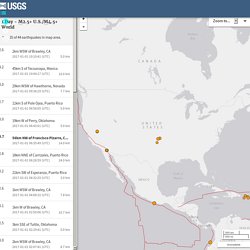 weather model gfs - europe - surface pressure [base + 0] - weatheronline
most recent model run We 22.01.2014 18 GMT Whats new Comments Membership info Register new Login
Data and Imagery -- SSEC
CERI information sismique
UW Weather Graphics Loops
page Radar: RAP Météo en temps réel
Induction Magnetometer
NWS Région du Sud - Nord-Ouest du Pacifique Loop infrarouge
Carte Météo Interactive
iSWACygnetStreamer (Image GIF, 960x600 pixels)
Global Seismographic Network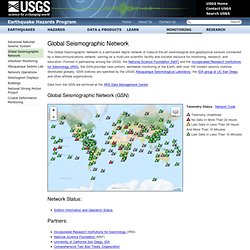 The Global Seismographic Network is a permanent digital network of state-of-the-art seismological and geophysical sensors connected by a telecommunications network, serving as a multi-use scientific facility and societal resource for monitoring, research, and education.
Radar Météo Live
Real-time Cosmic Ray Variations (Moscow Neutron Monitor)
Syowa all-sky camera
Real Time Bartol Neutron Monitors
Weather Model - Global Jet Stream Wind and 250 mb Pressure (STORMSURF)
Feeling generous?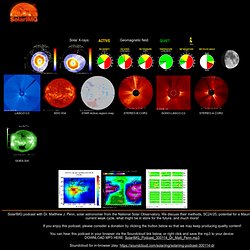 Global Disaster Alert and Coordination System
Jet Stream CRWS Menu Carte
Aujourd'hui, la cryosphère - Nord Animation cryosphère hémisphère
HDSS Access System,Station Selection
Live Chasing
NWA Satellite Image Resource List
Using Google Earth, we now have the ability to view product loops at the highest resolution available, without having to transfer huge amounts of data.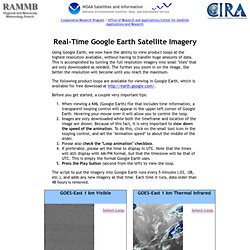 RAMMB: Real-Time Google Earth Satellite Imagery