REAL TIME MONITORING
SPACE WEATHER. SOLAR ACTIVITY. SVS Search Keyword: Earth. MTSAT Satellite Images. Earthquakes - Earthquake today - Latest Earthquakes in the World - EMSC. Earthquakes. Latest Earthquakesv0.4.4, 2014-01-07 ListClicking the list icon in the top right corner will load the earthquake list.MapClicking the map icon in the top right corner will load the map.SettingsClicking the options icon in the top right corner lets you change which earthquakes are displayed, and many other map and list options.HelpClicking the help icon in the top right corner loads this page.Bookmark to save your settings.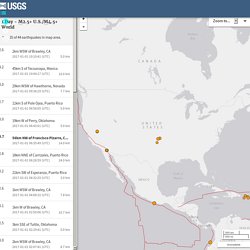 Links In Partnership With Please click the list, map or options icon from above. 500 km. Weather model gfs - europe - surface pressure [base + 0] - weatheronline. Most recent model run We 23.04.2014 12 GMT Whats new Comments Membership info Register new Login City: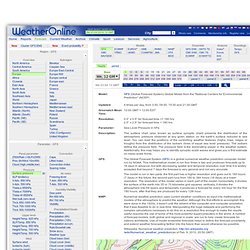 Data and Imagery -- SSEC. Help. CERI information sismique. UW Weather Graphics Loops. Page Radar: RAP Météo en temps réel. Induction Magnetometer. NWS Région du Sud - Nord-Ouest du Pacifique Loop infrarouge. Carte Météo Interactive. iSWACygnetStreamer (Image GIF, 960x600 pixels) Global Seismographic Network. The Global Seismographic Network is a permanent digital network of state-of-the-art seismological and geophysical sensors connected by a telecommunications network, serving as a multi-use scientific facility and societal resource for monitoring, research, and education.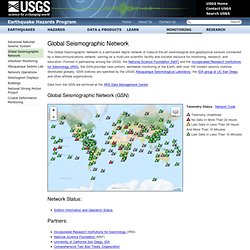 Formed in partnership among the USGS, the National Science Foundation (NSF) and the Incorporated Research Institutions for Seismology (IRIS), the GSN provides near-uniform, worldwide monitoring of the Earth, with over 150 modern seismic stations distributed globally. GSN stations are operated by the USGS Albuquerque Seismological Laboratory, the IDA group at UC San Diego, and other affiliate organizations. Data from the GSN are archived at the IRIS Data Management Center. Global Seismographic Network (GSN) Radar Météo Live. Real-time Cosmic Ray Variations (Moscow Neutron Monitor) USGS National Geomagnetism Program | Home. Syowa all-sky camera.
Real Time Bartol Neutron Monitors. Earthquake - Latest Earthquakes in the World - EMSC. Weather Model - Global Jet Stream Wind and 250 mb Pressure (STORMSURF) ARTIS @ SolarIMG. Seismic Monitor - Recent Earthquakes. Longitude Latitude New: Earthquake browser with 3D viewer!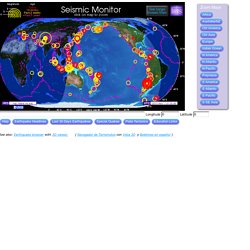 Nuevo: Navegador de Terremotos con Vista 3D! Live Earthquakes Map. Real-time Magnetosphere Simulation. Global Disaster Alert and Coordination System. Jet Stream CRWS Menu Carte. Emergency and Disaster Information Service. The Very Latest SOHO Images. Aujourd'hui, la cryosphère - Nord Animation cryosphère hémisphère. HDSS Access System,Station Selection.
Live Chasing. NWA Satellite Image Resource List. RAMMB: Real-Time Google Earth Satellite Imagery. Using Google Earth, we now have the ability to view product loops at the highest resolution available, without having to transfer huge amounts of data.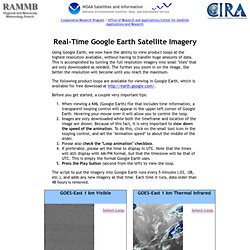 This is accomplished by turning the full resolution imagery into small "tiles" that are only downloaded as needed. The further you zoom in on the image, the better the resolution will become until you reach the maximum. The following product loops are available for viewing in Google Earth, which is available for free download at Before you get started, a couple very important tips:
---