Quoi de neuf ?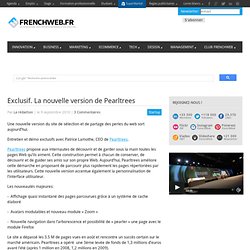 Une nouvelle version du site de sélection et de partage des perles du web sort aujourd'hui. Entretien et démo exclusifs avec Patrice Lamothe, CEO de Pearltrees. Pearltrees propose aux internautes de découvrir et de garder sous la main toutes les pages Web qu'ils aiment. Cette construction permet à chacun de conserver, de découvrir et de guider ses amis sur son propre Web. Aujourd'hui, Pearltrees améliore cette démarche en proposant de parcourir plus rapidement les pages répertoriées par les utilisateurs.
Here's an update to Pearltrees current status (11/21/12):In October of 2011 we released our first iOS product Pearltrees for iPad. The product was well-received and is consistently rated either 4.5 or 5 stars across nearly every international app store. In July of 2012 we released Pearltrees for iPhone. In addition we took early steps to integrate into Facebook's open graph during this time. Again, the app has been highly regarded and many users have called it the "best version of Pearltrees so far." As of the end of October 2012 we have released our milestone 1.0 version of Pearltrees across all platforms.
Will there be an iPad and/or iPhone version of Pearltrees in the near future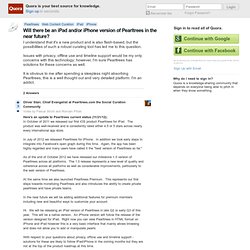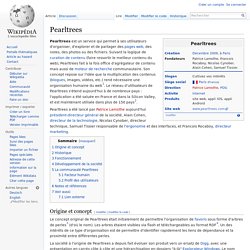 Un article de Wikipédia, l'encyclopédie libre. Pearltrees Pearltrees est un service qui permet à ses utilisateurs de collectionner, d'organiser et de partager des pages web, des notes, des photos ou des fichiers.
pearltrees