PLUGS | OUTILS
Wordpress, Plugin, Medias - Etendre les fonctionnalités du manager de media de WordPress. Nativement WordPress possède un puissant gestionnaire de médias qui permet de nombreuses manipulations (cropping, édition des metadonnées…etc.).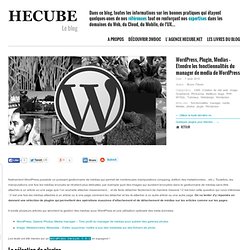 Toutefois, les manipulations une fois les médias envoyés se révèlent plus délicates, par exemple quid des images qui auraient envoyées dans le gestionnaire de médias sans être attachés à un article ou une page que l'on souhaite attacher massivement… et de facto détacher facilement de manière massive ! C'est bien cette question qui nous intéresse : C'est une fois les médias attachés à un article ou à une page comment les détacher et les ré-attacher à un autre article ou une autre page. On va tenter d'y répondre en donnant une sélection de plugins qui permettent des opérations massives d'attachement et de détachement de médias sur les articles comme sur les pages. Il existe plusieurs articles qui abordent la gestion des médias sous WordPress et une utilisation optimale des meta-données.
Plugins - Events Calendar Pro - Wordpress Premium Plugin. PDF24 Article To PDF. Top 15 Calendar Plugins for WordPress. 3inShare Are you looking for a decent WordPress calendar plugin to replace the default calendar in WordPress?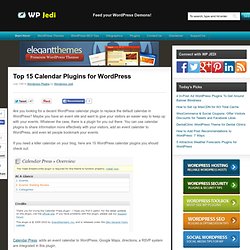 Maybe you have an event site and want to give your visitors an easier way to keep up with your events. Whatever the case, there is a plugin for you out there. You can use calendar plugins to share information more effectively with your visitors, add an event calender to WordPress, and even let people bookmark your events. If you need a killer calendar on your blog, here are 15 WordPress calendar plugins you should check out: Plugins Wordpress pour vos événements ! | 5axe Geek Zone. ?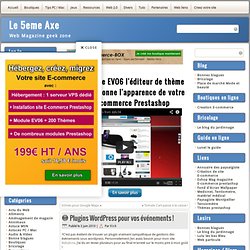 C'est pas évident de trouver un plugin vraiment sympathique de gestions des évènements sous wordpress. Personnelement j'en avais besoin pour mon site Bebylone. J'ai du en tester plusieurs pour au final m'arreté sur le moins pire à mon goût ! A la base mon cahier des charges était : My Calendar. My Calendar provides event management with richly customizable ways to display events.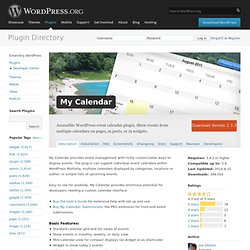 The plug-in can support individual event calendars within WordPress Multisite, multiple calendars displayed by categories, locations or author, or simple lists of upcoming events. Easy to use for anybody, My Calendar provides enormous potential for developers needing a custom calendar interface. Buy the User's Guide for extensive help with set up and use.Buy My Calendar: Submissions, the PRO extension for front-end event submissions. Diarise. Event Calendar / Scheduler. An easy to implement event calendar plugin built on top of dhtmlxScheduler that provides an Ajax-based scheduling interface similar to Google Calendar.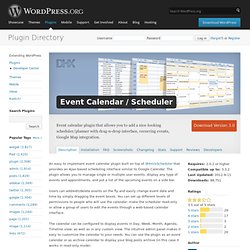 The plugin allows you to manage single or multiple user events, display any type of events and appointments, and put a list of the upcoming events on a side bar. Users can add/edit/delete events on the fly and easily change event date and time by simply dragging the event boxes. You can set up different levels of permissions to people who will use the calendar: make the scheduler read-only or allow a group of users to edit the events through a web-based calendar interface. The calendar can be configured to display events in Day, Week, Month, Agenda, Timeline view, as well as in any custom view.
The intuitive admin panel makes it easy to customize the calendar to your needs. Word to Pdf converter for Wordpress | Geekshub. Many times we bloggers or visitors have to convert .doc file to .pdf but I believe there are very few options available.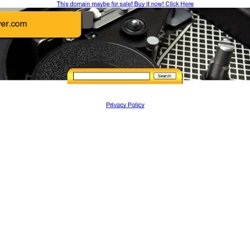 Among all those options we have this WordPress doc to pdf plugin that when added to widgets bar will help your visitors to directly convert to pdf. You can add multiple converter widgets. Each widget can have different settings. Each widget can have a different CSS style/skin.
---