PLUGS | OUTILS
Wordpress, Plugin, Medias - Etendre les fonctionnalités du manager de media de WordPress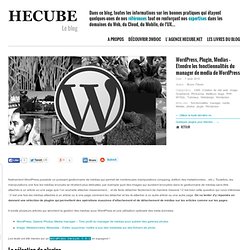 Nativement WordPress possède un puissant gestionnaire de médias qui permet de nombreuses manipulations (cropping, édition des metadonnées…etc.). Toutefois, les manipulations une fois les médias envoyés se révèlent plus délicates, par exemple quid des images qui auraient envoyées dans le gestionnaire de médias sans être attachés à un article ou une page que l'on souhaite attacher massivement… et de facto détacher facilement de manière massive !
Plugins - Events Calendar Pro - Wordpress Premium Plugin
PDF24 Article To PDF
2inShare inShare2 Are you looking for a decent WordPress calendar plugin to replace the default calendar in WordPress?
Top 15 Calendar Plugins for WordPress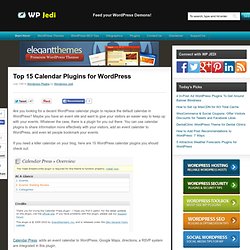 ?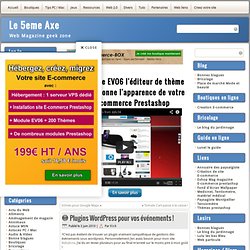 Plugins Wordpress pour vos événements ! | 5axe Geek Zone
My Calendar provides event management with richly customizable ways to display events.
My Calendar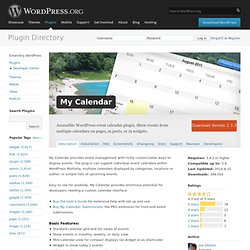 Diarise
An easy to implement event calendar plugin built on top of dhtmlxScheduler that provides an Ajax-based scheduling interface similar to Google Calendar. The plugin allows you to manage single or multiple user events, display any type of events and appointments, and put a list of the upcoming events on a side bar.
Event Calendar / Scheduler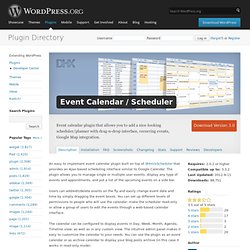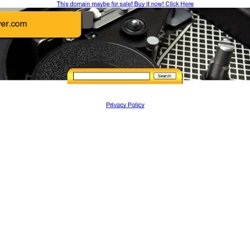 Word to Pdf converter for Wordpress | Geekshub
Many times we bloggers or visitors have to convert .doc file to .pdf but I believe there are very few options available.