MICROSOFT
Feature Pack Windows Media - Microsoft Download Center - Download Details
télécharge pdf-creator
DirectX Redist (February 2010) - Microsoft Download Center - Confirmation
saveaspdfandxps
DirectX Redist (February 2010) - Microsoft Download Center - Download Details
Détails du téléchargement : Lecteur Windows Media 11 pour Windows XP
Détails du téléchargement : Windows XP Service Pack 3 Overview - Français
Download XP Codec Pack 2.5.1 – XP Codec Pack is one of the most complete codec packs
Windows Media Guide | Webradio
Scanner de sécurité Windows Live OneCare : outil en ligne gratuit pour l'analyse de l'état et de la sécurité des PC
Lecteur Windows Media 12 - Fonctionnalités de Windows 7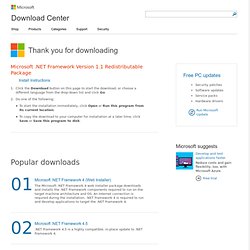 Download Confirmation
Installation instructions To install this update, do one of the following: Use Microsoft Update (recommended). Microsoft Update consolidates updates provided by Windows Update and Office Update into one location and enables you to choose automatic delivery and installation of high-priority updates. Use Office Update on the Office Online Web site. After running the automatic detection, Office Update prompts you to install updates and service packs that bring your Office products up to the best quality available.
Centre de code et de téléchargement MSDN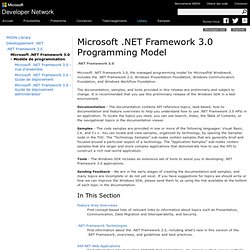 Microsoft .NET Framework 3.0, the managed programming model for Microsoft® Windows®, includes the .NET Framework 2.0, Windows Presentation Foundation, Windows Communication Foundation, and Windows Workflow Foundation. The documentation, samples, and tools provided in this release are preliminary and subject to change. It is recommended that you use this preliminary release of the Windows SDK in a test environment.
NET Framework 3.0 Programming Model
Lecteur Windows Media
Message d'erreur « Impossible d'accéder au service Windows Installer » lorsque vous installez un programme dans Windows XP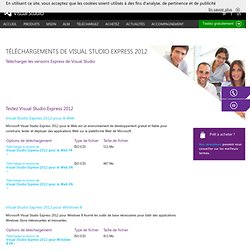 Visual Studio Express 2012 pour le Web Microsoft Visual Studio Express 2012 pour le Web est un environnement de développement gratuit et fiable pour construire, tester et déployer des applications Web sur la plateforme Web de Microsoft. Visual Studio Express 2012 pour Windows 8 Microsoft Visual Studio Express 2012 pour Windows 8 fournit les outils de base nécessaires pour bâtir des applications Windows Store intéressantes et innovantes. Visual Studio 2012 Express pour Windows Desktop
You must close all other browser windows before installing. File size: 302K Platforms: Windows XP SP2 (x86) Windows XP SP2 (x64) Windows Vista (x86) Windows Vista (x64) Windows 7 (x86) Windows 7 (x64) Browsers: Firefox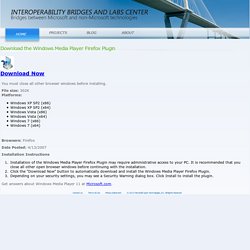 Détails du téléchargement : Windows Installer 4.5 Redistributable - Français
Télécharger Windows XP Service Pack 3 gratuit
Détails du téléchargement : Windows XP Service Pack 3 - Fichier d'image de CD ISO-9660
installer d3dcompiler_42.dll