Meteo Spatiale
Get flash to fully experience Pearltrees
Energy | Particles | Inventions
Shown here are the latest SECCHI beacon images. The STEREO space weather beacon telemetry mode is a very low rate, highly compressed data stream broadcast by the spacecraft 24 hours per day. These data are used for space weather forecasting. Because of the large compression factors used, these beacon images are of much lower quality than the actual science data. Same data as rotating GIF movie The images above are shown in the order of the relative positions of the three viewpoints, Behind, Earth, and Ahead.
Hasta ahora en este blog hemos visto la importancia que tienen los ciclos solares de 11 años en el planeta y en todos los seres vivos que la habitan…inclusive y por supuesto, en el ser humano… Ya vimos el pasado febrero, como las tormentas solares podían afectar a la psique humana … En este artículo nos contaban como el sol através de las tormentas solares producían importantes cambios geomagnéticos en nuestro escudo protector y estos cambios a su vez afectaban y nos modificaban…llegando a producirse incluso importantes mutaciones evolutivas relacionadas con el incremento de los rayos gamma que nos llegan desde el cosmos y desde el astro rey… Tambien hemos mencionado más de una vez cómo el incremento de los rayos gamma produce a su vez un incremento de la frecuencia o resonancia Shumann del PLANETAGEA… Esta frecuencia ha pasado de 7,83 hz en 1952 cuando fué descubierta por Winfried Otto Schumann, hasta los 12 hz actuales llegando a picos de 15 hz…
~UPDATED 12/01/11 Check links please…This is not a scientific paper…link at bottom for source…Thank you ~jude The angry sun For months mounting fear has driven researchers to wring their hands over the approaching solar storms. Some have predicted devastating solar tsunamis that could wipe away our advanced technology, others voiced dire warnings that violent explosions on the surface of the sun could reach out to Earth, breach our magnetic field, and expose billions to high intensity X-rays and other deadly forms of cancer-causing radiation.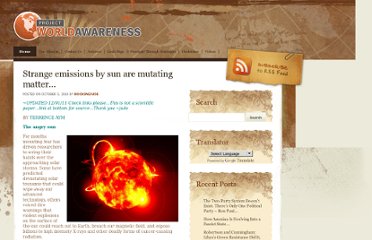 Activity | Planetary | Search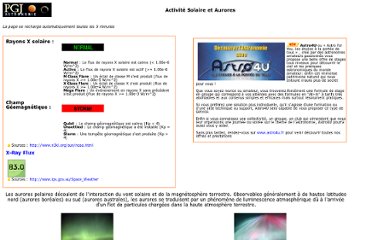 Les prévisionnistes mesurent également l'intensité des Ejections de Masse Coronale (CME) sur trois autres échelles. Chaque échelle est étalonnée de 1 à 5 (mineur, modéré, fort, sévère, extrême). Le niveau G (Tempête géomagnétique) :
A report issued by the National Research Council (NRC) in January 2009 has warned of the far reaching consequences of a solar storm hitting the Earth as the sun becomes more active during solar cycle 24 which began in 2008 and peaks around 2012 . A March 23 article in the New Scientist discussed the significance of the NRC report which details how a solar storm could wipe out the electrical power grid causing massive disruption in the U.S. and around the planet. The impact of the plasma energy directly bombarding the Earth during a solar storm could lead to electrical power stations being off line for weeks and months at a time, as overworked workers try to repair badly damaged electrical equipment.