INFOS IMPORTANT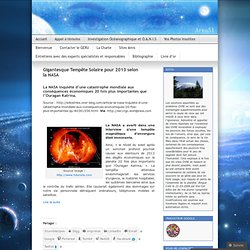 Gigantesque Tempête Solaire pour 2013 selon la NASA
La NASA inquiète d'une catastrophe mondiale aux conséquences économiques 20 fois plus importantes que l'Ouragan Katrina.
Home » Astronomy , Europe » Russian Leader Confirms To Pope New Planet Arrival In 2012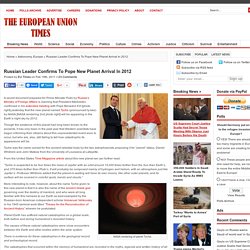 Leader de Russie confirme l'arrivée de Planet Pour Pape New En 2012
Tyché : la neuvième planète du système solaire ? - wikistrike.over-blog.com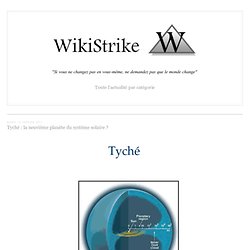 John Matese et Daniel Whitmire, deux astrophysiciens de l'Université de Louisiane à Lafayette (Etats-Unis), ont fait part de leurs travaux à propos de la possible découverte d'une nouvelle planète au sein du Système Solaire. Surnommée provisoirement Tyché (nom de la déesse grecque symbolisant la fortune, soeur de Némésis), elle aurait une masse quatre fois supérieure à celle de Jupiter et se situerait à 15.000 UA (1 Unité Astronomique = distance Terre-Soleil) - 2.250 milliards km (dans le Nuage de Oort) - soit à une distance 375 fois plus grande que celle de Pluton (raison de sa découverte tardive). Elle aurait une température de surface de -73 °C.
Nouvelles de BBC - Pourquoi les aurores boréales vers le sud?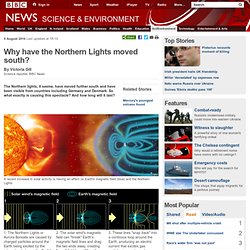 5 August 2010Last updated at 10:13 ET By Victoria Gill Science reporter, BBC News The Northern lights, it seems, have moved further south and have been visible from countries including Germany and Denmark. So what exactly is causing this spectacle?
Sur l'effet d'un nouveau minimum grandiose de l'activité solaire sur le climat futur de la Terre
Earth could be getting a second sun, at least temporarily.
Two Suns? Twin Stars Could Be Visible From Earth By 2012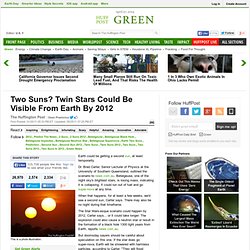 Un article de Wikipédia, l'encyclopédie libre. Historique[modifier | modifier le code] Le concept d'étoiles à neutrons est né immédiatement après la découverte du neutron en 1932 par James Chadwick.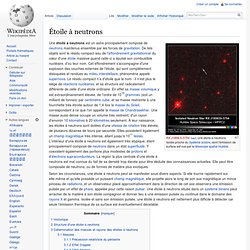 Étoile à neutrons
Bad Nouvelles de la NASA | Blog Dr. Marc
This is going to be the most extraordinary communication so fasten your seatbelts; we are in for a rough ride.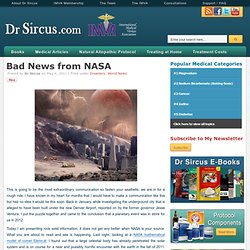 Richard A. Lovett
Que faire si la plus grosse tempête solaire dans les enregistrements qui s'est passé aujourd'hui?
Terrifying scientific discovery: Strange emissions by sun are suddenly mutating matter ~ Setyoufree News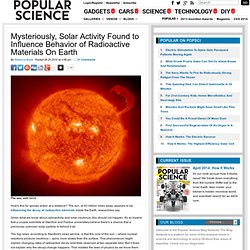 How's this for spooky action at a distance?
Mysteriously, Solar Activity Found to Influence Behavior of Radioactive Materials On Earth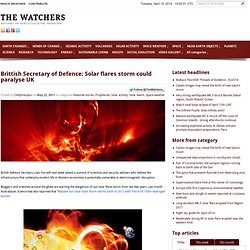 British Defence Secretary Liam Fox will next week attend a summit of scientists and security advisers who believe the infrastructure that underpins modern life in Western economies is potentially vulnerable to electromagnetic disruption. Blogger's and scientists around the globe are warning the dangerous of sun solar flares storm from last few years.
Ministre britannique de la Défense: Les éruptions solaires tempête pourrait paralyser Royaume-Uni
Astronomers: Comet Elenin may produce greatest meteor showers in history ~ Setyoufree News
Solar flare 'could paralyse Earth in 2013'
By Daily Mail Reporter UPDATED: 19:38 GMT, 21 September 2010 A massive solar flare could cause global chaos in 2013, causing blackouts and wrecking satellite communications, a conference heard yesterday. Nasa has warned that a peak in the sun's magnetic energy cycle and the number of sun spots or flares around 2013 could generate huge radiation levels.
Planetary nebulae and white dwarfs. Dying Suns
The Death of Stars
Dr Fox is delivering the keynote address to an international conference on the vulnerability of electricity grids around the world to natural disaster and hostile attack. Earlier this year, the US space agency Nasa warned that a peak in the sun's magnetic energy cycle and the number of sun spots or flares around 2013 could generate huge radiation levels.
Liam Fox révèle la menace des éruptions solaires aux réseaux électriques -                     Accueil Nouvelles, Royaume-Uni
Solar storm could cause planetary disaster at any time, warn scientists
By Claire Bates UPDATED: 13:11 GMT, 26 March 2009 The Government was urged today to make contingency plans for a freak solar flare that could 'knock out' the National Grid and create severe water and food shortages. Labour former minister Graham Stringer said Britain should be prepared for a repeat of the solar storm of 1859, which hit Earth and paralysed much of the telegraph system.
On Sept. 2, 1859, an incredible storm of charged particles sent by the sun slammed into Earth's atmosphere, overpowered it, and caused havoc on the ground. Telegraph wires, the high-tech stuff of the time, suddenly shorted out in the United States and Europe, igniting widespread fires.
Huge solar storm could hit Earth again - Technology & science - Space - Space.com