INFOS IMPORTANT
Gigantesque Tempête Solaire pour 2013 selon la NASA. La NASA inquiète d'une catastrophe mondiale aux conséquences économiques 20 fois plus importantes que l'Ouragan Katrina.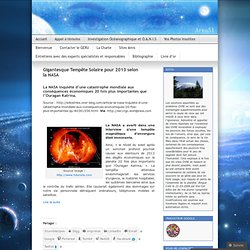 Source : Via La NASA a averti dans une interview q'une tempête magnétique d'envergure était imminente. Ainsi, « le réveil du soleil après un sommeil profond pourrait causer aux alentours de 2013 des dégâts économiques sur la planète 20 fois plus importants que l'Ouragan Katrina. ». La tempête attendue endommagerait les services d'urgence, le matériel hospitalier, les systèmes bancaires ainsi que le contrôle du trafic aérien. Leader de Russie confirme l'arrivée de Planet Pour Pape New En 2012. Home » Astronomy , Europe » Russian Leader Confirms To Pope New Planet Arrival In 2012 A secret document prepared for Prime Minister Putin by Russia's Ministry of Foreign Affairs is claiming that President Medvedev confirmed in his extended meeting with Pope Benedict XVI [photo right] yesterday that the new planet named Tyche (pronounced ty-kee) by NASA [NASA rendering 2nd photo right] will be appearing in the Earth's night sky by 2012.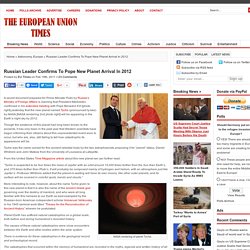 Though the existence of this planet had long been known to the ancients, it has only been in the past year that Western scientists have begun informing their citizens about this unprecedented event soon to occur, but who are, also, still failing to tell how catastrophic its appearance will be. Tyche was the name coined for this ancient celestial body by the two astrophysicists proposing it for "planet" status, Daniel Whitmire and John Matese from the University of Louisiana at Lafayette. Tyché : la neuvième planète du système solaire ? - wikistrike.over-blog.com. John Matese et Daniel Whitmire, deux astrophysiciens de l'Université de Louisiane à Lafayette (Etats-Unis), ont fait part de leurs travaux à propos de la possible découverte d'une nouvelle planète au sein du Système Solaire.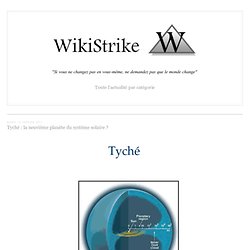 Surnommée provisoirement Tyché (nom de la déesse grecque symbolisant la fortune, soeur de Némésis), elle aurait une masse quatre fois supérieure à celle de Jupiter et se situerait à 15.000 UA (1 Unité Astronomique = distance Terre-Soleil) - 2.250 milliards km (dans le Nuage de Oort) - soit à une distance 375 fois plus grande que celle de Pluton (raison de sa découverte tardive). Elle aurait une température de surface de -73 °C. Nouvelles de BBC - Pourquoi les aurores boréales vers le sud?
5 August 2010Last updated at 15:13 By Victoria Gill Science reporter, BBC News The Northern lights, it seems, have moved further south and have been visible from countries including Germany and Denmark.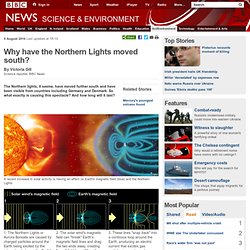 So what exactly is causing this spectacle? Sur l'effet d'un nouveau minimum grandiose de l'activité solaire sur le climat futur de la Terre. Two Suns? Twin Stars Could Be Visible From Earth By 2012. Earth could be getting a second sun, at least temporarily.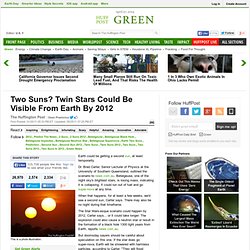 Dr. Brad Carter, Senior Lecturer of Physics at the University of Southern Queensland, outlined the scenario to news.com.au. Betelgeuse, one of the night sky's brightest stars, is losing mass, indicating it is collapsing. Étoile à neutrons. Un article de Wikipédia, l'encyclopédie libre.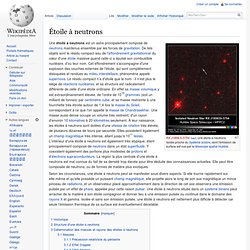 Historique[modifier | modifier le code] Le concept d'étoiles à neutrons est né immédiatement après la découverte du neutron en 1932 par James Chadwick. Bad Nouvelles de la NASA | Blog Dr. Marc. This is going to be the most extraordinary communication so fasten your seatbelts; we are in for a rough ride.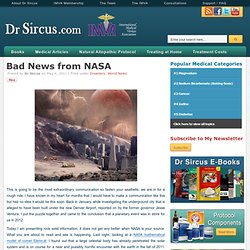 I have known in my heart for months that I would have to make a communication like this but had no idea it would be this soon. Back in January, while investigating the underground city that is alleged to have been built under the new Denver Airport, reported on by the former governor Jesse Ventura, I put the puzzle together and came to the conclusion that a planetary event was in store for us in 2012. Today I am presenting rock solid information; it does not get any better when NASA is your source. What you are about to read and see is happening. Que faire si la plus grosse tempête solaire dans les enregistrements qui s'est passé aujourd'hui?
Richard A.
Lovett As solar storms go, the Valentine's Day flare was actually modest. But the burst of activity is only the start of the upcoming solar maximum, due to peak in the next couple of years. "The sun has an activity cycle, much like hurricane season," Tom Bogdan , director of the Space Weather Prediction Center in Boulder, Colorado, said earlier this month at a meeting of the American Association for the Advancement of Science in Washington, D.C.
"It's been hibernating for four or five years, not doing much of anything. " Terrifying scientific discovery: Strange emissions by sun are suddenly mutating matter ~ Setyoufree News. Mysteriously, Solar Activity Found to Influence Behavior of Radioactive Materials On Earth. How's this for spooky action at a distance?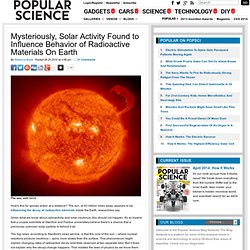 The sun, at 93 million miles away, appears to be influencing the decay of radioactive elements inside the Earth, researchers say. Given what we know about radioactivity and solar neutrinos, this should not happen. It's so bizarre that a couple scientists at Stanford and Purdue universities believe there's a chance that a previously unknown solar particle is behind it all. The big news, according to Stanford's news service, is that the core of the sun -- where nuclear reactions produce neutrinos -- spins more slowly than the surface. Ministre britannique de la Défense: Les éruptions solaires tempête pourrait paralyser Royaume-Uni. British Defence Secretary Liam Fox will next week attend a summit of scientists and security advisers who believe the infrastructure that underpins modern life in Western economies is potentially vulnerable to electromagnetic disruption.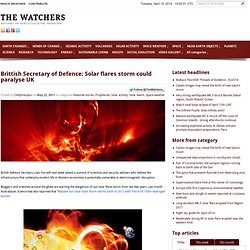 Blogger's and scientists around the globe are warning the dangerous of sun solar flares storm from last few years. Last month Australasian Science had also reported that "Massive Sun Solar Flare Storm will hit Earth in 2012 with 'Force Of 100m Hydrogen bombs'. NASA report on Sun solar Storm which was carried out for NASA by the US National Academy of Sciences in 2009 had also warned about upcoming solar Storm 2012 too. Some scientists say there is a similar danger from a once-in-a-century solar flare, a disturbance on the surface of the sun that could cause geomagnetic storms on earth. A major flare in the mid-19th century blocked the nascent telegraph system, and some scientists believe that another such even is now overdue. Help. Astronomers: Comet Elenin may produce greatest meteor showers in history ~ Setyoufree News.
Solar flare 'could paralyse Earth in 2013' By Daily Mail Reporter Updated: 19:38 GMT, 21 September 2010 A massive solar flare could cause global chaos in 2013, causing blackouts and wrecking satellite communications, a conference heard yesterday. Nasa has warned that a peak in the sun's magnetic energy cycle and the number of sun spots or flares around 2013 could generate huge radiation levels.
The Death of Stars. Planetary nebulae and white dwarfs. Dying Suns The vast majority of stars, which have a mass similar to that of the Sun, end their lives transformed into ephemeral light sculptures and ionized gas, called planetary nebulae. The planetary nebulae are presented in multiple and surprising variety of forms, gradually expanding, and with a maximum range that can reach more than a light year in diameter. In a period of about twenty to thirty thousand years of expansion will be finished by dispersing and mixing with the interstellar medium to disappear, leaving behind tiny stellar remnants called white dwarfs.
These structures are objects very "photogenic" to astronomers because, on one hand, most of the gas cloud is composed of hydrogen, while the central residue, the white dwarf, emitting ultraviolet radiation and ionized hydrogen atoms (makes ejected electrons). Liam Fox révèle la menace des éruptions solaires aux réseaux électriques -                     Accueil Nouvelles, Royaume-Uni. Dr Fox is delivering the keynote address to an international conference on the vulnerability of electricity grids around the world to natural disaster and hostile attack. Earlier this year, the US space agency Nasa warned that a peak in the sun's magnetic energy cycle and the number of sun spots or flares around 2013 could generate huge radiation levels.
The resulting solar storm could cause a geomagnetic storm on earth, knocking out electricity grids around the world for hours, days, or even months, bringing much of normal life grinding to halt. Scientists are said to fear that a similar effect could be achieved by a hostile power exploding a nuclear weapon in space, producing a massive burst of electromagnetic energy known as a high altitude electromagnetic pulse.
In his speech, Dr Fox is expected to highlight the way that modern societies' dependence on technology leaves them vulnerable to such events. Solar storm could cause planetary disaster at any time, warn scientists. By Claire Bates Updated: 13:11 GMT, 26 March 2009 The Government was urged today to make contingency plans for a freak solar flare that could 'knock out' the National Grid and create severe water and food shortages. Labour former minister Graham Stringer said Britain should be prepared for a repeat of the solar storm of 1859, which hit Earth and paralysed much of the telegraph system.
Huge solar storm could hit Earth again - Technology & science - Space - Space.com. On Sept. 2, 1859, an incredible storm of charged particles sent by the sun slammed into Earth's atmosphere, overpowered it, and caused havoc on the ground. Telegraph wires, the high-tech stuff of the time, suddenly shorted out in the United States and Europe, igniting widespread fires. Colorful aurora, normally visible only in polar regions, were seen as far south as Cuba and Hawaii. Earth's magnetic field normally protects the surface of the planet from some storms. In 1859, the planet's defenses were totally overwhelmed. Over the past decade, similar but less powerful storms have likewise busted through, giving scientists insight into what will eventually happen again.
---