Fukushima | MOVIES
Fukushima Catastrophe Planétaire Fevrier 2014. Fukushima, retour en zone rouge. Japan Victim's Tsunami 2011,Fear & Death,"The Lost" Tribute Piano/Cello Theme Patrick Stafford (c)HD. Kataklizm w Japonii. Nowe ujęcie tsunami - wideo z kanału Actu et Politique. 2011年3月11日. 28/05/2011 - EPIC FAIL = CNRC .. donnant Fairewinds le courir tout en parlant au Fukushima. Japan Tsunami Seisme Earthquake Terremoto زلزال -vous allez dire C'EST INCROYABLE ! - 1. Point de liaison. Sendai, totalement dévastée par le tsunami. Tsunami in Japan earthquake , 03/11/11 Terremoto en Japon, 日本地震 地震在日本.
Japon (tsunami) : vagues géantes vues depuis un hélicoptère ! Japan tsunami earthquake "BEST JAPANESE FILMS" SORRY, Part 3, March 11, 2011.mp4. JAPAN TSUNAMI EARTHQUAKE CAUSED PURPOSELY BY SOMEONE ??? Part # 7. Earthquake and Tsunami in Japan, March 11, 2011, BEST FILMS, HD, Part 3.mp4. Tsunami in Japan 3.11 first person FULL raw footage. Japon : Zone rouge autour de Fukushima, une contamination à petit feu. JAPAN: New Unbelievable amateur footage of The Moment tsunami hit Miyako City (earthquake 2011)
Earthquake Japan. Terremoto y Tsunami en Japón. 11-03-2011. Tsunami in japan 11-03-2011(newsxlive) Japain, Miyagi: 10000 dead people - 13.03.2011 - Giant tsunami wave eats boat and 10000 people! Japan Tsunami arrives, people flee narrowly escaping. Japon : nouvelles images du Tsunami. JAPON TSUNAMI 2011. Terrible tsunami in Japan 11/mar/2011. Séisme au Japon (Tsunami) 11 mars 2011. Le Japon a été touché par un terrible séisme, d'une magnitude de 8.9 sur l'échelle de Richter.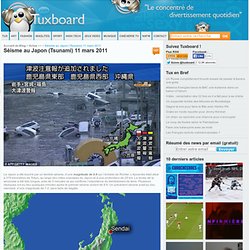 L'épicentre était situé à 375 kilomètres de Tokyo, au large des côtes orientales du Japon et à une profondeur de 25 km. La durée de la secousse a été très longue, près de 5 minutes ce qui confirme l'importance du tremblement de terre. Plusieurs répliques ont eu lieu quelques minutes après le premier séisme violent de 8.9. Un précédent séisme avait eu lieu mercredi, d'une magnitude de 7.2, sans faire de dégâts. Une première vague de 4 mètres a touché les côtes du Japon. Nouveau tsunami a Minamisanriku au japon - une vidéo Actu et Politique. Tsunami au Japon : des dégâts considérables - une vidéo Actu et Politique. Oil refinery ablaze after devastating Japan earthquake, tsunami. Japan Earthquake: Helicopter aerial view video of giant tsunami waves.
Tsunami caused by an 8.9 magnitude earthquake in Japan. Ocurre sismo de 8.9° en Japón. Comment fonctionne la centrale de Fukushima ? Séisme : deux australiens rescapés racontent. Fukushima Nuclear Power Plant In Japan Explodes + Releases Radiation - Japan 2011 Earthquake. Tsunami: Japan's north coast devastated - Côte nord du Japon dévastée. Japan, Tsunami. Coast Guard ship rides over the tsunami waves. 日本 - 津波. 【Japan】 神が人々を襲った瞬間 ( 東日本大震災 ) 【Earthquake】
---