Fukushima | MOVIES
Fukushima, retour en zone rouge
Point de liaison
Japan Victim's Tsunami 2011,Fear & Death,"The Lost" Tribute Piano/Cello Theme Patrick Stafford (c)HD
Kataklizm w Japonii. Nowe ujęcie tsunami - wideo z kanału Actu et Politique
Vidéo Séisme au Japon : Edition spéciale TF1 de LCIWAT (Actualité - LCIWAT
2011年3月11日
28/05/2011 - EPIC FAIL = CNRC .. donnant Fairewinds le courir tout en parlant au Fukushima
Japon (tsunami) : vagues géantes vues depuis un hélicoptère !
Sendai, totalement dévastée par le tsunami
Japan tsunami earthquake "BEST JAPANESE FILMS" SORRY, Part 3, March 11, 2011.mp4
Fukushima Nuclear Power Plant In Japan Explodes + Releases Radiation - Japan 2011 Earthquake
JAPAN TSUNAMI EARTHQUAKE CAUSED PURPOSELY BY SOMEONE ??? Part # 7
Earthquake Japan. Terremoto y Tsunami en Japón. 11-03-2011
Earthquake and Tsunami in Japan, March 11, 2011, BEST FILMS, HD, Part 3.mp4
Japon : Zone rouge autour de Fukushima, une contamination à petit feu
Oil refinery ablaze after devastating Japan earthquake, tsunami
JAPAN: New Unbelievable amateur footage of The Moment tsunami hit Miyako City (earthquake 2011)
tsunami in japan 11-03-2011(newsxlive)
Japain, Miyagi: 10000 dead people - 13.03.2011 - Giant tsunami wave eats boat and 10000 people!
Japan Tsunami arrives, people flee narrowly escaping.
Terrible tsunami in Japan 11/mar/2011
Tsunami in Japan 3.11 first person FULL raw footage
Japon : nouvelles images du Tsunami
JAPON TSUNAMI 2011
nouveau tsunami a Minamisanriku au japon - une vidéo Actu et Politique
Tsunami au Japon : des dégâts considérables - une vidéo Actu et Politique
Séisme au Japon (Tsunami) 11 mars 2011
Le Japon a été touché par un terrible séisme, d'une magnitude de 8.9 sur l'échelle de Richter. L'épicentre était situé à 375 kilomètres de Tokyo, au large des côtes orientales du Japon et à une profondeur de 25 km.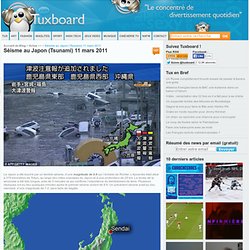 Ocurre sismo de 8.9° en Japón
Japan Earthquake: Helicopter aerial view video of giant tsunami waves
Tsunami caused by an 8.9 magnitude earthquake in Japan
Comment fonctionne la centrale de Fukushima ?
Séisme : deux australiens rescapés racontent
Tsunami: Japan's north coast devastated - Côte nord du Japon dévastée
Japan, Tsunami. Coast Guard ship rides over the tsunami waves. 日本 - 津波
Tsunami in Japan earthquake , 03/11/11 Terremoto en Japon, 日本地震 地震在日本
Japan Tsunami Seisme Earthquake Terremoto زلزال -vous allez dire C'EST INCROYABLE ! - 1
【Japan】 神が人々を襲った瞬間 ( 東日本大震災 ) 【Earthquake】