FIREFOX Android
Firefox 26 pour Android fera le ménage dans son interface. Mozilla travaille actuellement sur une interface remaniée pour son navigateur Firefox sur Android.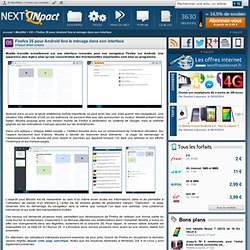 Une apparence plus légère ainsi qu'une concentration des fonctionnalités importantes sont ainsi au programme. Android est à ce jour la seule plateforme mobile importante où peut avoir lieu une vraie guerre des navigateurs. Une situation très différente d'iOS où les butineurs ne peuvent être que des surcouches du moteur Webkit présent dans Safari. Mozilla propose ainsi une version mobile de Firefox à destination du système de Google, mais la visibilité gagnée sur les ordinateurs n'est pas assurée sur les smartphones. Dans une optique « chaque détail compte », l'éditeur travaille donc sur un remaniement de l'interface utilisateur. Assistance de Firefox for Android. Navigateur Firefox en français | Plus rapide, plus sécurisé et personnalisable. Firefox | Download Firefox Aurora For Android. Firefox | Firefox for Android | Download Firefox to your mobile device. A superior Web experience With high-performance, advanced cross-platform features and the latest in security, our top-rated browser offers an alternative to closed platforms, giving you the flexibility to design, distribute and charge as you see fit.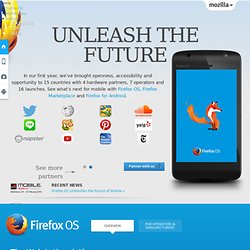 Learn more about partner opportunities. Télécharger Firefox Android (android) - Gratuit, Firefox Android : Le navigateur Firefox Mobile pour Android, efficace, orig. Exigences système Firefox Mobile. Firefox is compatible with Android 2.2 and above devices.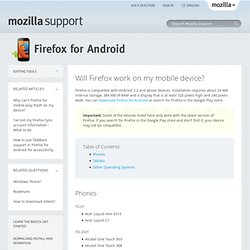 Installation requires about 24 MB internal storage, 384 MB of RAM and a display that is at least 320 pixels high and 240 pixels wide. You can download Firefox for Android or search for Firefox in the Google Play store. Important: Some of the devices listed here only work with the latest version of Firefox. If you search for Firefox in the Google Play store and don't find it, your device may not be compatible. Acer. Firefox Beta - Android Market. Boat Browser est un navigateur mobile rapide, intelligent et cool, cela amène une incroyable expérience Premium du web.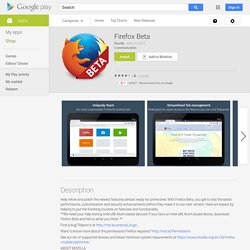 Il est entièrement personnalisable, vous pouvez facilement modifier l'emplacement des boutons comme vous le voulez et installez vos modules favoris pour rendre votre navigateur encore plus puissant! Quels avantages ? 1. Encore plus personnalisableNous avons optimisé les fonctions de base listées dans la barre d'outils (latérale). Et vous pouvez personnaliser les fonctionnalités comme vous le souhaitez: réorganiser, ajouter et supprimer des boutons, tout en glissant l'icône correspondante.En plus de la personnalisation de la barre d'outils, vous pouvez également personnaliser la couleur d'arrière-plan et l'action des touches de volume.
---