FACEBOOK
Facebook Lieux : Modifier ses Paramètres de Confidentialité Sans vouloir cacher votre location à vos amis, vous souhaitez cependant garder votre vie privée et ne pas partager le lieux où vous vous trouvez avec votre réseau. Ou bien au contraire, vous voulez partager et faire savoir à votre entourage où vous vous trouvez grâce à Facebook Lieux, voici comment modifier les paramètres de confidentialité de votre partage de géolocalisation avec Facebook Lieux-Places .
Who is :putnam: emoticon?
The time has passed when Facebook was a "good idea" for businesses to try. It's now essential to your inbound marketing strategy. Thing is, Facebook keeps changing how to set up Facebook business pages -- both on the large scale with the rollout of Facebook Timeline, and on a smaller scale with new features that are rolling out all the time. Don't waste another day poking around aimlessly on Facebook, trying to figure out what the heck to do to get your Timeline up and running like a social networking pro .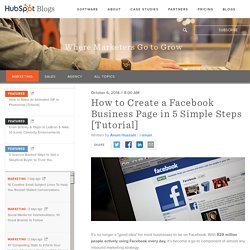 Facebook Mobile
Nouveau profil facebook : activer Timeline | Facebook en mieux
Facebook vient de présenter sa nouvelle interface profil nommé Timeline , elle est décrite comme se rapprochant plus d'une biographie. Pour activer le Journal facebook : https://www.facebook.com/about/timeline Puis cliquez sur Utiliser le journal (en bas à droite de la page). Remaque : Pour désactiver facebook Timeline (ou Journal) : Cliquez ici Si vous n'arrivez pas à l'activer (vous n'avez pas ce bouton) :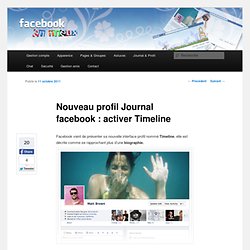 This plugin adds required meta tags to your site header. It automatically inserts title, description and post thumbnail. When you click on facebook share you get the right image for sharing. No settings required. Just upload & activate. Usage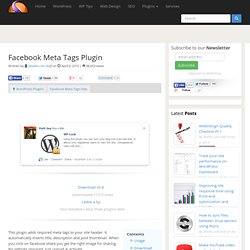 Facebook Meta Tags Plugin | Shailan
Facebook Banners Generator | iWANTBANNERS.com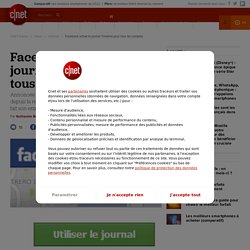 Annoncée simultanément avec d'autres fonctionnalités en test depuis la rentrée, la Timeline Facebook ou "Journal" en français fait son entrée publique dans le réseau social. Depuis quelques semaines la Timeline Facebook, appellée "Journal" pour les membres francophones était disponible pour les développeurs. Ils ont pu tester et configurer ce journal personnel qui regroupe toutes les informations sur un membre.
Facebook active le journal Timeline pour tous les comptes - Challenges.fr