Earthquake Hazards Program
Oklahoma Réfractivité. Cartes animées des tremblements de terre. Séisme en 3D - télécharger le logiciel libre et des logiciels critiques - CNET Téléchargements. CNET TechTracker will now automatically install software without requiring further action by you.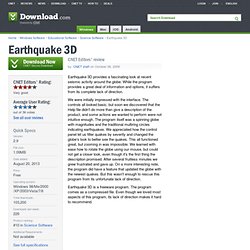 (Note: This feature automatically accepts associated EULAs and third party applications on your behalf.) You have selected the following software to Smart Install: CNET TechTracker will attempt to install this software without interrupting you again. If an application requires manual installation, CNET TechTracker will download the installer and prompt you to take further action.
Proceed with Smart Install? Welcome to the USGS - U.S. Geological Survey. Help.
---