Récupéré: Bilderberg | Commission Trilatérale
- www.trilateral.org
Blutiger Zwischenfall am Bilderberg-Treffen Zwei Italiener haben am Donnerstagnachmittag versucht, unerlaubt ins Tagungshotel der Bilderberg-Konferenz in St. Moritz zu gelangen.
20 minutes en ligne - C'est le "secret" liste des participants - Nouvelles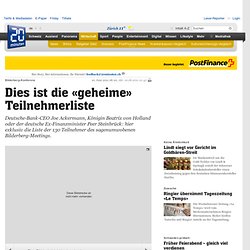 Bilderberg 2011 plans for more economic chaos and tax increases — Bilderberg 2011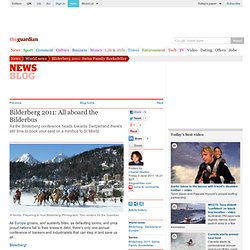 As Europe groans, and austerity bites, as defaulting looms, and once proud nations fall to their knees in debt, there's only one annual conference of bankers and industrialists that can step in and save us all… Bilderberg! Next week, in Switzerland, Henry Kissinger and his brave band of corporate CEOs, high-wealth individuals and heavyweight thinktankers will lock arms with Queen Beatrix of the Netherlands and David Rockefeller, and stand their ground against the economic contagion.
Bilderberg 2011: Tous à bord du Bilderbus | Nouvelles du monde
Bilderberg, le club secret des puissants du monde - Vigi-Infos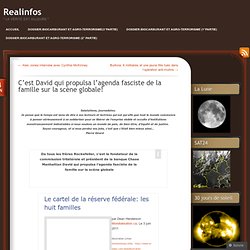 Salutations, journalistes.
C'est David qui propulsa l'agenda fasciste de la famille sur la scène globale
La piqûre de rappel de David Rockefeller
A la suite de nos articles précédents, voici le rappel de ce que disait David Rockefeller, le 23 septembre 1994 : « Tout ce dont nous avons besoin est une crise majeure appropriée, et les nations accepteront le Nouvel Ordre Mondial ». [Souvenez-vous des candidats proposés à la Maison Blanche par les deux partis "démocratiques" de l'establishment : BARACK OBAMA contre JOHN MCCAIN. A l'époque, LIESI rappellait que le candidat républicain J. McCain était « conseillé » par H.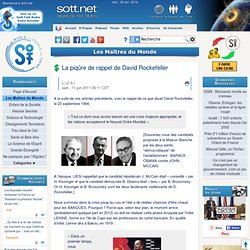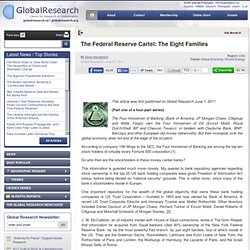 La Réserve fédérale sur les cartels: les huit familles
This article was first published on Global Research June 1, 2011 (Part one of a four-part series) The Four Horsemen of Banking (Bank of America, JP Morgan Chase, Citigroup and Wells Fargo) own the Four Horsemen of Oil (Exxon Mobil, Royal Dutch/Shell, BP and Chevron Texaco); in tandem with Deutsche Bank, BNP, Barclays and other European old money behemoths.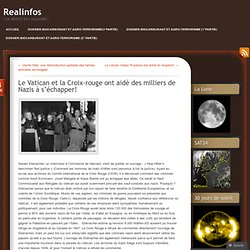 Le Vatican et la Croix-rouge ont aidé des milliers de Nazis à s'échapper
Gerald Steinacher, un chercheur à l'Université de Harvard, vient de publier un ouvrage : « How Hitler's henchmen fled justice » (Comment les hommes de main d'Hitler sont parvenus à fuir la justice).
On parle du Bilderberg sur France Culture
Cette interview d'un ancien banquer Suisse, réalisée à Moscou le 30 Mai dernier et traduite pour LaPresseGalactique.com, risque d'en surprendre plus d'un.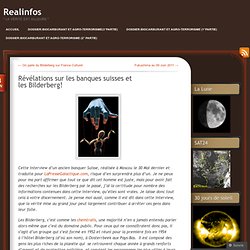 Révélations sur les banques suisses et les Bilderberg
(interview with a Swiss banker done in Mosсow 30.05.2011)
Swiss Banker Unmasks Bilderberg Criminals
Un Législateur Suisse Influent s'en prend à Bilderberg - Vigi-Infos
Une journaliste a parlé du Groupe de Bilderberg sur France Culture ! - C'est un miracle !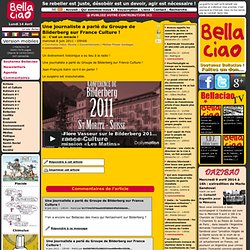 L'histoire de toute société jusqu'à nos jours n'a été que l'histoire de luttes de classes.
Voici la liste du club Bilderberg des « maîtres du monde » - Vigi-Infos
Watson et Dykes au Bilderberg 2011
Il s'agit de la bande-annonce de l'interview exclusive prisonplanet.tv à venir avec le Dr Webster Tarpley.
Écoscience: le plan de John P Holdren pour la dépopulation mondiale par Webster Tarpley