Autres ADD-ONS
Tab Scope. Tab Wheel Scroll. Firefox-pour-la veille-2.pdf (Objet application/pdf) Plus de " google toolbar for firefox " ! [Résolu] | CommentCaMarche. Alors, avec firefox 5 sous XP, même galère que zadard.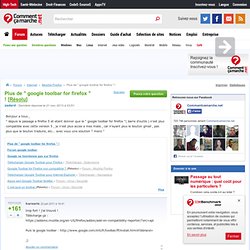 Impossible de suivre la manip', message d'erreur comme quoi le module n'est pas compatible... Avec un peu d'acharnement j'ai réussi et pu installer la barre. Quand on arrive sur cette page : Movable Firefox Button. Firefox Add-on for Twitter, Facebook, MySpace and FriendFeed | ul.timate.info. FireFTP - The Free FTP Client for Mozilla Firefox. Résultats de la recherche de module. DebridFF. Modules pour Firefox. Firefox : une extension formidable ! Bloguer, c'est bien sûr écrire et publier ses propres billets, mais c'est aussi visiter les autres blogs et, en fonction de son humeur et/ou de ses compétences, y poster des commentaires.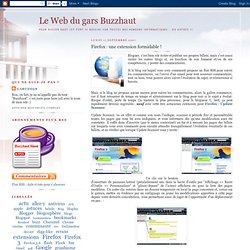 Si le blog sur lequel vous avez commenté propose un flux RSS pour suivre les commentaires, ou l'envoi d'un email pour tout nouveau commentaire, tout va bien, vous pouvez alors suivre l'évolution du sujet, et réintervenir si besoin. Mais si le blog ne propose aucun moyen pour suivre les commentaires, alors la galère commence, car il faut retourner de temps en temps et aléatoirement sur le blog pour voir si le sujet a évolué. Risque d'oubli, perte de temps (la matière la plus précieuse, pour le blogueur !) Globex Designs - Vancouver Web Design & Media Production. Firefox Addon - YouTube mp3. Capture Fox: un plugin Firefox pour réaliser des screencast | Descary. Les applications gratuites permettant de produire des screencast, ces captures vidéo d'un écran sont de plus en plus nombreuses.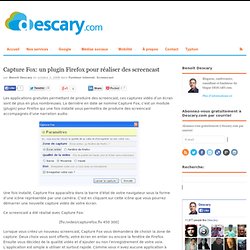 La dernière en date se nomme Capture Fox, c'est un module (plugin) pour Firefox qui une fois installé vous permettra de produire des screencast accompagnés d'une narration audio. Une fois installé, Capture Fox apparaîtra dans la barre d'état de votre navigateur sous la forme d'une icône représentée par une caméra. Télécharger YouTube to MP3 1.0.7 (Gratuit) Plus d'images Download Accelerator Plus est un logiciel qui accélère considérablement les téléchargements en segmentant le fichier (hachage).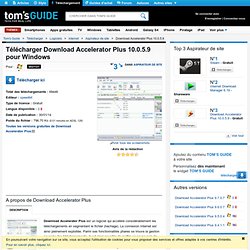 La connexion Internet est ainsi pleinement exploitée. Download the Windows Media Player Firefox Plugin - Port 25: The Open Source Community at Microsoft. You must close all other browser windows before installing.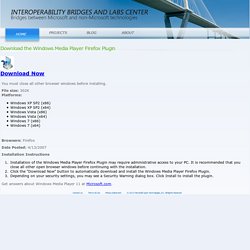 File size: 302K Platforms: Windows XP SP2 (x86) Windows XP SP2 (x64) Windows Vista (x86) Windows Vista (x64) Windows 7 (x86) Windows 7 (x64) Browsers: Firefox Date Posted: 4/13/2007 Installation Instructions. Media download Firefox extension. We detected that you are not running Windows as your operating system.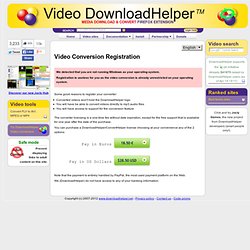 Registration is useless for you as the video conversion is already unrestricted on your operating system. Some good reasons to register your converter: Converted videos won't hold the DownloadHelper logoYou will have be able to convert videos directly to mp3 audio filesYou will have access to support for the conversion feature The converter licensing is a one-time fee without date expiration, except for the free support that is available for one year after the date of the purchase.
---