AIR | Archives | MAI 2011
Afficher LSR expérimentale
24/05/2011 Oklahoma Tornado Recap vidéo
Hunter, Missouri tornado: May 25, 2011
5/26/2011 Marion, PA Funnel cloud and overturned semi trailer
Grosses tempêtes, tornades, inondations et du Sud-Est des États-Unis déchirer
(Brainz) -- Massive storms, tornadoes, and floods have ripped apart portions of the Southeastern U.S. On Wednesday, April 28, 2011, portions of Alabama, Arkansas, and Tennessee were subjected to severe storms and strings of tornadoes which caused at least 178 deaths, massive power outages, and the shut down of nuclear reactors at Browns Ferry, the Tennessee Valley Authority owned nuclear plant located in Alabama.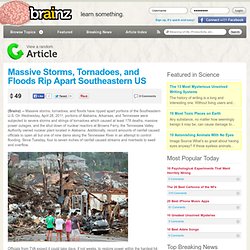 5/24/2011 -- Tornadoes in Oklahoma City, Kansas, forming near North Carolina, and Virginia
Tempêtes de sable dans le nord de la Chine
De fortes tempêtes de sables provenant de Mongolie Intérieure ont touché de nombreuses régions du nord de la Chine. 94 millions de personnes en ont subi les conséquences.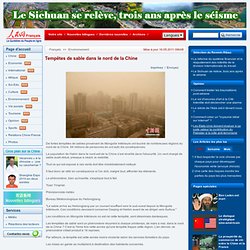 25/05/2011 - Trois pouces de grêle et les tornades à Saint-Louis dans le Missouri
l'imagerie par satellite de la NASA infrarouge montre une forte typhon Songda
E! SCIENCE NEWS – Songda is now a typhoon in the Northwestern Pacific Ocean as it continues tracking parallel to the eastern coast of Luzon, Philippines. Infrared satellite imagery from NASA's Aqua satellite revealed that the storm has a much tighter low-level circulation center than it did yesterday.

Tornados in California and Volcanic Plume over NORTH AMERICA: May 25th-27th, 2011.
5/24/2011 - Rotating Wall Cloud over Dallas, Texas
Short clip of May 24 2011 Oklahoma multi-vortex tornado and damage
26/05/2011 - Anneaux RADAR "Spiral Vortex» - de Caroline du Nord et du Midwest centrale
May 24, 2011 Oklahoma tornado outbreak!
5/25/2011 West Memphis Tornado
Funnel Cloud - East of Topeka, KS - 5/21/2011 Tornado
May 21, 2011 tornado / funnel footage Topeka, KS
Taiwan Info
Well Defined Rotating Funnel Cloud on Tornado Warned Storm, Topeka Ks, May 21st 2011
2011-05-21 Tornadic Storm - Topeka to Perry Lake, KS
5/21/11 Topeka, KS Tornado
5/21/2011 Topeka, KS Tornadic storm and large hail
Topeka, KS Tornado - May 21, 2011
May 21 2011 Emporia and Reading Kansas tornado
Tornado near Ada, Oklahoma! May 21, 2011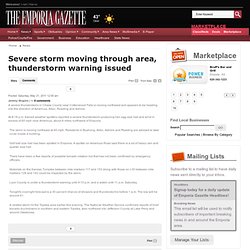 A severe thunderstorm in Chase County near Cottonwood Falls is moving northwest and appears to be heading into the direction of Americus, Allen, Reading and Admire. At 8:18 p.m. trained weather spotters reported a severe thunderstorm producing hen egg size hail and wind in excess of 60 mph near Americus, about 8 miles northwest of Emporia. The storm is moving northeast at 40 mph. Residents in Bushong, Allen, Admire and Reading are advised to take cover inside a building.
Severe storm moving through area, thunderstorm warning issued | emporiagazette.com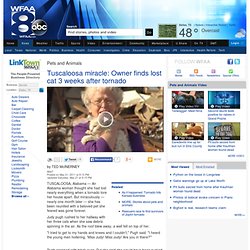 TUSCALOOSA, Alabama — An Alabama woman thought she had lost nearly everything when a tornado tore her house apart. But miraculously — nearly one month later — she has been reunited with a beloved pet she feared was gone forever. Judy pugh rushed to her hallway with her three cats when she saw debris spinning in the air. As the roof blew away, a wall fell on top of her. "I tried to get to my hands and knees and I couldn't," Pugh said. "I heard the young men hollering, 'Miss Judy!
Tuscaloosa miracle: Owner finds lost cat 3 weeks after tornado
Une tornade fait plus de peur que de mal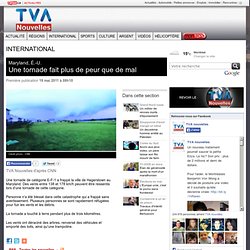 Une tornade de catégorie E-F-1 a frappé la ville de Hagerstown au Maryland.
May 21, 2011 Oklahoma Tornadoes
Tropical Storm Aere : Weather Underground
05/21/2011 Sulphur and Ada, OK Tornadoes
Je vous écris de Bagdad: Tempête de sable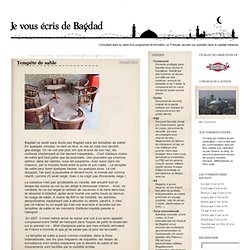 Bagdad ne serait sans doute pas Bagdad sans les tempêtes de sable!
May 21, 2011 SC Oklahoma Tornadofest near Ada and Sulphur!
Complete Recap of the May 21, 2011 Oklahoma Tornadofest
5/20/2011 Pratt, KS Severe Storms
5/17/2011 Eastern, CO Landspout Tornado and Hail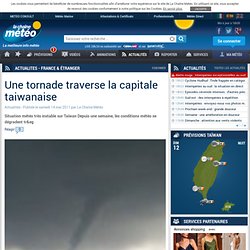 Une tornade traverse la capitale taiwanaise Actualités - Publiée le samedi 14 mai 2011 Situation météo très instable sur Taïwan Depuis une semaine, les conditions météo se dégradent très nettement sur l'île de Taïwan. On rentre dans la saison humide. La tempête tropicale "Aere" a d'ailleurs circulé au large de l'île, apportant de fortes pluies et un vent assez fort sur la côte Est.
Une tornade traverse la capitale taiwanaise
11 - Tornade dans un quartier de Taipei (Taïwan)
Point situation sécheresse : limitation des usages de l'eau en vigueur au 20 mai 2011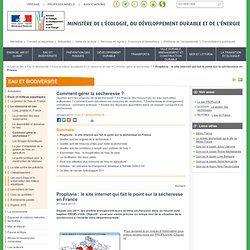 Quelles sont les origines de la sècheresse ? En France, les ressources en eau sont-elles suffisantes ? Comment sont décidées les mesures de restriction. ?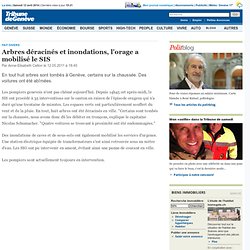 Arbres déracinés et inondations, l'orage a mobilisé les SIS
En tout huit arbres sont tombés à Genève, certains sur la chaussée.
Cliquez sur l'image Températures maximales en Europe le 9/05/11
Vague de chaleur sur l'Ouest de l'Europe
Violents orages hier soir sur les Monts d'Or et l'Est lyonnais
Le front orageux annoncé hier soir par Météo France est arrivé tard dans la soirée sur le département du Rhône.
Tornado in Reading causes major damage
Haute-Loire | Des orages isolés mais violents, hier soir, sur le Nord du département
Les orages et les pluies continuent de sévir sur la Polynésie française. Les îles du Vent, les îles sous le Vent, l'archipel de Tuamotu Ouest et celui de Tuamotu Sud restent en alerte orange pour orages et de fortes précipitations.
Alerte météo – 8 mai 2011 : Une partie de la Polynésie française toujours en vigilance orange pour orages et fortes pluies | Catastrophes naturelles et intempéries | News Assurances | Le média indépendant sur l'actualité de l'assurance
Tempête de sable sur le nord de la Chine
Unconfirmed tornado sighting part of day of storms
Les tempêtes de sable affectent la qualité de l'air
5/11/2011 Colby, KS Funnel Clouds and hail footage.
5/23/2011 -- ANOTHER tornadic cell heading towards Joplin, MO .. on to Lebanon and Rolla MO
5/10/2011 Benton County MN Hail Storm And Funnel Clouds
Shocking Video Right After N Minneapolis Tornado,Reports of Night Time Curfew ,Fights and Looting !
Kansas HP Tornadic Supercells! May 19, 2011
Joplin, MO Tornado - Weather Channel Report Live - May 22, 2011
1273557395_1280x800_ps-tornado.jpg (Image JPEG, 1280x800 pixels) - Redimensionnée (82%)
Northeast Oklahoma tornadoes! May 22, 2011
Flash Eco : USA/tornades: coût de 5,5mds$
Tempête tropicale Songda: Nouvelle menace pour le Japon ?
Chine : une tempête s'abat sur la ville touristique de Guilin
Bilan climatique pour avril 2011 en France : - hebdo-meteo sur LePost.fr (09:23)
NDRRMC Update SitRep No. 10 on Tropical Storm "BEBENG"
Violents orages en France
Tempête De Sable Au Sahara | Wikilinks
Chine : les tempêtes de sable vont s'atténuer dans le nord, et les chutes de pluie continuer dans le sud
24 people killed as tornado strikes Missouri (AFP)
Chickasha MONSTER VIOLENT, Tornado Wedge OK - YouTube - 24 mai 2011
First Person video of Joplin MO tornado 5/22/11
Destructive Joplin Missouri Tornado
5/24/2011 Canton, OK Tornado
Tempêtes de sable dans le nord de la Chine
Okeene, OK tornado May 23, 2011
Survivors of Joplin disaster recall narrow escapes (AP)
5/22/2011 Grove, OK Violent Tornadoes and Damage
Une nouvelle vague de tornades touche les États-Unis, tuant 30 personnes dans le Missouri
Joplin, Missouri 5/22/11 Tornado Damage!‬‏
5/11/2011 - Destroyed Mobile Homes in Chico, Texas
5/23/2011 Longdale, OK Close Tornado
24/05/2011 - Des dizaines de tornades développer = Oklahoma, le Kansas, le Texas, la Caroline du Nord, en Virginie
De violentes tempêtes en direction de Saint-Louis, Des Moines, Topeka, KC, et OKC - 24/05/2011