ADD-ONS [PLUGINS-BOOST FIREFOX]
Addons | Translate | Toolbar
Plugins Firefox - Télécharger Mozilla Firefox
Advanced Computing | cookiepie-tab-firefox-extension / index
From Nektra Advanced Computing Wiki
Se connecter sur un même site avec plusieurs comptes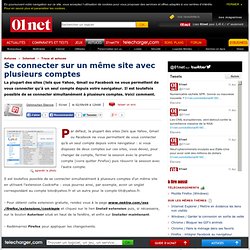 Par défaut, la plupart des sites (tels que Yahoo, Gmail ou Facebook ne vous permettent de vous connecter qu'à un seul compte depuis votre navigateur : si vous disposez de deux comptes sur ces sites, vous devez, pour changer de compte, fermer la session avec le premier compte (voire quitter Firefox) puis réouvrir la session avec l'autre compte. Il est toutefois possible de se connecter simultanément à plusieurs comptes d'un même site en utilisant l'extension CookiePie : vous pourrez ainsi, par exemple, avoir un onglet correspondant au compte toto@yahoo.fr et un autre pour le compte titi@yahoo.fr. - Pour obtenir cette extension gratuite, rendez vous à la page www.nektra.com/oss/firefox/extensions/cookiepie et cliquez sur le lien Install extension puis, si nécessaire, sur le bouton Autoriser situé en haut de la fenêtre, et enfin sur Installer maintenant. - Redémarrez Firefox pour appliquer les changements.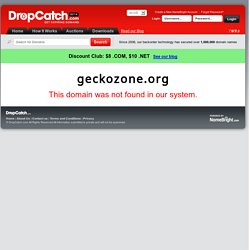 Voici les extensions en français pour Mozilla Firefox (335 extensions actuellement listées). Les langues entre crochets après le nom de l'extension (p.ex [en] ou [fr]) désignent la langue de la page cible et non la langue de l'extension (qui sont toutes en français). Votez pour vos extensions préférées et obtenez des suggestions personnalisées ! Vous vous demandez pourquoi voter ?
Firefox
Dictionnaires français :: Modules pour Firefox
Firefox Extensions by Chuck Baker
Add-on Compatibility Reporter
iMacros pour Firefox :: Modules pour Firefox
Google Translator for Firefox :: Modules pour Firefox
Tweak Network :: Modules pour Firefox
AlertBox
Google Docs Viewer (PDF, DOCX, PPTX, XLSX, etc...) :: Modules pour Firefox
FireFTP :: Modules pour Firefox
CacheViewer :: Modules pour Firefox
Shrunked Image Resizer :: Modules pour Firefox
Add-on Compatibility Reporter
TV FOX
Pixlr Grabber :: Modules pour Firefox
Outil de capture de page web, entière ou partielle, et d'édition et export de dessins avec calques.. Un Gimp en ligne sans avoir à installer autre chose qu'une simple extension. by websurfer Aug 19
Firefox est de loin le meilleur navigateur web du monde. Ceci est bien évidemment mon avis personnel bien que tout le monde l'affirme (voir l'excellent comparatif sur info-du-net) ! Mais si ce dernier a pu s'imposer devant des rivaux de poids tel que IE7, Opéra et Safari, c'est grâce à ses plugins (extensions) ou encore add-ons. Ces petites perles -très nombreuses- nous rendent la vie facile et offrent des fonctionnalités très intéressantes.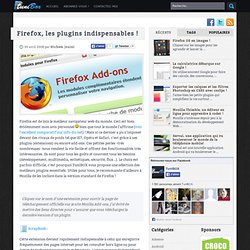 Firefox, les plugins indispensables ! | TuniBOX
CacheViewer
Many privacy conscious users select a specific browser if it provides adequate privacy features. Although Firefox is quite secure, you can extend its privacy features by adding specific Firefox Addons you need. Since every user's needs are different, we have listed some of the most popular Privacy addons for Firefox below.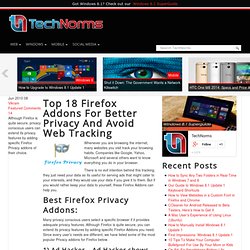 Top 18 Of The Best Firefox Privacy Addons For Avoiding Web Tracking and more
Allpeers, le P2P privé sous Firefox s'améliore
Update Scanner
Torisugari 0.7.4 et 0.7.7 (Uniquement FR) 9,6 Kio 23 Août 2008 Jojaba Installer External Application Buttons (pour 0.9 - 2.*)
ExternalApplicationButtons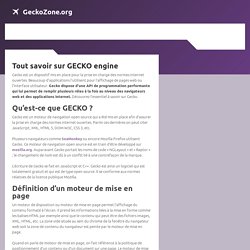 Installer FireFTP Mime Čuvalo voir le site officiel . Licence MPL 1.1 BatBat Description
FireFTP
Dictionnaires et paquetages linguistiques :: Modules pour Firefox
Facebook PhotoTheater Killer
une extension Firefox pour se connecter sur un même site avec plusieurs comptes
Shareaholic | share with Google, Facebook and more :: Modules pour Firefox