Video
'You are out of gas': Glenn shares the frank advice he recently received. There hasn't been a lot of positive news to report on as of late.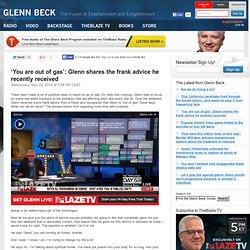 On radio this morning, Glenn tried to focus on some real world solutions to the problems that are afflicting each and every one us. Over the weekend, Glenn received some frank advice from a friend who recognized that Glenn is "out of gas" these days. What can we do refuel? The answer stems from spending more time with scripture. Below is an edited transcript of the monologue: It is time to come together and lead people out of the darkness. You may have noticed that Glenn has had a wide range of guests on his programs this week.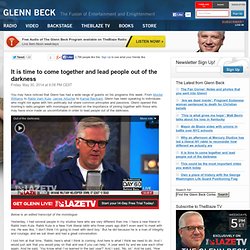 From Montel Williams to Rabbi Irwin Kula, James Altucher to Kamal Ravikant, Glenn has been speaking to individuals who might not agree with him politically but share common principles and passions. Glenn opened this morning's radio program with monologue centered on the importance of joining together with those who may have once made us uncomfortable in order to lead people out of the darkness. Below is an edited transcript of the monologue: Yesterday, I had several people in my studios here who are very different than me. I have a new friend in Rabbi Irwin Kula.
'Are we dead inside': Pregnant Sudanese woman sentenced to death for Christian beliefs. On radio this morning, Glenn read a disturbing report involving Meriam Yehya Ibrahim, the Sudanese woman who was recently sentenced to death by hanging for refusing to renounce her Christian faith.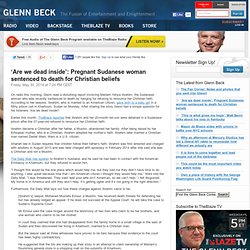 According to her lawyers, Ibrahim, who is married to an American citizen, gave birth to a baby girl in a filthy prison cell in Khartoum, Sudan on Monday. After sharing the story Glenn had a simple question for his listeners: Are we dead inside? Earlier this month, TheBlaze reported that Ibrahim and her 20-month old son were detained in a Sudanese prison after the 27-year-old refused to renounce her Christian faith. Why did Glenn compare Edward Snowden to Luke Skywalker? In an interview with NBC News' Brian Williams, former National Security Agency contractor Edward Snowden spoke out about why he is still in Russia, why he believes he is neither a hero nor a traitor, and the extent of the surveillance capability of the U.S. government.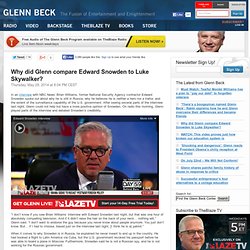 After seeing several parts of the interview last night, Glenn could not help but have a more positive opinion of Snowden. On radio this morning, Glenn played parts of the interview and debated Snowden's credibility. "I don't know if you saw Brian Williams' interview with Edward Snowden last night, but that was one hour of absolutely compelling television. Twitch. Cute Kittens, Funny Cat Videos, Lolcats Videos & Pictures - Kittentoob. The Internet Movie Database (IMDb) iTunes Movie Trailers. BigLook360 - Welcome.
Zero Punctuation; The Escapist Magazine. Escape to the Movies; Escapist Magazine. The Big Picture; Escapist Magazine. Extra Credits.
Google Videos - Best of Google Video. THUNDERBOLTS OF THE GODS. The trashmaster (nouvelle version nouvelle voix-off !) - une vidéo Gaming. Oxhorn's Warcraft Machinima. Shorts Bay - Life in Short Films. Stop-Motion.org : Archive. Watch your favorites. Anytime. For free. Vimeo, Video Sharing For You.
---