Retailers
Coghlan's Camping Accessories, Survival Gear, Outdoor Equipment, Camp Supplies
ZPacks.com Ultralight Backpacking Gear - Shelter
Backcountry Gear is a premier outdoor sporting goods store. We partner with top names in the business to provide the best in outdoor clothing, sleeping bags, climbing gear, hiking gear and lightweight tents. We offer a wide selection of ultralight gear to satisfy hikers interested in lightweight backpacking and thru-hiking.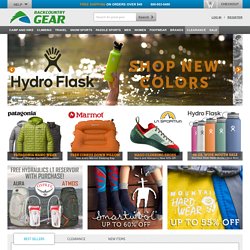 Lightweight Backpacking, Camping Equipment, Camping Tents, Climbing Gear, Hiking Gear, Backpacking Gear.
Buy camping and hiking equipment from SunnySports.com
Hiking Web Site - Hiking, Camping, and Backpacking Information & Gear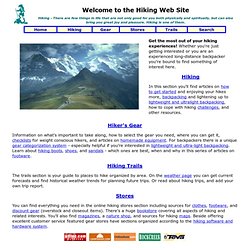 Hiker's Gear Information on what's important to take along, how to select the gear you need, where you can get it, checklists for weight conscious hikers, and articles on homemade equipment.