Reading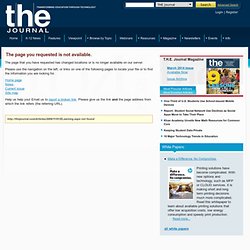 The page that you have requested has changed locations or is no longer available on our server. Please use the navigation on the left, or links on one of the following pages to locate your file or to find the information you are looking for. Home page News Current issue Site map
E-Portfolios Come of Age
Session 1 - Introduction: five first lessons — Open Yale Courses
Leaders vs. Managers….. Are they really different? | The Practic
Eight ways to kill an idea : FLIRTing with the Crowds
Virtual Morality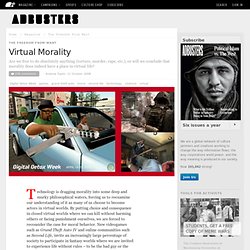 T echnology is dragging morality into some deep and murky philosophical waters, forcing us to reexamine our understanding of it as many of us choose to become actors in virtual worlds. By putting choice and consequence in closed virtual worlds where we can kill without harming others or facing punishment ourselves, we are forced to reconsider the case for moral behavior. New videogames such as Grand Theft Auto IV and online communities such as Second Life , invite an increasingly large percentage of society to participate in fantasy worlds where we are invited to experience life without rules – to be the bad guy or the sexual deviant. The implicit suggestion of these products is that, like gravity, morality does not necessarily exist in a virtual world. Morality and consequence can be switched off.
While there is much to be learned from taking a course or finding a professional tutor, there are many tools out there that can help you learn just about anything you'd like to entirely on your own. With a little elbow grease, trial and error and dedication, these online tools can help guide you through the learning process step-by-step. Whether you want to learn how to renovate your kitchen or the intricacies of calculus, you'll find the assistance you need through these resources. General These tutorial-filled sites offer instruction on a wide variety of topics.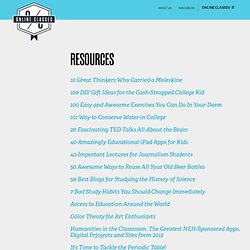 ORLANDO, Fla.--OK, IT managers, it's time to loosen up. That's how analysts advised Gartner Symposium attendees here Monday, arguing that corporate computing departments shouldn't block social networking and that security shouldn't completely lock down communications with the outside world. And even if information technology authorities want to shut down such activity, they can't.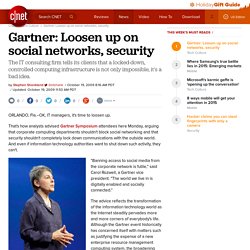 Gartner: Loosen up on social networks, security | Deep Tech - CN
Steven Pressfield Blog | A Video Series and Blog from Author and
Spa City fifth-graders first in region to learn on smart phones
More Photos Click thumbnails to enlarge Hill's teacher, Kristin Passaretti, explains to her students the quiz they're taking on their smart phones. (ERICA MILLER/The Saratogian) Noah Hill, 10, starts up his smart phone, or "cellular computer," in his fifth-grade class at Lake Avenue Elementary School.
Places_to_Go-__Connectivism_&_Connective_Knowledge.pdf (applicat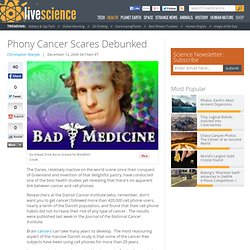 The Danes, relatively inactive on the world scene since their conquest of Greenland and invention of that delightful pastry, have conducted one of the best health studies yet revealing that there's no apparent link between cancer and cell phones. Researchers at the Danish Cancer Institute (who, remember, don't want you to get cancer) followed more than 420,000 cell phone users, nearly a tenth of the Danish population, and found that their cell phone habits did not increase their risk of any type of cancer. The results were published last week in the Journal of the National Cancer Institute . Brain cancers can take many years to develop. The most reassuring aspect of the massive Danish study is that some of the cancer-free subjects have been using cell phones for more than 20 years.
Phony Cancer Scares Debunked
Innovate: Past Issues
Daniel Pink: A Whole New Mind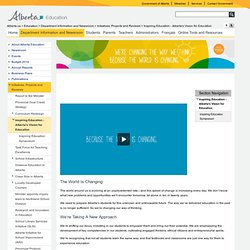 Home Home Home Home Become Involved Become Involved Become Involved Become Involved Provincial Forum Provincial Forum Provincial Forum Provincial Forum Share Your Ideas! Share Your Ideas! Share Your Ideas! Share Your Ideas!
Canadina Education Association
CBE Leadership Meeting information and updates - CBE Staff Intra
Terms of Use Access to this system is limited to Calgary Board of Education (CBE) authorized activity. Do not attempt to logon to this system unless you are an authorized CBE user (AR1061, Security of Information Resources). Any attempt or unauthorized access, use or modification is prohibited and subject to penalties as outlined in Chief Superintendent's Administrative Regulation AR1062, Acceptable Use of Electronic Information Resources. THERE IS NO RIGHT TO PRIVACY ON THIS SYSTEM. All activity is logged and regularly checked by systems personnel.
LEGO Smart Creativity Contest Entry By Kay Kraatz, OCM BOCES - McEvoy Campus Materials: LEGO Smart Kit (plates: 1-2x2, 1-2x3, 1-2x4, 1-2x6, 1-4x4; bricks: 1-1x1, 2-2x1, 3-2x2, 1-1x4, 1-1x6, 1-2x3, 2-2x4, 2-2x6, 1-2x8; angle- 1-1x 4); Architect's triangular scale. This activity requires students to find smallest and largest area using: plates: 1-2x2 cream LEGO base plate, 1-2x3 red LEGO base plate, 1-2x4 red LEGO base plate, 1-2x6 black LEGO base plate, 1-4x4 green LEGO base plate. Students will...
Activities - LEGO Smart